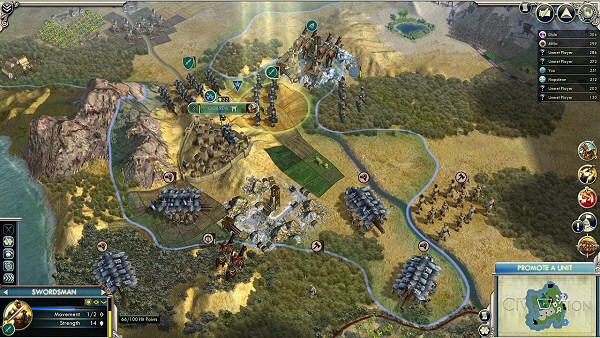 Attention Civ fanatics, Firaxis and 2K have released a massive patch for Civilization 5. It is now available on Steam for update.
I think a lot of people will be happy with this one. There's a "restart map" feature now, improved performance, UI revisions, better AI and diplomacy are also announced and lots of nice balancing tweaks.
The patch release note is huge, so big that it should make for a nice weekend read :)
Anyway, my personal favorite changes are the following:
Many performance improvements, particularly in the renderer
Added "Restart Game" option to game menu. Only available at Turn 0
When a unit is promoted, do NOT cycle immediately off that unit
Resurrecting a player will have both sides forget any denouncing
Reduced Happiness a bit from Mercantile City States
Pillaging tiles now awards +25 hit points to the pillaging unit
Reduced espionage notification spam (only informs about CS you have relations with)
The AI will now liberate cities and resurrect players
"We attacked your protected City-State" statements now triggered by damage done
Tactical AI Improvement: Spend more gold on defense
AI builds units for sneak attack at slightly higher priority in high difficulty levels
AI will now consider annexing cities it has conquered
Advanced settings are now persisted across multiple single player games
More aggressive AI offshore expansion
And much more here.
People are reporting faster turn processing and smoother gameplay.
This seems to be it people, or at least more than enough for another Civ5 run. Let's just hope that the AI got smarter and is now able to do proper naval invasions, and do sneak attacks more also.
Remark: Civ patches usually apply to the latest version available, or expansion pack. In the case of Civ5 the latest expansion available (and only till now) is Civ5: Gods & Kings, so, expect the patch to apply to that version. It's still to be confirmed if these changes also affect the original version or not, or in which extent.
By the way, here's our Civ5: Gods & Kings review in case you're wondering what the differences from the Civ5 vanilla are.
Subscribe RSS
18 Comments
Related Articles:
Post category:
Game Patches
,
News & Announcements