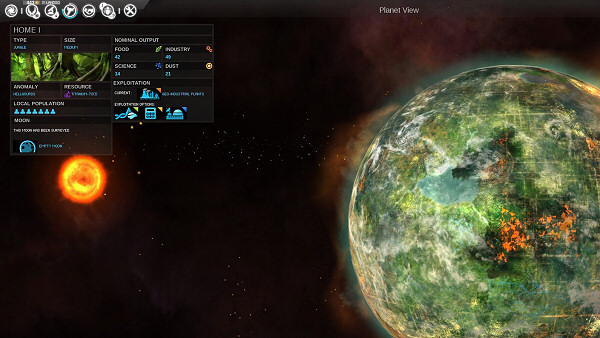 Amplitude Studios announced the first bits of information on their second (free) add-on for Endless Space, to come out still this year.
According to Amplitude's update plan, this free add-on #2 content was defined through Games2Gether by the end of October 2012. The free add-on #3 content voting is expected to start after that. Three free ad-ons "will be released until December of this year (2012)", said Amplitude.
Their first add-on, "Rise of the Automatons", brought a new custom faction with that name; UI changes, namely more information on trade routes with a specific new panel for that; they also upgraded some aspects about diplomacy, including more alliance options and some fixes.
This second add-on will bring:
Random Interactive Events: Multiple choice interactive random events
Ambience Galaxy Map +: Give more life to the galaxy with the addition of comets, black holes, anomalies, etc…
Exploration Rewards: There will be rewards on some systems that can only be earned by the 1st players to reach them
Wonders: Adds wonders rewarding players' exploration with strong and temporary boosts
In addition to this preliminary list of features Amplitude also said to be working on other features than will reinforce the immersion as well as the AI. "More on this will be revealed on the upcoming weeks", added Amplitude.
More Life, Ambience and Immersion are indeed very welcome, to a good game foundation no doubt, but that lacks soul and more ways to engage and capture people's attention for extended periods of time.
Providing more chances to surprise players, with random events, and the investment on eXploration aspects, with the introduction of wonders and rewards for discovery, is surely a step in the right direction.
Amplitude is listening, and their Games2Gether initiative seems to be working quite well. The future seems bright for Endless Space, and for all who have been supporting this space 4X game since the beginning.
Subscribe RSS
13 Comments
Related Articles:
Post category:
Game Patches
,
News & Announcements