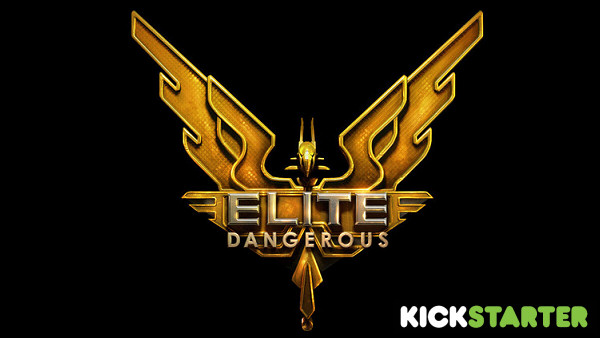 Elite is a classic space trading and combat simulation video game designed by David Braben and Ian Bell, and originally published by Acornsoft in 1984.
Elite was, no doubt, a hugely influential game, serving as a model for more recent space trading and combat games such as Eve Online, Freelancer, Wing Commander: Privateer or the X series, just to name a few.
Frontier Developments and David Braben have announced a sequel to their classic space trading game. It's called Elite: Dangerous, it's on Kickstarter and it's targeted for release in March 2014 for the PC.
Mr. Braben has this to say about his new Elite game project:
"Elite: Dangerous is the game I have wanted to make for a very long time. The next game in the Elite series – an amazing space epic with stunning visuals, incredible gameplay and breath-taking scope, but this time you can play with your friends too." ~David Braben (Frontier Developments)
Braben was sincere and explained that he had "a couple of false starts" already for an Elite sequel. But, he says that after establishing the right technology and necessary tools, and the right design foundation, he's in a position to develop the game, and adds that the "time is right".
He also admits that Kickstarter will be used as an "experiment". A way to do "test-marketing" for his concept. To check if there's enough interest in the community to make such a game. And for that he asks for £1.25M/$2 million.
What do we get?
"We'll be able to trade, pirate, bounty-hunt, explore, and salvage your wealth and fame (…) with sumptuous graphics". ~David Braben
Game features also include ship upgrading (new weapons, engines, etc), a reputation system and multiplayer. On the latter, Braben adds that he already has the necessary technology for laying out the multiplayer part, for which he intends to use a combination of peer-to-peer technology to reduce lag. All in a "lobby-less way, with the ability to rendezvous with friends as you choose".
The primary target platform is the PC but on a recent interview for BBC News, Braben didn't close the door to future platforms support. However, that further support would only happen right now if the Kickstarter funding surpasses the initial goal, added Braben.
Nostalgia and reputation seem to be the perfect combination for success on Kickstarter these days :) With that you don't even seem to need videos or other art assets to transmit your vision. I wonder what's next?
To get more information or to pledge, head to the Elite: Dangerous kickstarter page or the game project's official website.
Subscribe RSS
22 Comments
Related Articles:
Post category:
Kickstart
,
News & Announcements