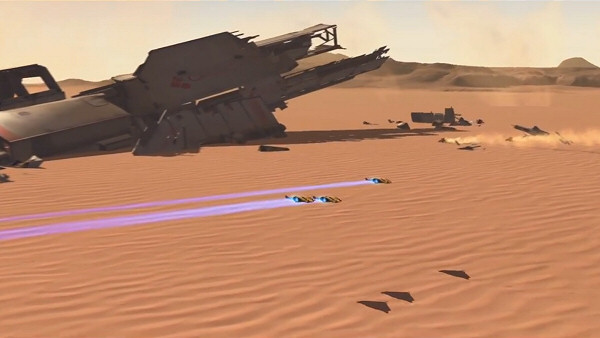 Blackbird Interactive released the first gameplay footage of Hardware: Shipbreakers, their first game, whose development started in 2010. Hardware is to be a Free to Play (F2P) sci-fi real-time strategy game. And, if you weren't aware of this title yet prepare for a shock as it's from the creators of Homeworld, the sci-fi RTS classic. Yes, Blackbird's founders are a team of video game veterans which includes founders of Relic Entertainment.
There was already quite a buzz around this title for some time now, and the concept art and trailers released so far were indeed quite amazing. But, I decided to hold on Hardware's coverage a bit more until there was something more substantial to show, gameplay-wise I mean. Well, Blackbird has just released a new trailer, and this time it does show the first few glimpses on the gameplay.
Quite promising stuff, isn't it? And, you probably noticed something familiar about the music. The soundtrack is from Paul Ruskay, the same composer behind Homeworld's music. And, what about that sound when you jump to tactical mode? And, the tactical mode look & feel itself? Yea, so Homeworld-ish as well.
Hardware: Shipbreakers will be released for both both PC and Mac (a Linux client is not envisaged at the moment). The closed beta should begin sometime in Q4 of 2013. The game release itself should happen somewhere in 2013 still. We'll be watching it closely.
Oh, and these guys surely know how to make great concept art videos.
The Official Teaser Video
More here.
Subscribe RSS
17 Comments
Related Articles:
Post category:
News & Announcements
,
Videos