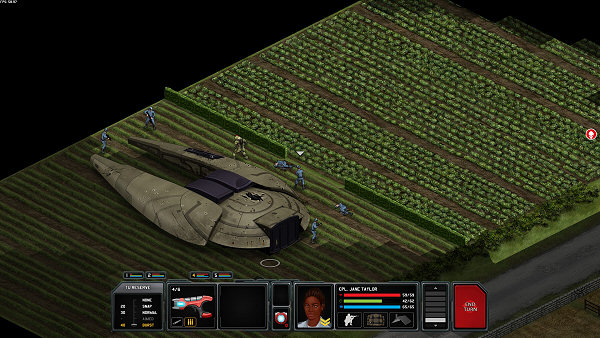 Xenonauts is a sci-fi turn-based squad tactics strategy game being developed by indie studio Goldhawk Interactive. The title is highly inspired by Julian Gollop's X-COM: UFO Defense (aka UFO: Enemy Unknown) from 1994 (X-COM from this point forward), for which Goldhawk wants to create a "spiritual successor".
So, if you're familiarized with X-COM, you'll feel right at home playing Goldhawk's remake because while the setting and the art styles are completely different (X-COM puts you in a futuristic 1998 where Xenonauts puts you in the middle of the Cold War period), the game concept, and the main mechanics, are basically the same.
If you're not familiarized with X-COM or Xenonauts, these games let you play the role of the commander of a secret organization assembled to face a sudden alien threat of unknown origin and purpose. You must manage this organization, which, among other duties, includes hiring personal, acquiring interceptor planes and conduct advanced research and development. This is the game's strategic layer. But, when more direct action is required you also play the role of a tactics officer in charge of controlling a squad of elite soldiers that will face the aliens on the battlefield. The original X-COM is an acclaimed game due to its tense and frightening atmosphere mixed with a sense of wonder when you meet the aliens and get in contact with their highly advanced technology.
I played Xenonauts' Beta version, which is currently available on Steam's "Early Access" program (Steam's way to sell games in Alpha or Beta). But, the game is also available as an instant access pre-order on Xenonauts' website, in DRM-free form, if you prefer it that way.
I played for about 10 hours in the Veteran difficulty (the other difficulties are: Easy, Normal and Insane) with Ironman mode OFF. In that time I progressed for about one month and a half, in-game time. I did plenty of missions, between UFO interceptions and crash site engagements. I faced three types of alien crafts and did one mythical Terror Site mission. Where I got a full squad wipe, and stopped playing :)
So, let's go ahead with the impressions, shall we?
Xenonauts Beta Impressions
At first sight, the game didn't seem to have changed much since I first played it when it was in Alpha, back in April of last year. But that was just a superficial first impression. A lot of it has in fact changed.
So, while before you could only play on a single map (or couple of maps at most), for probably just a couple of hours (because you were constantly re-playing the same map), you can now play on many maps of different kinds. I encountered tundra, desert, farmland and city style maps so far. The maps are semi-randomly generated, says Goldhawk, and although they look kind of similar, because they use the same building blocks, I never had the feeling of being playing the same map once in this 10h game time period. So, the non-static maps are a nice plus.
Also, in the Alpha version, the aliens didn't seem to move much, or not at all, actually. Well, at least they didn't give much of a fight. Not a surprise now since I came to understand that the AI was still making the first strides by then. But now, the aliens do give a fight. You definitely feel a challenge there. Nothing too fancy yet, because the aliens don't seem to move great distances, but only wonder around a specific location. But, it was engaging enough.
The Base
Base management seems to be all there already. I built a living quarters facility (not sure if I got the traditional adjacency bonuses or not though – maybe the game doesn't support that feature from the original X-COM) and interacted with all the base UI functionality with success. I built a new generation fighter plane, an armored vehicle, a more advanced set of soldier armor and finished many research subjects, including the interrogation of a living alien.
All base sections are important, but the critical one is, no doubt, the one dealing with soldiers and their equipment. Soldier equipping in Xenonauts, contrary to what you find in Firaxis' new X-COM game (XCOM: Enemy Unknown), is very detailed and gives you an enormous amount of freedom. Just like in the original X-COM game. Multiple grenades for everybody? You got it. Switch weapons freely? Sure, no problem. Ammo micromanagement? Hell yes. You can even customize your own soldier's classes if you want, something I found particular interesting if you want to create your own "Scout Ranger" or "Demolitions Expert" class.
Concerning the base UI, it's functional but I think Goldhawk can still do better. It's pretty and slick at places, like the majority of the soldier's equipment screen (as seen above), but it's still a bit blurry and clunky in some areas. For instance, sometimes, the UI still gives you a hard time with the drop boxes' selections, which you tend to miss sometimes. Overall, readability is not very good either, and intuitiveness could be better. For example, the UI doesn't tell you what a new armor does exactly, besides letting you know that you can carry less weight. A few more tooltips wouldn't hurt.
But, Goldhawk seems to be preparing to make a major UI overhaul. They seem to have been preparing this change for a long time now. But, at the time of these impressions, between the 12th and 13th of June, these UI changes were not yet in place. But, the UI changes seem to be for the best, although I'm not so sure about the amount of white used, maybe a bit darker would be preferable?
What about the ground combat?
While the strategic layer is, no doubt, a very important and fun aspect of any X-COM type game, the ground combat is probably what the majority of players considers X-COM to be best known about. The tension, the fear, the horror. Guns firing from nowhere. Screams from the terrorized populace. The sounds when people, or the aliens die, and the fact that you can't see much of what's going on but only listen. It really is a gaming experience landmark.
Let me say that Xenonauts succeeds in all these fronts, to some degree, in this Beta. You do get a sense of fear when facing the enemy, because they indeed feel powerful (well, at least their weapons do) and their behavior is a bit unpredictable. You get the feeling of chaos when playing a terror site mission. The sounds are immersive and well done. Some aliens look quite grotesque and odd, as they should.
But, I don't think Xenonauts is quite there yet though.Why? I suspect it's because of two main things. First, the art style is completely different. X-COM is more cartoony while Xenonauts is more realistic, so to speak. More serious. In my experience it's harder to get an immersion effect in a more realistic environment. Not impossible, just harder. Perhaps a few more art injections (including more and better music and sounds) could help overcome this lacking.
The other factor why I think Xenonauts is still not quite there in terms of immersion, is due to the maps themselves. Don't get me wrong, the maps are nicely rendered and all that. From a pure graphical standpoint, Xenonauts is indeed years ahead of X-COM, as it should be. The thing is that the maps still feel a bit, how can I say it, dry. A bit barren, or empty is perhaps the best word.
The individual map elements are quite nice. The tractors, the vans, the different buildings to some extent, the barns, the cabbage fields and all that. But, right now, everything feels a bit too empty and simple perhaps. I think they can do better with the maps, to give them more flavor and make them more interesting-looking. Perhaps fill them up with more elements or use more irregular shapes.
Xenonauts brings back TUs (time units) as movement mechanic (action points reserve with full movement freedom). To my surprise, I felt the return to time units to be very easy to pick up again, and a very natural game mechanic indeed. This after playing XCOM: Enemy Unknown, which doesn't implement TUs, for many, many hours, and enjoying the experience a lot. So, I must conclude two things. First, raw TUs as a movement mechanic for this type of games is really not mandatory. In other words, it's possible to simplify, or streamline the concept and obtain equivalent results. The other conclusion is that the Xenonauts dev team must have made a very good job with the TUs implementation, because after a little while I was already mastering my soldiers movement like I've never used another movement system before.
Regarding the ground combat UI it is very good already. I wouldn't touch it further. Perhaps a few more hotkeys are necessary, especially one to reset the Time Units reserve to "None" quickly, so that you're free to use the full action points in an easier way and save mouse clicks. But the rest is very usable already.
Summary
So, there you go. Xenonauts Beta is looking really nice and it already offers an enjoyable experience. Although it doesn't feel finished yet (well, because it isn't) – some art assets are still missing (with placeholders at the moment) and more interesting maps are needed, in my opinion – Xenonauts managed to keep me fairly interested through my 10h play session. Until I faced a Terror Site mission that is, and failed miserably (complete squad wipe).
So, although I've been playing X-COM games for years, this was my first serious Xenonauts game where I definitely felt a challenge. This Beta didn't captivate me as much as X-COM: UFO Defense once did, no. Not the same amount of attachment felt. But, it's too soon to judge the game to that extent. I only played for about 10 hours, and only up until the first Terror site mission appears. I only saw an armor upgrade and had the first few glimpses on the Alien weaponry and story. And, Xenonauts is still in Beta, so there's still a lot to discover and lots of room for improvement.
But, overall, I feel that after the new UI and the missing assets are in place, a few more art injections are made, more and better maps are produced, the game will be ready for prime time. And, it will be, most probably, a very enjoyable game. I'm confident on that because Xenonauts is already enjoyable now.
Subscribe RSS
18 Comments
Related Articles:
Post category:
Game First Impressions
,
Game Previews