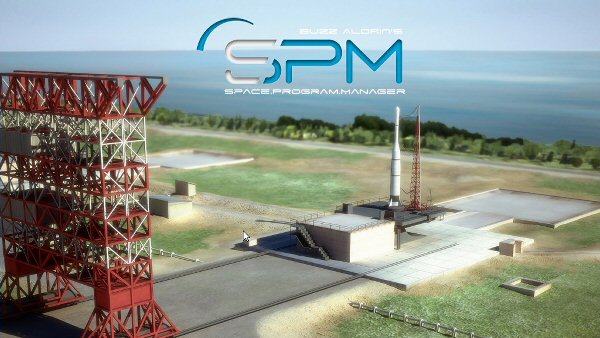 Slitherine, Matrix Games and developer Polar Motion have just released Buzz Aldrin's Space Program Manager, a space exploration turn-based strategy game with simulation elements – which they've been developing in direct consultation with Buzz Aldrin himself – under their early access program. This means that the game is still incomplete but already available to anyone interested in joining the beta team, help shape the game's progress and get a discount over normal price.
The 'Early Access Program' (EAP) allows you to get your hands on the game before release. When you buy it, you'll get a download link and you'll be able to get the game and play it immediately. However, this is not a complete game. This game is still in development and we want your help to make it the best it can be. By joining the Early Access Program you will become part of the team and help guide the future development with your ideas and feedback. –Slitherine Group
In addition to the phased selling, Slitherine decided to further split the game into three parts or episodes (different games really), which will be sold separately. This early access now is exclusively about Episode 1: The Road to the Moon. But, they have two further episodes/games planned in the pipeline. Episode 2 will be about the international space station. Episode 3 should be about the future, and a mission to Mars. No release date details are know for these last two episodes at this time. Regarding Episode 1, "we expect there to be a period of 2-3 months before we have the full final launch on PC, Mac, iOS and Android.", says Iain McNeil, Slitherine's development director.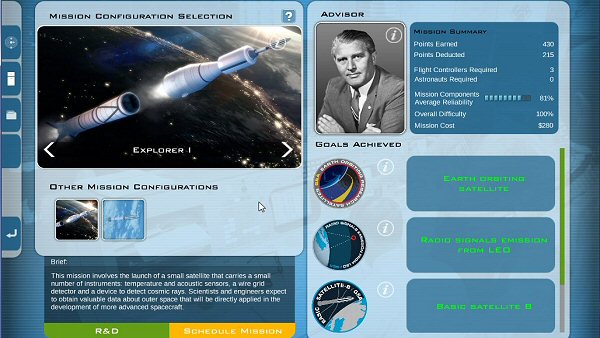 With respect to gameplay, the product info page states that the game features a sandbox and a campaign mode. The campaign is about dealing with a space agency's normal duties, including recruiting personnel and do research and new components development. You'll need to balance your budget while at the same time deal with politicians, and their short term goals. In sandbox mode you should be able to do basically the same but without the scripting aspects, so, no politics and no goals.
They're offering the following entry points, or tiers, for their early access program (Episode 1: Road to the Moon):
Mercury Tier – $19.99 for the digital version of the beta supplied immediately and updated throughout, beta forum access to report issues and discuss the game with the dev team and other early adopters and your name in the beta tester credits. The normal price for this is $29.99.

Gemini Tier – $34.99 includes everything in the Mercury Tier plus a boxed copy of the game at final release (usually $44.99) which includes a personalized disk with your name and serial number plus a full colour manual/art book with a collection of gorgeous renders for the game.

Apollo Tier – $99.99 includes everything in the Gemini Tier plus your name and photo in the game as one of the SET personnel, a flight controller or an astronaut and the game sound track in MP3 format. Instead of a beta tester credit you will be listed as a contributor. This option will not be available post release.
We plan to have some first impressions on the early access build soon. In the meantime, you can find more information here.
Subscribe RSS
7 Comments
Related Articles:
Post category:
News & Announcements