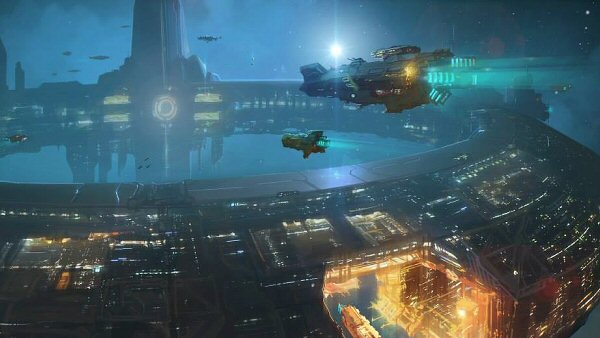 Would you like to play the role of a spaceship captain, responsible for the lives of the ship's crew and explore the galaxy, defend your ship from boarding operations and fight ship to ship battles, possibly in co-op with 6 friends? Well, if you do, then that's what The Mandate seems to be all about. Of course, this is a Kickstarter pitch, and very few things gameplay-wise seem to be done at this point. The devs say that they're still on the concept pre-production phase, but they do have working ship design and character creator prototypes, to serve as an early demonstration of the game engine.
The kickstarter page describes that the development team is composed by a group of international veteran game developers that went indie. Apparently, part of the team have worked on many shipped games, including AAA titles and "major MMOs", but they say that the game will not be an MMO but an RPG with a 6 player cooperative experience in mind, but also gameplay for the single player audience.
The strategy part seems to be about offensive and defensive ship boarding operations, in the style of Jagged Alliance or X-COM but in a real-time fashion. So, more of a real-time tactics experience than a strategy one here to be fair. But, there could be other strategy elements, although most of the gameplay seems to be really about the RPG experience onboard of a spaceship, interacting with your crew and going on missions. There's also ship to ship combat. Their idea is to portray the type of combat you see in shows like Star Trek, Firefly, Babylon 5 or Battlestar Galactica. So, I guess a more focused combat involving less ships.
"The Mandate is a sandbox RPG (similarities with Pirates! And Mount and Blade), allowing you to travel the galaxy through a series of jump-gates, opening doors to new systems. If you or your friends are in trouble, instantly jump to their location from outside of the game using Steam. Each system of the universe offers a series of procedurally generated content which varies every time, as well as hand-crafted story-driven content for you to take advantage of. What you do in The Mandate is entirely up to you, but as you gain power and unlock more systems, you'll drive the story forward." –Perihelion Interactive LLC
But, while the devs mention a sandbox type of experience, kind of like having the freedom to do what you want in an open world, this isn't a 4X type of game if you may be wondering about that.
They ask for $500,000 to make this happen (currently at 24.5% with 44 days to go). They say that their decentralized structure, their know-how, experience and technology, with the use of established middleware like Unity3D (which allows them to release to PC, Mac and Linux), should not cause much overhead, and that 500K should be enough to make the game.
Here's the pitch video (great soundtrack by the way). More info here.
Subscribe RSS
21 Comments
Related Articles:
Post category:
Kickstart