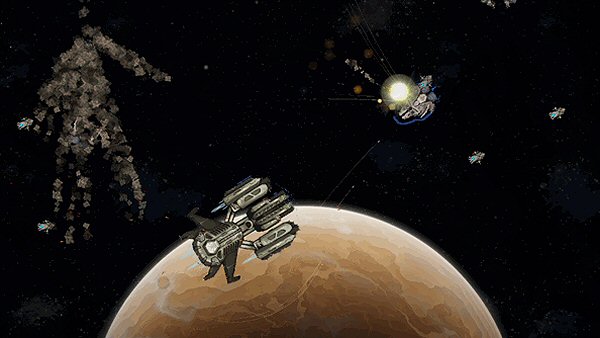 Ok, so this is not really the type of game we usually cover here. It's space-based alright but not really a strategy game but more of an adventure free roam action-RPG where your primary concern is with character progression and fighting for loot. Nothing against that of course. But, there's also ship design, crew management and some economy elements (basically buy and sell goods at space stations but also cargo ferrying) to look for.
But, something draws me into Wayward Terran Frontier (WTF), and while this may not be everybody's cup of tea, knowing the audience here I would say that there are probably some Escape Velocity and Star Control fans out there, the games George Hultgren says to have taken most of his inspiration from to develop this game. Even something from Master of Orion, at least for the pixel art, says the dev. There's also a Minecraft influence sprinkled with a bit of FTL and you probably can have an idea of where George is heading.
I don't know about you, but I think it looks kind of cool. I got a good exploration vibe from it. Have a look for yourself. There's an Alpha demo, a rare thing to find these days and worth giving praise to. I sucked big time playing the demo. This twitch gameplay really isn't my thing ;)
Single-player is possible but cooperative and competitive multiplayer seems to be what the developer is really after. The indie dev talks about a persistent universe and a client-server infrastructure, so an MMO type of game is not to be excluded.
George is on Kickstarter with the hope to raise enough money to fund the art assets, sound and music, for which he's asking for $50,000. The get-game entry price is $15. He also has a Steam Greenlight going, so if you appreciate George's work you can also help him out by voting there.
Subscribe RSS
8 Comments
Related Articles:
Post category:
Kickstart
,
News & Announcements