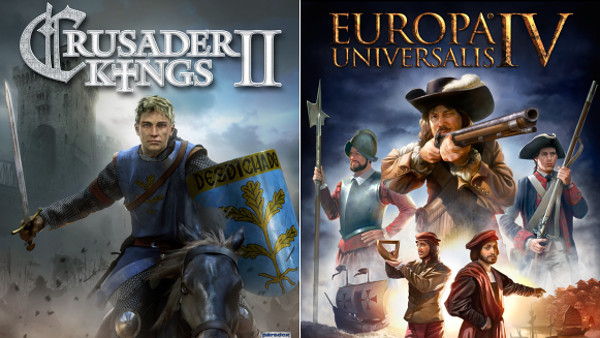 Today is the day we've all been waiting for, ladies and gentlemen! There is a colossal sale of Paradox Interactive games on Steam, with almost their entire catalogue of grand strategy games for sale at very, very good prices.
If you've been waiting for Europa Universalis IV or Crusader Kings II to go on sale, now is the time to pick them up. I can speak from past experience when I say these prices are better than what you can expect during the Christmas Steam Sale, and I haven't seen a Paradox sale like this in a long time.
Recommended Buys!
Well, there's certainly a lot of Paradox games for sale, but not all of them will appeal to everyone. Grand strategy games, like EU4, can be considered to be a cousin of the 4X genre, but there are certainly quite a few differences between the different franchises.
Crusader Kings is all about the medieval dynasty, Europa Universalis about the age of Exploration, Victoria 2 is about the Industrial revolution and Hearts of Iron 3 is World War II. While they're all made by the same developers, and even look the same, they all play differently, though skills learned in one game could reasonably be applied to another.
All of these games are good, though they have increasingly steep learning curves that can make them hard to get into, though they do have tutorials and a strong online community on the official forums to answer questions.  They've also got a lot of DLC, and you could easily find yourself short on money if you were to buy every single piece of DLC.
So, here are my recommended purchases for Crusader Kings 2 and Europa Universalis IV.
Crusader Kings 2 – Review, Steam Store. Cost £7.49/€9.99/$9.99
That's the most essential, gameplay increasing DLC that will be used by most players. Each of those adds something to everyone, regardless of their position in the world. Total cost of all this DLC combined is £7.46 or €9.96/$9.96.
Once you have these done, you've got the majority of the main DLC, but there are a few more things that you should grab if you still have the money, such as Sword of Islam, which allows the player the ability to control a Muslim ruler, the Ruler Designer DLC, which lets you create your own rulers and dynasties from scratch and lastly, Rajas of India, which allows you to play an Indian ruler. After that, you've got all the immersion DLC such as music and art packs – it's completely up to you on what to get there!
Europa Universalis IV – Review, Steam Store. Cost £8.74/€9.99/$9.99
Well, what else could take this spot but Conquest of Paradise? While my review of it might not have painted the DLC in an entirely positive light, the random map generator alone makes this worth a purchase, especially during the sale. It finally brings the first of the four Xs into Europa Universalis, with truly random exploration. With the default random map, you always know where the gold is in the New World, where the natives are and so forth, but with a randomly generated New World…who can truly know what lies across the oceans? Cost is £3.39/€5.09/$5.09.
But unfortunately, I can't recommend any further EUIV DLC past this point – most of them are small things whose features are already added to the game via patches. They just serve as icing on the cake, and I would recommend leaving them for a future sale, where they'll be even cheaper and perhaps worth the cost of buying them. But once again, look to the immersion packs, I highly recommend getting some more music! There are only so many times you can hear Eire or Battle of Lepanto before you go raving mad.
Subscribe RSS
11 Comments
Related Articles:
Post category:
News & Announcements