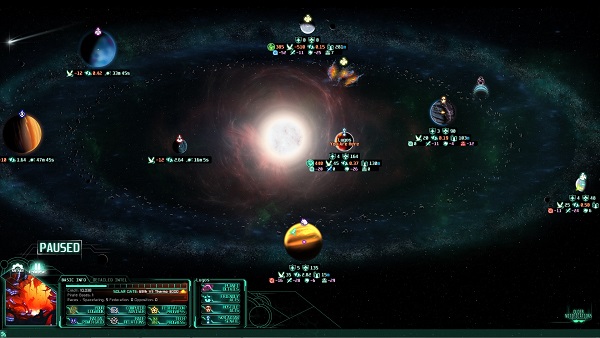 Last week on April 18th 2014, Arcen Games released The Last Federation, their most recent indie title. Arcen Games is known for releasing games that tend to be a little outside of the box when it comes to traditional conventions and the Last Federation is no exception. The studio is probably better known for their release of AI Wars: Fleet Command.
The Last Federation puts… Read the rest
Recent Stories
By Keith Turner on April 21st, 2014 at 9:16 am
Many years have passed since the last Age of Wonders game released. How well does Age of Wonders 3 fare in an era of fierce competition among fantasy strategy games?
By Adam Solo on April 18th, 2014 at 12:37 pm
Horizon, the turn-based space 4X strategy game by L3O Interactive and Iceberg Interactive gets a big patch and is on sale through the weekend.
By Edward Varfalvy on April 14th, 2014 at 12:44 pm
Firaxis Games and 2K Games announced their new turn-based 4X strategy game at PAX East. It's called Civilization: Beyond Earth, and it takes Civilization to space.
By Adam Solo on April 10th, 2014 at 11:22 am
Julian Gollop is on Kickstarter for Chaos Reborn, a remake of his classic fantasy turn-based tactics game for the ZX Spectrum, Chaos: The Battle of Wizards.
By Edward Varfalvy on April 1st, 2014 at 10:03 am
Blind Mind Studios is a small indie studio comprised of only three people. They're now working on a sequel to their space 4X title Star Ruler. All three were kind enough to answer our questions.
By Adam Solo on March 28th, 2014 at 2:23 pm
Stardock announced that Galactic Civilizations 3 has entered Alpha, and Early access was made available on the Stardock store and Steam. The game is slated to release somewhere around March/April 2015.
By Keith Turner on March 26th, 2014 at 3:07 pm
Unclaimed World, the space colony simulation game from indie developer Refactored Games, is now available on Steam Early Access.
By Chris Salt on March 21st, 2014 at 10:38 am
Crusader Kings 2 is a grand strategy game by Paradox Development Studio and Paradox Interactive. You play in medieval Europe, and your goal is to forge a dynasty that is both prestigious and powerful.
By Keith Turner on March 19th, 2014 at 2:22 pm
Daniel DiCicco, the developer of StarDrive, and now of its sequel StarDrive 2, has put up a new development log video showing off some of the major parts of the game.
By Keith Turner on March 14th, 2014 at 11:02 am
The second and last part of our community interview with the team behind Worlds of Magic, an upcoming fantasy 4X strategy game that aims at being a true spiritual successor to Master of Magic.
By Adam Solo on March 13th, 2014 at 1:46 pm
Slitherine and Matrix Games have just announced that Distant Worlds: Universe, the 4th and possibly last expansion pack to Distant Worlds, will be released in May of this year.
By Adam Solo on March 11th, 2014 at 12:30 pm
Different, beautiful, innovative. On the surface, Galaxial looks like a very promising space 4X strategy game. Here's the dev's latest video showing off his progress with the game.
By Keith Turner on March 7th, 2014 at 10:51 am
We asked you to help us assemble some questions to send to the Worlds of Magic's devs. Well, welcome to part one of our two part community interview with the Worlds of Magic team.
By Adam Solo on March 5th, 2014 at 12:20 pm
Developed by indie studio Pixel Quality Games, Project Aura is a sci-fi strategy/simulation gaming project for the PC set in a post-apocalyptic world, where the environment is no longer hospitable to Humans.
By Keith Turner on March 3rd, 2014 at 12:59 pm
It's been over 10 years since the release of the last Age of Wonders game, and now, the wait is nearly over. We've spent some time with a preview build of Age of Wonders 3. Here's an overview.
By Adam Solo on February 28th, 2014 at 9:16 pm
And the winners of the Europa Universalis IV giveaway contest are...
Recent Reviews
April 21st, 2014 by Keith Turner
Age of Wonders 3 from Triumph Studios is the fourth…
March 21st, 2014 by Chris Salt
Crusader Kings II is one of many, many, Paradox Development…
February 18th, 2014 by Adam Solo
The first time I played Horizon, a recently released space…
January 22nd, 2014 by Chris Salt
Only a few days ago, Conquest of Paradise, the first…
Recent Previews
April 23rd, 2014 by Edward Varfalvy
Last week on April 18th…
March 3rd, 2014 by Keith Turner
Excitement is in the air.…
February 25th, 2014 by Edward Varfalvy
Planetary Annihilation, from Uber Entertainment…
November 20th, 2013 by Chris Salt
Some of you who have been…