By
Adam Solo
on September 2nd, 2014 at 10:18 am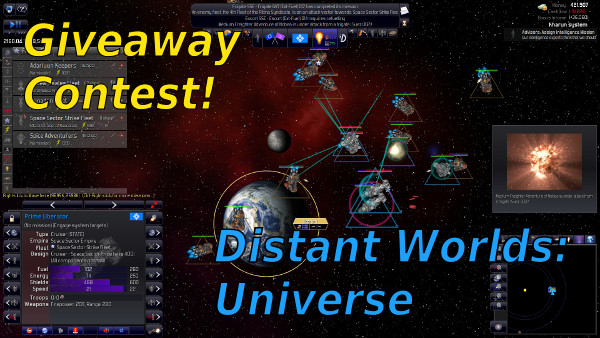 I'm pleased to announce that it's time for another giveaway contest! :) This time we're offering copies of Distant Worlds: Universe, the excellent real-time space 4X game by CodeForce, Matrix Games and Slitherine.
Matrix supplied us with 6 games to offer! We have 5 vouchers for the full game (download copy) and as a grand prize we'll give the top winner a full boxed copy, with… Read the rest
Recent Stories
By Keith Turner on August 28th, 2014 at 12:41 pm
Amplitude Studios, developers of Endless Space, will soon be releasing their new turn-based 4X fantasy game, Endless Legend. Here's a taste of what to expect.
By Keith Turner on August 25th, 2014 at 9:44 am
Triumph Studios has announced "Golden Realms", a new expansion to their turn-based strategy game, Age of Wonders 3.
By Adam Solo on August 21st, 2014 at 10:23 am
Distant Worlds: Universe is a standalone expansion pack to Distant Worlds, the real-time space 4X game by CodeForce, Slitherine and Matrix Games. Here's our review.
By Keith Turner on August 18th, 2014 at 9:37 am
Worlds of Magic is progressing steadily according to developer Aaron Ethridge's recent radio interview with KTAM radio. Early Access should start this September.
By Keith Turner on August 6th, 2014 at 9:16 am
As has been customary with StarDrive 2 videos, we once again get a peek under the hood at multiple facets of gameplay. The recent changes include Jammers, Androids and a new look at ground combat.
By Adam Solo on July 29th, 2014 at 9:40 am
Slitherine and developer Polar Motion announced that Buzz Aldrin's Space Program Manager will be released officially on the end of October 2014.
By Edward Varfalvy on July 22nd, 2014 at 10:59 am
Star Ruler 2 by Blind Mind Studios has gone live on Steam Early Access on July 18, 2014. Here's our first impressions of the beta.
By Edward Varfalvy on July 18th, 2014 at 11:42 am
The Last Federation by Arcen Games is an interesting and even bizarre mix of genres and styles. Here´s our review.
By Keith Turner on July 14th, 2014 at 10:38 am
Matrix Games has announced that they are now accepting beta sign ups for their upcoming turn-based fantasy strategy game, Sovereignty: Crown of Kings.
By Adam Solo on July 10th, 2014 at 11:13 am
After three years in development, Deep Space Settlement, a 4X RTS game by Escape Velocity Studios, has opened pre-orders for anyone willing to support the indie game's development.
By Edward Varfalvy on July 7th, 2014 at 10:40 am
Firaxis Games published two videos on Civilization: Beyond Earth, including some gameplay footage. They also revealed the release date.
By Keith Turner on July 4th, 2014 at 9:54 am
With two new factions added to the game, Endless Legend's beta now includes 6 of the eventual 8 factions. Release should not be far away at this point.
By Adam Solo on July 3rd, 2014 at 5:39 pm
And the winners of the Xenonauts giveaway contest are...
By Adam Solo on June 26th, 2014 at 10:20 am
We have 5 copies of Xenonauts to offer to the fine SpaceSector readers, courtesy of Goldhawk Interactive.
By Adam Solo on June 19th, 2014 at 9:29 am
Goldhawk Interactive announced that Xenonauts, a spiritual successor to the X-COM series, has left Early Access and was officially released after five years of development.
By Adam Solo on June 13th, 2014 at 3:35 pm
GOG's 2014 DRM-free summer sale is up and will be so in the next couple of weeks. Here's what GOG has to offer on space-based, science-fiction themed and great strategy gaming.
Recent Reviews
August 21st, 2014 by Adam Solo
Distant Worlds is a real-time space 4X strategy game developed…
July 18th, 2014 by Edward Varfalvy
The Last Federation by Arcen Games is an interesting and…
June 5th, 2014 by Chris Salt
I'm sure you all remember my Crusader Kings II review from…
May 13th, 2014 by Keith Turner
Warlock 2: The Exiled has only just been released by…
Recent Previews