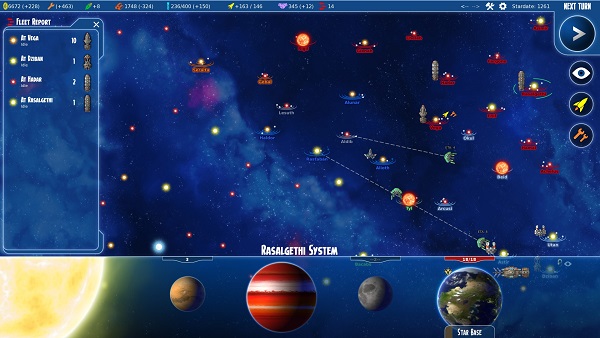 Lately, competition has been getting fierce in the 4X genre. This has caused a surge of titles that are either trying different approaches to the genre, or those that are trying to stay true to older formulas but still bringing in their own ideas to the table. One such title is trying to do the latter is Stars in Shadow by Ashdar Games. A small indie studio that was recently acquired by the publisher Iceberg Interactive. Their game just hit Steam E.A. on September 15, 2016.
The game is a turn-based space 4X game with turn-based tactical combat and a detailed ship designer. The game has its own distinct art style, a colourful and rich design that is iconic to several comic and animated series. The game also tries to have its own take on planetary management to help minimise micromanagement and the ship designer is based on specific hulls types with allocated hard-point slots.
You can go check our first preview and our even earlier Stellar Indie Venture to get a good idea of where the game came from and some basic overview of the game's core mechanics. Though the articles are dated with some respects, both contained interviews which gave glimpses to the game's vision and direction.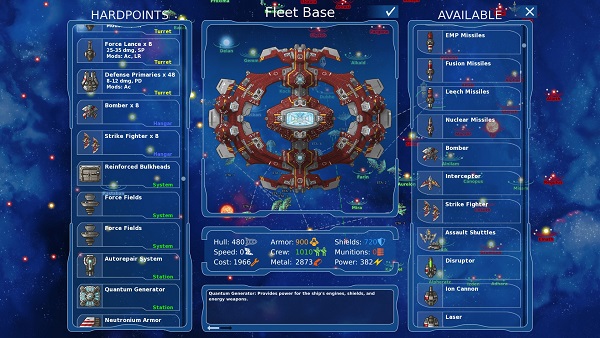 I decided to keep this tradition alive and decided to do another interview while previewing the E.A build of the game. Sven Olsen and Jim Francis (Arioch) were kind enough to indulge me in my curiosity. One of my questions was about the point I bring up in my preamble that the genre is getting competitive and what they hope to bring to fans with Stars in Shadow:
"Many of the recent games in the genre have moved to streamlined real-time tactical combat; we think an engaging turn-based tactical system is still essential to a good turn-based 4X game. In our strategic system, we have tried to reduce unnecessary micromanagement while maintaining depth of play, and to increase the sense of character in the ships, planets, races and factions that you're interacting with. We want a game that really plays well, rather than one that is just a long list of features." – Sven Olsen and Jim Francis
Only time will tell if they achieve this but so far it seems they are still on track with their goal. Now onto the preview.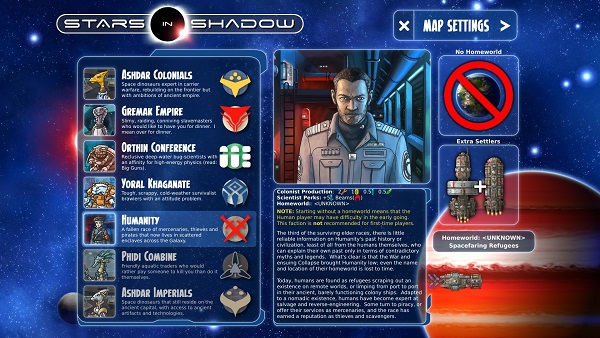 Features (from the Steam store page):
Epic Scope: Starting at the dawn of interstellar travel, progress through four eras of technological advancement. Discover the science of planetary terraforming, upgrade your infantry battalions to battle mechs, and grow your fleet from a squadron of destroyers to an armada of planet-destroying Dread Stars.
Varied Factions: 7 Playable factions comprising six alien races. Each faction has different research strengths and technology options. Forming alliances, conquering neighboring species, or discovering ancient artifacts may open up additional avenues of research. Choose your race wisely as it impacts which worlds will suit you, what trades or alliances may be offered, and whether or not your neighbors are inclined to trust you.
Stylized Setting: A distinctive comic-book art style and an original, detailed universe backstory draw you into an immersive game world. Interact with a unique cast of alien characters, make friends and influence people, or crush your enemies and see them driven before you.
Focused High-Level Strategy: Build a vast and varied empire, taking advantage of the unique traits offered by different alien populations and the worlds they inhabit. A streamlined resource and planetary improvement model keeps the game moving even when your empire grows large.
Deep Turn-Based Tactical Combat: Face off against your opponents in complex 2D turn-based tactical battles. Counter your enemy's missile barrage using point defense or interceptors, then close to energy weapon range! Stars in Shadow's tactical engine includes several features rarely seen in turn based games. Multi-ship commands keep even large fleet battles fast-paced, and smart unit behaviors allow tight control with minimal micromanagement. Auto-resolve battles that are a foregone conclusion, while retaining the ability to replay any engagement to see exactly what happened.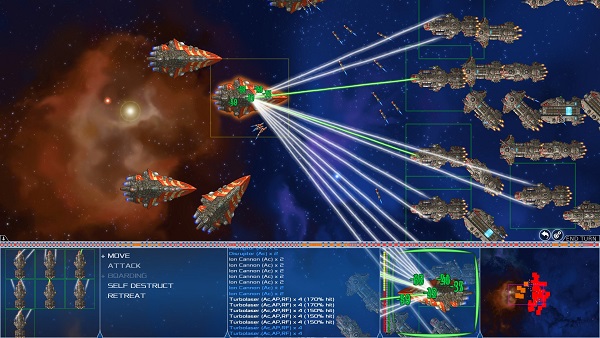 State of the Game
The game is still in development, there are several UI elements that are till waiting for their improvements and the technology system is not complete as several late game techs are not yet implemented. Some art assets are still missing and diplomacy is still bare bone, so the game still has a long way to go.
Personally, I did get a few bugs but no crashes. So the "still in development" is obvious, but the game is functional. However, the game is still fully playable. The mechanics that are in work and the core components are functional. I naturally asked what are their immediate plans for the E.A. and how players can keep track of the game's development:
"We'll create (and work to maintain) posts on the Steam Forums explaining what our roadmap is for Early Access and where we are along that road. At the top of the list of new features in EA are the Galactic Council victory conditions and a strategic map zoom feature."
Recapping the Old Coverage
Combat, the ship designer, and the tech tree didn't see much change in terms of core mechanics and visuals from my previous preview. Naturally, there were balance passes, techs added (and removed to be re-balanced), and other improvements but what I have said about these mechanics specifically still stands, thus my previous preview is still a good source to get an idea how these systems work.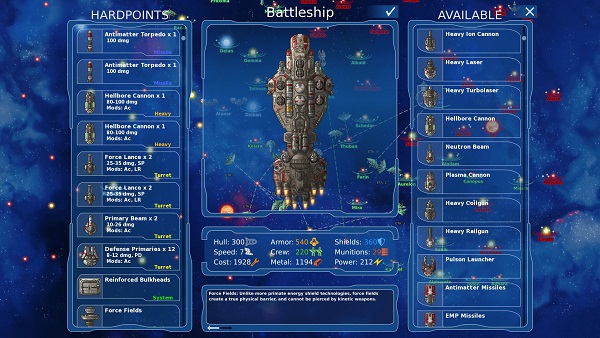 My overall opinion of them hasn't change, I like the format they used for ship designs where the player unlocks hulls which have fixed hard-points that the player fills with the appropriate modules. The system is still flexible and gives dedicated ship types which are all visually represented by their own graphics with each race having their own.
Also, even with the incomplete tech tree we already have a huge selection of diverse weapon systems which have their own strengths and weaknesses. There are even several highly specialised systems including boarding pods for capturing enemy ships. I did mention that the UI needs some love so I asked what we can expect as improvements:
"We have mock-ups for a revamped ship designer pane that includes better color-coding and iconography for the various slot and component types, and this should be implemented sometime during the first few weeks of the EA.

A technology screen revamp will come later. At a minimum, we'll be improving the panes to bring them up to spec with the rest of the UI. But I'm hoping we'll have time for a more significant revamp. Just how the technology screen evolves between now and release is one of those things that's very likely to be influenced by the feedback we get during the EA."
Now onto the features that have been added and significantly improved.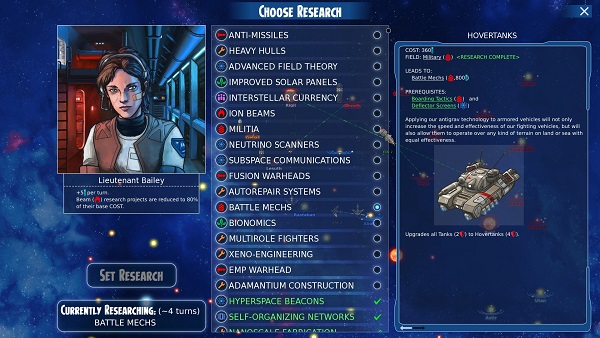 Planets!
The planet management system saw the most improvements from my previous coverage. The basics are still the same, the player colonises planets and has a limited number of slots based on population and size that can house infrastructure. Population has an effect on how specialised a planet can get, with certain infrastructure needing less population to specialise for.
The other interesting aspect is that planets have biomes, and each race have preferences. Thus mixing populations can significantly raise the max population. A good example is having humans and aquatic aliens on an Earth-like planet.
The game has also added morale, which still needs to be expanded on but introduces the need to keep your population happy or risk planetary rebellions. Infrastructure is also automatically upgraded with tech so the player doesn't constantly need to build new structures with each new infrastructure technology.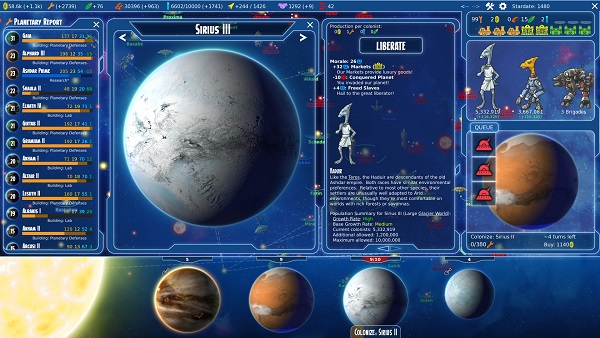 The most interesting aspect is the addition of food and metal. Food is what many classical fans will remember, being able to choose being self-sufficient per-planet or have bread-basket planets feeding your hungry production worlds. The game also has freighters the player can build to be used as transports for food exports.
Metal is the resource used to produce ships and space stations. This is stockpiled and shared globally. The player will have to dedicate infrastructure slots to produce the metal their industry will need to build their space fleets.
I actually like this system combined with the limited slots for infrastructure. The player will now choose to colonise planets for the purpose of developing agricultural and mining colonies, while having industrial sprawls, commercial hubs, or high-tech planets which are dependent on these resource worlds.
This also gives interesting choices, finding a high population fertile world that has a rich mineral standing. The high population will be perfect for markets, factories, and labs but you'll need food which this world can also provide at the expense of something else. If you chose to take advantage of the mineral wealth, then that is less of anything else you can build on that world.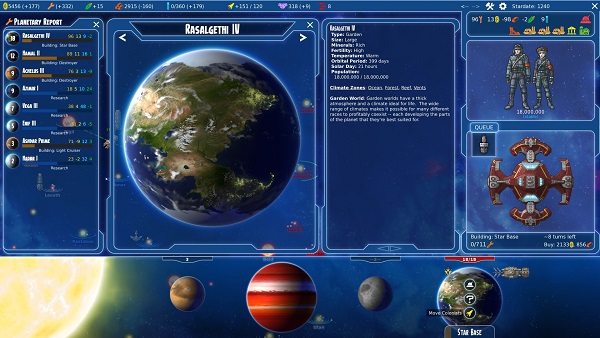 Naturally, I was interested to know what motivated the developers to introduce these resources, especially metal since few games decouple resource extraction from production:
"That's pretty much it. Adding food and metal allows some clear specialization that makes intuitive sense and adds to the depth of the virtual world, but doesn't add unnecessarily to player micromanagement. You can play out those sci-fi tropes of the inhospitable mining world, the mineral-poor farming world, or the planetary megacity that relies on food shipments from the rest of the empire to sustain itself."
This lead me to wonder their overall strategies to help make planets more distinct and encourage players to specialise their worlds:
"The addition of food and metal as core mechanics did a lot to encourage specialization in your colonies. And we think the addition of population morale and the expansion different population traits will further enhance this. At EA launch we'll have 12 minor races in addition to the 7 major races, and they each have different environmental requirements, production strengths and weaknesses, and different perks and personalities. How to make best use of a planet has a lot to do with who you have living there and what the local biomes are like — Orthin are strong in science but require deep ocean; Tarib excellent miners but require an infernal Mercury-like environment; Spice Mongers can produce good economic yields on desert planets; the slow-moving Wrem have substandard production yields but can live on any airless world, etc."
Terraforming is not fully implemented either but we start seeing a bit of how it works. Unlike in so many other games you are limited by how much you can terraform a planet, and technologies unlock just how far you can go but it never allows you to Gaia-form every planet. So I wondered what the end goal of the system will be:
"The game sets limits on what sorts of transformations you can make based on the planet type and position in the star system. So even with the best endgame technology, there's still some variety in what the "optimal" end condition of a planet will be. That said, full terraforming is an endgame technology, and so by the time you gain the ability to transform planets at will, you will probably have met or be close to meeting one of the victory conditions."
Personally, I don't mind mass terraforming, my only issues with how other games have handled it is that it's either too easy or can happen too early in the game. Hopefully, the game will maintain its tighter restrictions on how far you can go or at the very least save the more drastic transformations for the late end-game.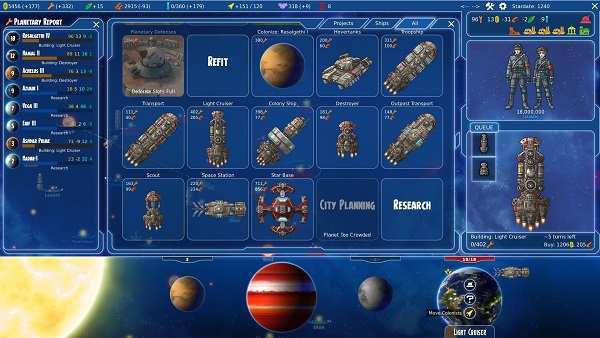 Diplomacy
Diplomacy has been added recently but it's still bare-bone and several systems are not implemented into it yet. One such system that still needs to be implemented is the issue and event system. These will play an important role in diplomacy by giving the player situations they need to deal with which will influence their diplomatic relations.
This reminds me of another system the game uses while you explore, you get random events that sometimes require the player to make a choice. This too is not fully implemented but the early version of these events are in. Here is what the developers had to say about these mechanics and if there will be any overlap between them:
"The diplomacy system revolves around "issues" with other factions created by interactions with them (making or breaking a deal, colonizing a system they wanted, engaging in behavior they like or dislike). The list of issues tells you not only what the other faction thinks about you and why, but in some cases offers the ability to do something about it — allowing an issue to be settled, removing a reputation hit for a misdeed by making reparations, for example. Much of the work during Early Access will be adding meat onto bones of this system, adding more issues, more interaction options, and more customized dialogue to go with them.

The event system is a way to for the game to create issues outside of direct player behavior. An event may take the form of a traditional 4X game event like a natural disaster, or it may just be an action cue for an AI faction ("I must have that planet!"), but in most cases events are mainly designed around driving interactions with the other factions.

Encounters during exploration (finding a derelict spacecraft, or discovering a new native race on a planet) are separate from the event system, but they will in some cases tie into the issue system. Some minor factions can be interacted with using the same diplomacy system as the major factions."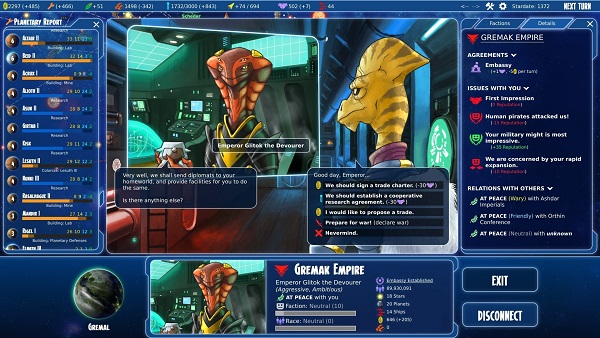 Even in its bare-bone state, the overall diplomacy system seems to be build around helping with immersion. The menu is build to make it look like a conversation menu while maintaining the functionality of a diplomacy UI. The player will also be able to deal with minor factions like splinter colonies. Also the interface is good at giving the player a lot of data about the empire they are talking to and the reasons for their current diplomatic stances.
Planetary Invasion
Planetary invasion has been expanded, the systems is still an abstraction but it blends simplicity with the need for player involvement. Your loyal population composes your militia and can also be loaded onto troopships to be used as ground forces. The player can also build armor units, which can be used as heavy defense, keep control of rebellious planets, and naturally to invade other planets.
The system has a detailed UI where the player can perform orbital bombardments and see their results immediately. When the player feels ready, they can drop their troops and see the final results. All the little nuances are in there like buildings being destroyed and civilian populations getting killed (including civilians that would be happy for their liberation).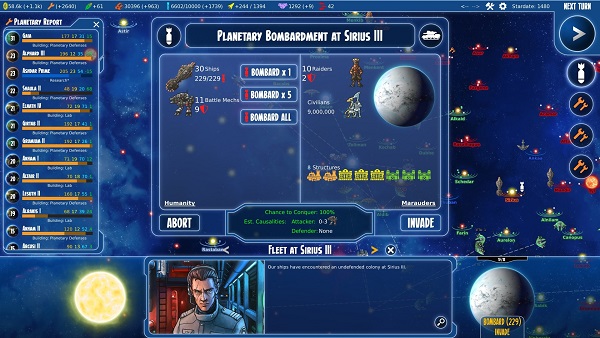 Overall Impressions
Before diving into my overall impressions, there was one more question I had to ask. Since the late game is still a little light in completion I decided to ask them about victory conditions:
"The primary win condition (aside from outright conquest) is a Galactic Council election, which can be won through a variety of methods: you can gain the votes you need through gaining allies, by conquering enough population, or by other nefarious means. We would also like to add some secondary quest-related win conditions as well, which involve the player completing a specific set of objectives."
Now for my overall view. Firstly, with the game still heavily under construction I do reserve making any definitive call on the game, above and beyond what we normally afford when dealing with any E.A. or in beta-phase title.
However, I need to say that I been looking at this game for a long while and seen it come a long way, so I do believe the developers are committed to finishing the job. Also, from what I played, I believe the game does look promising.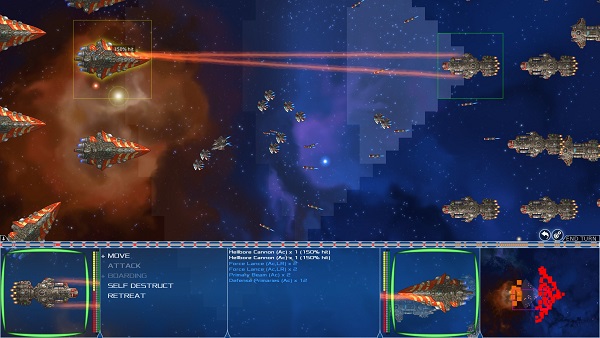 The mechanics they use for planetary management does cut down on micromanagement when compared to other games since most worlds will be fire-and-forget once you have developed them. You will only have a few production powerhouses since you are still bottlenecked by your metal supply. However, you'll still get moments of intense management when you research +1 infrastructure slot and have 20+ planets.
As I mentioned so many times, I really like the ship designer but I am hoping they do improve the UI for it. I like the criss-crossed nature of the tech tree but there too an improved UI would be nice.
Ship combat is what you'd expect, and what I think many would like to see. Turn-based, shield facing, ship positioning, PD weapons that fire reactively or actively, and all the good stuff like fighters and boarding pods. The fact you can move similar ships as a squadron is also useful at managing movement and looks good when they fire together.
Diplomacy is still bare-bone so I can't say much about it. However, I do like the attempts to make the game immersive. This is one thing I will definitely say about Stars in Shadow, it's immersive. The art style might not be to some people's liking but it does add to the setting, giving every aspect of the game its own personality.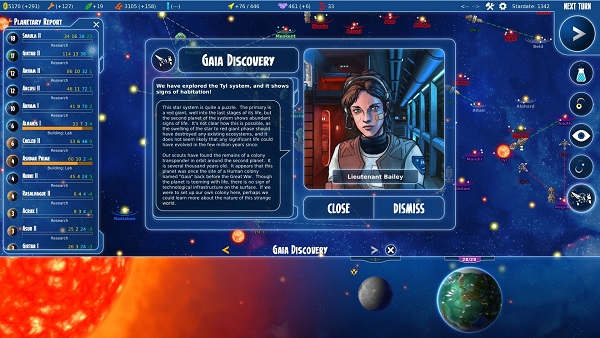 Personally, I have grown a little tired of the monochrome look so many other games tend to use, so big colourful and stylised is actually welcomed. Also, my gaming golden age was during the time this art style was very popular so it does kind of send me back to my younger days.
Another aspect that many fans of the classics would be pleased to see is the use of free movement and range limits. The player can upgrade their speed and range with several technologies (and improve range with ship modules as well), and build outposts to extend their range out from their colonies even more.
Naturally, this is still an E.A. game and a lot of what I say may change over time (hopefully for the best and not the worst). E.A. is for the truly entrepreneurial who is willing to take a risk and help out in the development of a game, or for the overly dedicated fan that wants to support a game in development. As always, we will continue to offer coverage and a full review upon release.
Stars in Shadow is normally available on Steam's Early Access program for $24.99 USD. Currently there is a special till September 22, 2016 where the game is available for $19.99 USD.
Subscribe RSS
27 Comments
Related Articles:
Post category:
Game First Impressions
,
Game Previews
,
Interviews