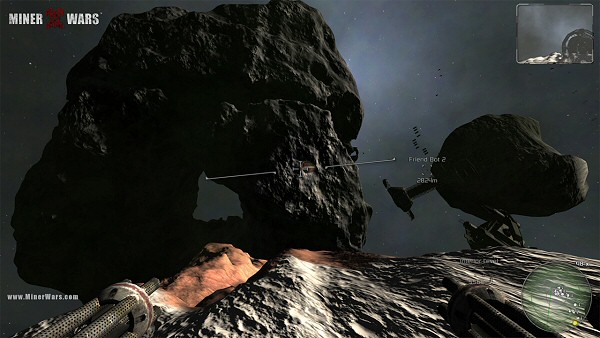 Miner Wars is a space-based simulation shooter that combines a single player story game and an MMO.
The Miner Wars franchise branches into two different products: Miner Wars 2081 (that features single-player and multiplayer) and Miner Wars MMO (its massive multiplayer online version). The first game is due for release in Q1 2012 and it is part of Space Sector's Sci-Fi/Space Games You Can't Miss in 2011 list. The MMO Miner Wars is targeted for release sometime later. The beta is scheduled for Q4 2012.
Yesterday Miner Wars' devs launched a pre-sales campaign for their MMO (almost a full year before the MMO goes beta). They are offering 2 years of subscription after the game comes out for a price of $19.99 USD. They also promised to give "access to the pre-alpha of MMO [that] will be most likely given to our loyal customers earlier, in Q2-Q3/2012".
Devs' reasons for launching the pre-orders so soon include:

– To determine peoples' interest in the MMO compared to single/co-op. We may start focusing on the MMO development sooner, so fans will also receive MMO pre-alpha sooner.
– To support the developers (funds would enable us to hire a larger team, make the game earlier and better).
– To shape how the MMO will look like (not all design details are set in stone) with the help and feedback from our community of gamers.
– To generate more interest from our investors to invest additional money in to the MMO.
– And to let you save some money with the pre-sale discount price!
Single-player/standard multi-player (Miner Wars 2081) is now in pre-alpha stage and available for free download.
You can pre-order Miner Wars MMO at the Miner Wars' official website store.
About Keen Software House
Keen Software House was founded in 2007 by Marek Rosa, a software industry veteran. The company had their first major hirings in late 2009 for its crowning project Miner Wars.
Miner Wars™ – Six-axis space shooter featuring entirely destructible environments. The game is playable in a single player campaign, cooperative modes, and includes a further MMO franchise in the works
VRAGE™ – Developed from the ground up for Miner Wars 2081, this game development engine will one day be offered to indie companies looking for a powerful tool to help them with their projects.
KSH's headquarters is situated in Prague, Czech Republic.
Subscribe RSS
3 Comments
Related Articles:
Post category:
News & Announcements