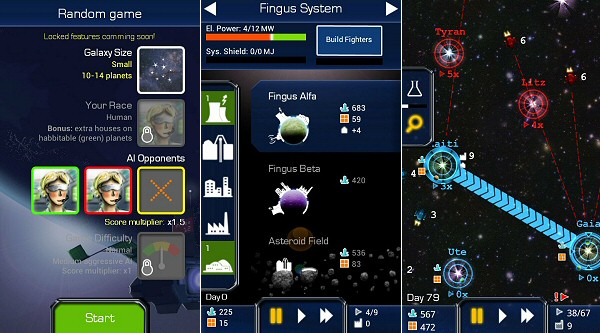 Android folks will be glad to know that there is a new space strategy game available in Google Play. Its name is Star Colonies, and it is a real-time strategy game.
Star Colonies is a free app that is currently in beta, that apparently uses ads as business model. Final release is scheduled for May 2012. BluePlop Team describes their game as "Colonize star systems, build different buildings, discover new technologies and build the most powerful fleet to beat enemies! If you played and liked the game Master of Orion, you will enjoy this sci-fi game too!". For the future BPT announces more difficulty levels, more races with special abilities and multiplayer. But, they are accepting new ideas.
Looks like an interesting game and it is scoring quite high in reviews (4.5/5.0 with 51 votes in Google Play). You have some game impressions by desito, a SS forum member (that doesn't work for the devs ;) ), here. Maybe you should have a look. At least it's free (for now).
Actually, there are quite a few other space strategy games available for Android for you to check out. Some of which are also free. Here are 15 of them: 15 Space Strategy Games for Your Android Device.
Thanks to the SS forum member desito for this find ;)
Subscribe RSS
27 Comments
Related Articles:
Post category:
Games Under Development
,
News & Announcements