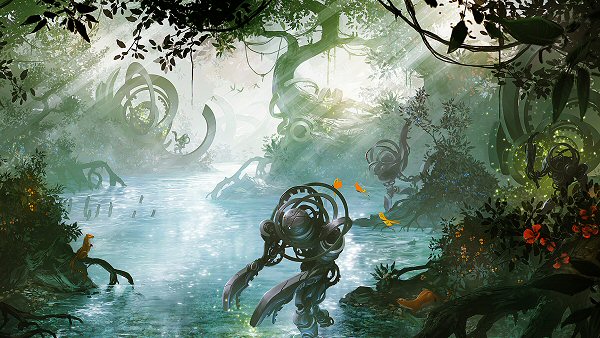 Iceberg Interactive and Amplitude Studios release the free add-on/patch for Endless Space, "Rise of the Automatons", today on Steam. Amplitude plans to release two more of these free add-ons till the end of 2012, before they start to work on the announced expansion pack.
According to the publisher the most important features of this free add-on #1 are:
Addition of the new Automatons custom faction
GUI changes such as a new Trade Route panel and updated Empire Management screen
Upgraded and updated diplomacy and alliance options
Improved hero management
Improved AI
Fixes, amendments and changes
Amplitude's full release note can be found here.
Regarding "improved AI" the full notes include: better building of star system improvements; tax rate management improvements;  better handling of alliance requests and improved formula for trading a technology with the AI.
Concerning the "diplomacy upgrade" Amplitude added: a tendency panel that shows how an ally AI is likely to respond to a treaty you offer to someone outside the alliance. When you offer someone outside the alliance a treaty, your allies may decide to accept the treaty of leave the alliance.
There are also "balancing improvements", namely: a change on the upkeep formula; deflectors efficiency reduced; hull HP increased; tonnage and repair modules cost increased; length of Cooperation Agreements reduced and AI bonuses reduced to balance the difficulty.
See the changes in the following screenshots supplied by Amplitude Studios (the text on the bottom of each image explains the change).
Apparently, your current game saves will not be compatible with this new version to come out today. So, make sure to stop Steam's auto-update feature if you plan to finish your current game :)
According to Amplitude's update plan, the free add-on #2 content will be defined through Games2Gether at the end of October 2012. The free add-on #3 content voting will start after that. All three free ad-ons "will be released until December of this year (2012)" said Amplitude.
For more information on this turn-based space 4X game checkout our Endless Space review and the AAR "Playing the Amoeba". Information on where to buy can be found on our game's list page.
Subscribe RSS
35 Comments
Related Articles:
Post category:
Game Patches
,
News & Announcements