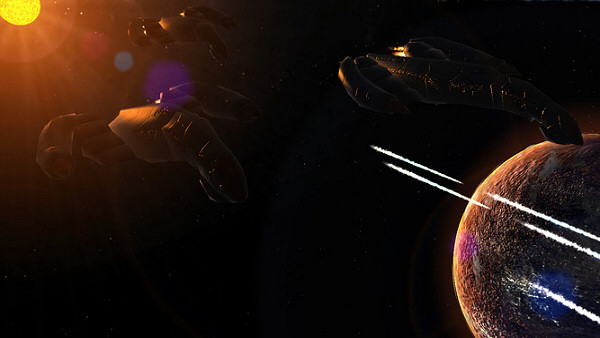 The 4X space strategy game project MORE. finished its Kickstarter campaign a few hours ago, achieving 182% of its $50,000 goal, for a total of $90,925 raised.
For the ones of you new to this game project, MORE is a space 4X game that wants to pickup from Master of Orion's success and provide more on top, aiming at being a worthy successor of the space 4X game classic of the classics.
MORE promises to keep Master of Orions' full turn-based nature intact, for both the strategic and space combat tactical layers. But, now on a 3D galaxy map and 3D space battle environment.
Other features include a design concept called Dysonian Spheres, which aim at reducing micromanagement at later game stages. Ship design is also a major feature, allowing you to design your ships almost from scratch by using building blocks.
The devs plan is indeed a bold one. IdeaLcenter aims at providing 20 playable races. Yes, 20 diverse factions, each with its unique UI style and special technologies. From crystal organisms, to fungus, amoeba space monsters, drones or robotic races.
IdeaLcenter also plans to provide animated cutscenes, something I always loved in these kind of games. They don't need to be lengthy, but I find cutscenes to be an important game element that helps with immersion. And everything that helps with immersion is an important plus.
Latest kickstarter stretch goals unlocked a galactic council and more diplomatic options (important), more cutscenes, hot seat and PEBM support (very important!). And, they barely made it, but at the last minute they were able to raise enough money to include an intergalactic menace (like the Antarans in Master of Orion 2) and more random events. The last few hours were really generous for MORE.
They plan to release for Win PC, Linux and Mac. At the moment their schedule is to reach Alpha on July 2013, Beta in September 2013 and the full game in December 2013.
For more information on MORE check out our small preview and our interview with the devs. You also have all the information on the Kickstarter page and on the game's official website, where you can interact with IdeaLcenter by using the forums.
I have high hopes for MORE and IdeaLcenter. They are surely bold, but the money they raised, although a nice amount, seems to be very little for what they are trying to achieve here. Some of the devs even work part time also, living a normal life with jobs and working on the game on the side (or the other way around perhaps). Can they make it? I surely hope they will.
Subscribe RSS
20 Comments
Related Articles:
Post category:
Kickstart
,
News & Announcements