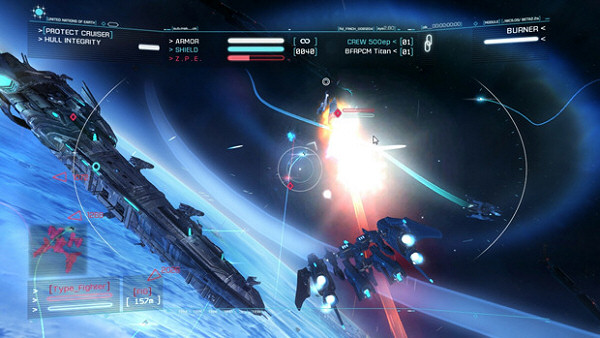 Born Ready Games is on Kickstarter looking for funds to, not really (kick)start their space combat game but to help finish it. Their goal is to reach $100.000 to do more polishing work, bug ironing and include extra content from feedback obtained on Gamescom, PAX and Eurogamer expos. And, to gain more visibility and attract more people to their game of course.
Strike Suit Zero seems to be an intense space combat PC game. From the kickstarter video it looks visually appealing and the score is really nice (the Asian style rhythms remind me of Homeword instantly). It seems to be more of an arcade dogfight style of game than a space simulation experience. You control a transforming craft known as the Strike Suit, which in its normal state is a traditional fighter. But, on a click of a button it transforms into what the devs call "a hulking suit of space armour".
The devs say that they got their inspiration from old space combat games like X-Wing, Wing Commander, Freespace, Freelancer and Starlancer. They say that these were the types of games that their 25-people team loved to play, and that's why they decided to develop a space combat game.
It's impossible to say for sure if the game will see day light without this kickstarter getting approved. I got the impression that they will deliver anyway. But, if on one hand the devs say that the money will be used to do extra things, and that the development is already way advanced (2 years now) they also say that "we simply can't afford to keep the game in development long enough (…) our funding is running out, and we need your help.". Very appropriate for a Kickstarter countdown :)
Now, seriously, have a look at their kickstarter page to see if this is something that turns you on or not. It surely looks interesting.
Subscribe RSS
5 Comments
Related Articles:
Post category:
Kickstart
,
News & Announcements