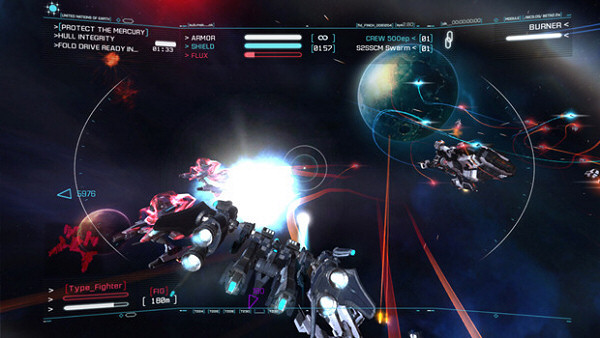 Strike Suit Zero is a new space combat game by Born Ready Games for the PC. It seems to provide a fast-paced space-shooter experience mixed with good-looking graphics and good music. In the game you control a transforming craft know as Strike Suit, which is a fast fighter in its normal state but that can transform into a "powerful [and] highly maneuverable" vessel specialized for combat.
Key features include:
Fast, frantic space combat
Section by section destruction of capital ships
Multiple endings
Joystick compatible (gamepads, mouse and keyboard are also supported)
Multi-screen support
Music by Paul Ruskay (Homeworld)
The devs said that they were inspired by old space combat games like X-Wing, Wing Commander or Freespace. They also stated that these were the types of games that their team loved to play, and that's why they decided to develop a space combat game. Now, will it show?
Strike Suit Zero succeeded on Kickstarter and is now available for the PC on GreenManGaming and Steam. It will also be available on GamersGate on Jan 24th. A DRM-free version of Strike Suit Zero will also be available through GOG on Jan 24th.
The devs announced via a recent Kickstarter update that they are planning to work on Mac and Linux versions, with preliminary work starting now.
Subscribe RSS
7 Comments
Related Articles:
Post category:
News & Announcements