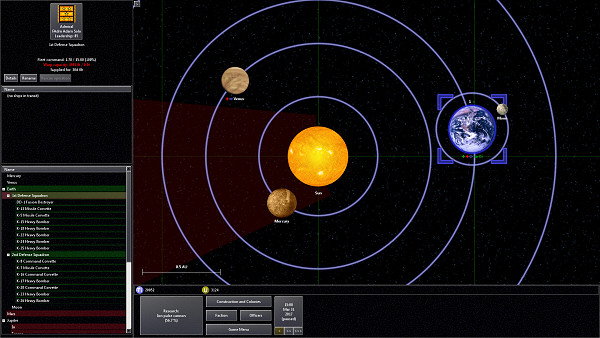 Solar War is a grand strategy space game set in the solar system where you need to deal with an alien invasion, fight back and take the fight to the alien's own territory, through colonization, research and war.
Solar War is currently in Alpha and is on Desura at 50% off this weekend till November 12th 2012.
Features include:
Defend Earth against an alien invasion from the edge of the Solar System.
Negotiate with the various governments of Earth and secure their support – One way or the other.
Establish your bases on other planets to take the fight to the enemy.
Design and build powerful spaceships, then take them into battle.
There's a demo available for Windows and Linux that lets you play a significant part of the early game.
Players who buy during the Alpha stage receive a bonus which allows them to be an officer in the game, which for that you can customize your character using Desura's "connect" feature.
First Impressions
I fired the demo for a quick gaming session but couldn't avoid not feeling underwhelmed at first sight. There's no music, no sounds and the graphics are very basic. Not too unexpected for an indie game at alpha stage alright. But, after a few tutorial hints, my first battle and a few interactions with the gameplay mechanics I started to feel right at home. Although still in Alpha, Solar War is actually very stable and playable already. Here's what you can do.
Right now, you can play the campaign or a pre-built scenario in the solar system. There's no sand-box mode available though, so, you can't generate your own star systems or galaxies.  The campaign consists in defending Earth from an alien invasion, expand through the solar system and fight back the aliens. When the campaign starts you're immediately put under attack by an alien force invading Earth. The scenario (only one available at the moment) puts you in control of a main colony on Mars, and tells the story of your expansion through the Asteroid Belt to Jupiter and Saturn, and their respective moon systems.
The turn-based combat mechanics are already in place. You can control your ships manually or hit auto-resolve. There are different types of ships available, some with beams others with missiles, these last taking a few turns to hit the enemy. You can also pick individual weapons to attack multiple targets if you want. It reminds me of Master of Orion's combat as I felt a similar type of excitement but also the same type of frustrations while playing. For instance, the "instant" auto-resolve feature is also not as instant as in Master of Orion 2 (even when you chose "instant" in the main menu options). And, there's the problem of "who goes first" too, meaning that I always attacked first and as so I always had the advantage. However, the ships are very far apart in the beginning (and hit with more difficulty) which doesn't give away too much advantage alright, but it does. I hope there's some initiative feature, simultaneous attack or fight-back options later in the game, or envisaged to add in the future.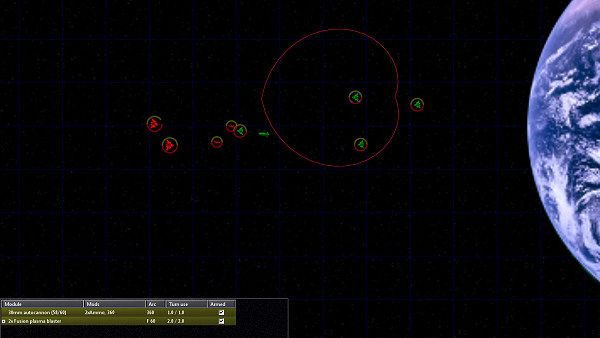 The other available mechanics are: research, ship design, construction, officer management and faction handling. Contrary to ship combat, all these unfold in pausable real-time with different speeds to choose from.
The research tree is somewhat big but is poorly organized. Surprisingly enough it is very easy to handle in any case. Thinking in colonizing Mars in the first turn? No, it's not how things work in Solar War. Before you can colonize other planets you need to research a lot of components that will first allow you to establish a base on the Moon and then, after researching the appropriate engine technology (that you obtain from the alien wreckage), you can start thinking in establishing colonies in other planets. At the moment, Techs don't give you any hints on how long they take to research, unfortunately.
Ship design is quite nice and intuitive. It's easy enough to design ships but it can also be a quite complex task if you want to go all the way, so expect lots of numbers and text. There's a lot of depth in ship design. Not only you need to equip your ships with basic stuff (engines, weapons, armor, …) but you also need to give special attention to details like firing range, heat rate, speed, sensors, ECM evasion, firing arc, shield penetration, among other factors. It may not be pretty but ship design seems to offer all you need to design your ships and watch them in action in a satisfactory way.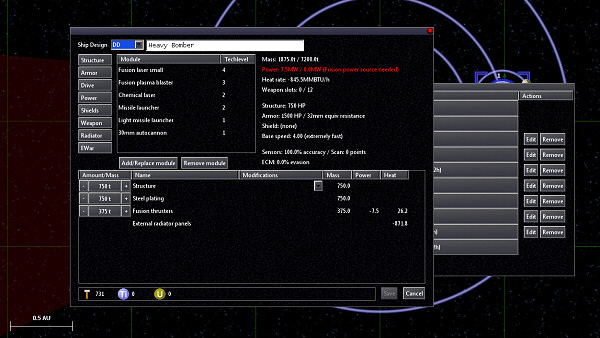 Construction is where you build planetary facilities, spaceships and starbases. The UI is quite straightforward but could use some work still. For starters there's no building queue, so you end up doing many repetitive tasks: build order, order complete, staff ship, repeat… There are two resources to manage at the moment: Titanium and Uranium. I suppose you will need to be more careful managing them as the game progresses, but so far, and for this demo, they were not that important.
All your ships need officers and officer management is quite complex in Solar War. Not only you need to have enough officers to equip your ships but you also need to assign them to special positions as ships have different officer slots (captain, navigators, tactical, engineers). And, as if this was not enough, you must also figure out when it's the right time to promote your officers, as having more experience, leadership and talent points surely must affect your combat stats. Quite frankly I feel that I only scratched the surface on officer management still.
Then, and at last, you need to manage relations with Earth's nations in the hope that they will join your council, or at least become associated members of your organization so that you have enough money to fund your operations. And this is where the X-COM feeling kicks in :) While negotiating with the different nations, and by witnessing how happy (or not) they were with my progress, through monthly reports, I couldn't help not to think like I was playing an X-COM game right after the alien invasion is dealt with. It felt like X-COM had now evolved into a space faring organization prepared to fight the aliens in their territory.
Closing Thoughts
I liked my first experience with Solar War. My immediate impression was not very good because the aesthetics are very poor or even nonexistent (music, sound). But, this is only Alpha and quite frankly I didn't miss great graphics or sound effects after playing for a while. Sure, they would have helped keeping me engaged for more time but I liked what I've seen so far and I did have fun playing.
I think this is a nice indie space strategy game that can turn into a very enjoyable experience when/if more art assets are added, and the right UI polishing is done. Having a sand-box feature would also be a big plus, but as the idea seems to be to offer the solar system experience at least the scenarios can help bring more longevity to the game. I confess that I also got a kick for feeling like I was playing X-COM in space with a Master of Orion feel to it, although Snipfish is not there quite yet.
In conclusion, if you're looking for something simple to pickup and cheap, don't mind basic graphics and you feel the need to scratch your space strategy in-the-solar-system itch, then Solar War is a good game for you to support.
Check out the Solar War trailer below.
Subscribe RSS
12 Comments
Related Articles:
Post category:
Game First Impressions
,
Game Previews
,
Games Under Development