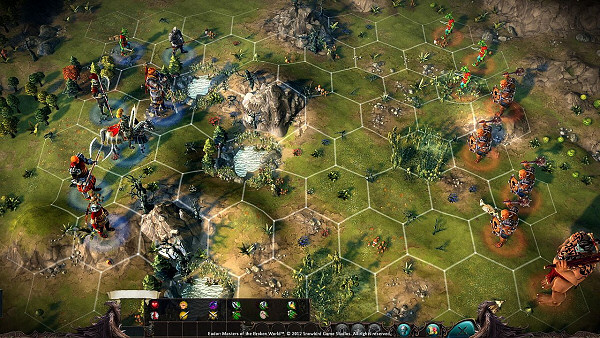 Eador: Masters of the Broken World is an upcoming strategy game from Snowbird Games. I recently had the privilege of participating in the December Technical Beta for Eador, and wanted to provide some insight into just what this game is all about.
What is it?
Eador: Masters of the Broken World is a unique turn-based fantasy strategy game. While it does appear to borrow heavily from successful games of the past, most notably the tactical battles, which resemble the Heroes of Might & Magic series, it is in actuality quite unlike any title I've personally played before.
Eador: Masters of the Broken World offers a campaign mode as well as a custom game mode. The main concept in the game is that the universe has been shattered into these various shards of land that float around in space all around you after a great cataclysm. In this universe are various astral masters, the so-called "Masters of the Broken World", all of whom have their own wants and desires regarding what the best course of action is. In Eador, you are also a master, and it is up to you to decide how you want to act, behave, and interact with the universe.
All the shattered shards
The main campaign features two distinct modes that you will rotate between throughout your time with the game. The astral/shard view is where you'll take stock of the nearby shards floating in space around you. Clicking on a shard brings up a panel indicating what the rewards are for conquering the shard, should you choose to attempt to do so. Clicking on a shard and choosing to attack it brings you into the second game mode, and the one you will likely be spending much more time in. I'll explain a bit more about that mode shortly.
Aside from clicking on shards and conquering them, you'll also encounter other astral masters as you continue through the campaign. Each master has a unique look, personality, and opinion about you and the universe at large. Some are quite obviously self-absorbed power-mongers, as evidenced by their demands that I allow my people to worship them. Others play less obvious roles. Your interactions with these masters take place through the use of dialog choices, similar to what you'd see in some RPGs or adventure games. You select what you want to say given the choices, they respond to that choice, you get some new choices, they respond to your latest choice, and so on. While I saw the option to declare war in most cases, I did not see to many other diplomatic options, at least not obvious ones. It seemed to me, based on my time with the technical beta, that your stance with the other masters is going to be primarily based on your actions and decisions both within the shards and within your dialog choices.
The beta indicated that there were as many as 12 endings to the campaign, so all indications are that your choices and decisions are going to have a strong impact on how your particular campaign ends up. This also means that replaying the campaign will likely offer a significantly different experience should you choose to make different choices.
Conquering shards and provinces – the strategic layer
After choosing to attack a shard in the astral view, perhaps because some of the benefits you'll gain from taking it appealed to you, you'll be taken to a more standard looking strategy map that is specific to just that particular shard. In Eador, each shard is a strategy map all to itself. Before you, you'll see all of the provinces of the shard laid out, though many provinces will be obscured by a fog of war until you've explored them. Your primarily goal is going to be conquer these provinces, eventually taking over the shard, and returning yourself to the astral view to celebrate your latest conquest.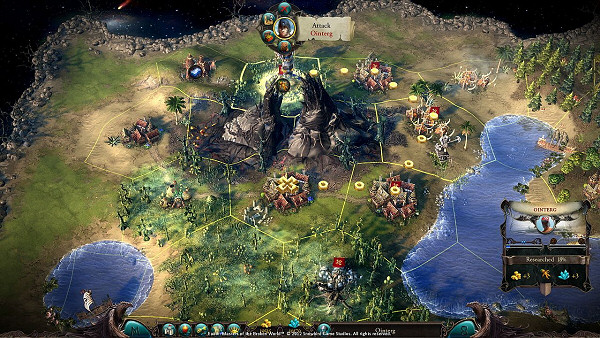 Starting with a single province, you will have to hire heroes to lead your armies, build up your cities, and explore territories to discover monster lairs and resources. In addition, you'll be occasionally presented with random events and discoveries that may re-focus your attention.
In Eador, every army must be led by a hero. While you can certainly purchase units and place them in a defensive garrison, they won't be exploring or conquering enemies unless led by a hero character, of which there are 4 choices. Before I name these, it is important to note that heroes in Eador actually fight on the battlefield alongside their units in a manner similar to Master of Magic, Age of Wonders, or Fallen Enchantress rather than like the Heroes series.
With that said, the first hero type is the Warrior, a hero who has exclusive access to the heavy defensive armor and weapons (bought in shops or looted). It has access to defensive and offensive combat abilities as he levels, and who is the best choice if you want a classic bruiser type of hero fighting alongside his men. The second hero type is the Scout, who is effectively an archer character who uses lighter armor and gains abilities related to path-finding, archery, exploration, and diplomacy. A third hero type is the Commander, who is primarily dedicated to enhancing the units he leads, and gains abilities that reflect this inclination to play a more supporting role than the others. Finally, we are left with the Wizard, a hero that has enhanced magic capabilities above and beyond that of the other heroes. As they gain experience, your heroes will level up and select new abilities or enhance their current ones.
Before I move on from heroes, I should also mention that at level 10 you are allowed to pick a subclass for your hero. These further direct your hero's abilities and earned ability choices to help you tailor the hero to your specific playstyle.
Building up your stronghold consists of adding buildings to the different districts of your city. Each district is divided into 4 building levels, with level 1 buildings being easiest to build, and level 4 being much harder. The key thing to remember is that almost all buildings require some other prerequisite buildings to exist before you can construct them, and that in a single turn you can only build a single building in that stronghold.
There are quite a few districts in the city, of which I'll highlight only a few. The Military District is where you'll find most of the buildings you'll need to unlock to allow recruitment of different troop types into your armies. Archers, Swordsmen, Pikemen and the like populate the lowest tiers, while Wizards, Pegasus, and other more powerful creatures populate the higher levels and require more prerequisite buildings and resources to unlock and hire. The Foreign District is interesting in that you have to own territories with certain populations or characteristics, like Elves for instance, to unlock particular buildings or hire-able troops. Instead of having the player select a race in the traditional sense, racial troops like centaurs are instead only available if you own particular tiles and then unlock their particular building in this sector. Other districts offer buildings that offer new spells to your heroes, increase income, increase morale, and so on.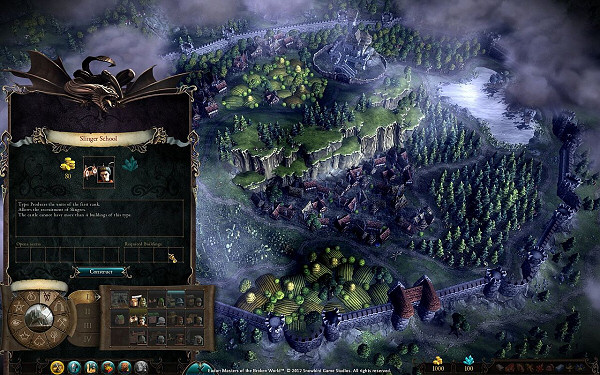 Each province can be explored by any hero on the tile. The interesting thing about exploration is that you will often find monster dens, resources, and item caches that you just won't know exist otherwise. Even in your starting province on the shard, it is possible to find at least 12 different places of interest through exploration, based on my experiences. Many of these places are monster dens that you can choose to clear (through the use of tactical combat, explained later) and obtain loot from. Others are shops and additional resources, which are also often guarded by some sort of threat. One nice thing I noticed was that humanoid enemy types seemed to offer a negotiation option in addition to attack, and while I was not often successful in doing so, it was nice to see this as an option. I know there are some hero skills that increase negotiation, so I suspect some points invested there would have improved my ability to parlay with the enemy. It is important to keep in mind that each shard has quite a lot of provinces, each of which offering exploration and rewards to those who choose to pursue them.
Turn-based Tactical Combat looks promising
If you've taken even a quick look at the screenshots showing the combat system in Eador, you likely already know that it appears to be very reminiscent of the Heroes of Might & Magic series. As someone who has played the vast majority of titles in that series, starting with HoMM 2, I feel that yes, it is quite similar and will feel familiar to fans of that series, but at the same time I must say that it has actually included many additional gameplay elements that have injected new life into this tried and true tile based combat system.
All units in Eador share combat statistics like health points, movement points, stamina, melee damage, ranged damage, melee defense, ranged defense, morale, ammo, etc. Of these, stamina is interesting in that it is drained whenever you take an action in combat, even moving, and is only restored in combat while resting. In longer battles, I can see stamina becoming an issue, especially with units that have naturally low stamina scores and the ability of certain spells and even scout abilities to reduce unit stamina even quicker than normal. When the unit has no stamina, it can not act until it rests to regain some stamina again. Morale is also interesting in that if it is reduced to zero, the unit will flee. Watching his friends die nearby will reduce his morale, as will taking a decent hit, and in contrast seeing an enemy killed nearby will raise morale. In addition, morale is actually affected outside of combat as well, as the presence of incompatible units will attach a morale penalty immediately. Elves do not like being in the same army with barbarians, for instance.
I've mentioned a few differences already, but perhaps the biggest difference I noticed with Eador's tactical combat was that nearly every unit in Eador has at least 1 special ability/trait when hired, be it a weak level 1 unit all the way to level 4 units. Higher level units have higher traits in stats that matter, like health points, melee attack, ranged attack, various defenses to spells, melee, and ranged fire that help justify their increased cost. In addition, they tend to have additional traits and abilities, including things like spells they can cast, the ability to fly over all terrain obstacles, the ability to summon units, near immunity to normal attacks, the ability to poison others, and the ability to drain life from others, just to name a few.
While it is of course possible to simply buy your way up the unit chain, one would be ill advised to not also focus on keeping their lower level units around as long as possible. As these lower level units gain experience, they, just like your hero, can also level up and can typically select 1 of a pair of abilities that will increase some of their core stats, add new abilities or traits, or enhance traits they already had. As one example, I had a minotaur that had leveled up several times, and then was offered a pair of upgrades, one of which was a brand new round attack ability that would let him attack all adjacent enemies for a stamina cost. In addition to these ability upgrades, I've also seen at least one case where a unit can even morph into a completely different unit. In that case, my militiaman unit became a spearman at the end of a battle. Finally, I've also seen special medals, like a Medal of Bravery, presented as possible option for some of my units. After a battle, I can award this medal, providing a boost to that unit, but this comes at the cost of an increase in that unit's upkeep cost.
For those who aren't fans of tactical combat, or who simply choose to skip easier battles, Eador: Masters of the Broken World offers a couple of options. You can allow the AI to control your units for you in battle, or you can instruct the game to quickly end the battle, simulating it and presenting the results immediately.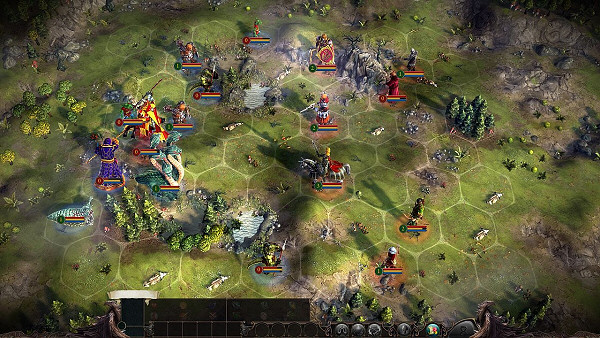 Preview of a Technical Beta
The beta version I experienced was missing sound effects and final animations, two elements that can certainly impact the overall experience. In addition, I unfortunately ran into a random, but annoying, combat bug where I would finish an enemy off, but their unit would appear to still be alive with 0 health. Even though I couldn't attack the unit, the battle would never end when this occurred, and I would have to quit and reload a prior save. I have to admit that this prevented me from completing the conquest of an entire shard, though I did start over multiple times to try different units and strategies.
Despite these issues, which are to be expected when playing a beta product, I enjoyed the time I spent with Eador and look forward to seeing what it looks like upon release.
Eador: Masters of the Broken World is currently scheduled for a Q1 2013 release for the PC and Mac platforms. Snowbird Games has placed Eador: Masters of the Broken World up for consideration on Steam Greenlight, so if this game sounds like something you'd be interested in, I'm sure they'd really appreciate you stopping by to give them a vote.
Subscribe RSS
33 Comments
Related Articles:
Post category:
Game Previews