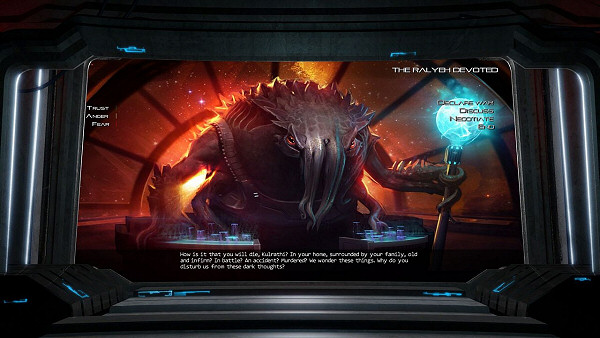 If you've been following SpaceSector's coverage of StarDrive, you probably already know that StarDrive is a game I've been writing about for quite awhile now. I admit that I've been rather enthusiastic and excited about it, even since its early days, as I really liked the concepts and mechanics it was introducing. I have been waiting patiently for a 4X game that ticked all the boxes on its way to success. This past Friday, StarDrive's status was officially changed from beta product to released product. Has it managed to meet my expectations? Let's find out.
Background Info
I've spent over 40 hours with StarDrive since it's Steam open beta release, and dozens more prior to that during the closed Steam and Desura betas, which I have been a part of since nearly the beginning. Typically, I prefer to play on an above average difficulty in a small to medium size galaxy. I know that some players prefer to play with an epic size galaxy, and I felt it was very important that I test the game's capabilities under those settings as well.
Therefore, in preparation for this review, I have also played a game on the epic map size with an AI difficulty of brutal, which is the highest difficulty mode available. Obviously, this not only tests the AI's capabilities, but also gave me some insight into how well performance held up under the most extreme conditions the game has on offer. For that reason, I also played the game on both my desktop and my laptop.
Overall Gameplay
StarDrive is a 4X game about conquering the galaxy. The only game mode currently present in StarDrive is sandbox, so those looking for a story centered mode or alternative game modes won't find them here as of now. StarDrive at one point in its past had a few different alternative modes in the game, but these are not present currently.
StarDrive features 8 different races each with their own unique diplomatic videos/avatars, their own ship designs, their own fully customizable traits, and in the case of AI controlled races, their own somewhat randomized personalities. After selecting and designing your race, setting up your galaxy settings like size, planet abundance, and overall pacing, you'll be ready to start playing the game.
Gameplay consists of the core 4X features we all know and love. You'll be exploring the galaxy for planets and artifacts, colonizing worlds, researching technologies, designing ships, conducting diplomacy, and participating in offensive and defensive actions throughout the game. Victory is achieved by wiping out either all other races, or wiping out some and absorbing the others into a player-led federation. There is neither a science or wonder type victory condition in the game, so in all cases you'll be forced to take an active part in the ways of war if you hope to win the game.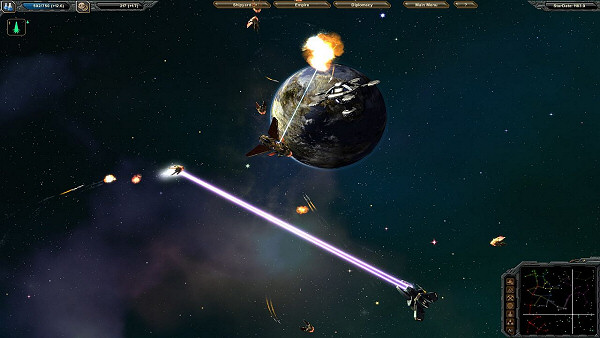 Thankfully, ship design and combat are a lot of fun in StarDrive. Each race has aesthetically different and technically different ships, each of which contains different module layouts inside. I've discussed this before, but it is worth mentioning again, that StarDrive's ship design system, combined with its combat, are truly it's most worthwhile attributes.
Even though it's not turn-based but a real-time (pausable) game, it still delivers a very strong "one more turn" sensation due to its design system. Once I've designed a brand new ship, there's just no way I can step away from the PC until I've built it and seen it in action. There is no greater glory then watching your newly minted ship pulverize the hulls of your enemy into space dust. Watching them beg for peace when you've just finished bombarding several of their planets is a close second though.
To fully show how versatile the ship design system is, I tried designing some corvette class ships that were heavily armored on one side, and then placed my unprotected and vulnerable weapons on the other. I then assigned them the attack pattern that forced them to always try to circle their enemy while keeping the protected side facing them. The nice thing about this is that weapon projectiles and direction actually matter, so by keeping my armored side against the enemy, I could protect the reactors and weapons that I placed unprotected behind them.
This worked fairly well, although not perfectly, as sometimes my ships would inexplicably either change targets or fly directly towards an opponent, leaving themselves exposed. It was good to see that some creative use of these advanced attack patterns could be made, even if it wasn't a perfect experiment. Squeezing every last bit of efficiency out of a ship is a tough thing to do, and I expect we'll see people debating potential best in class designs for each hull for some time to come.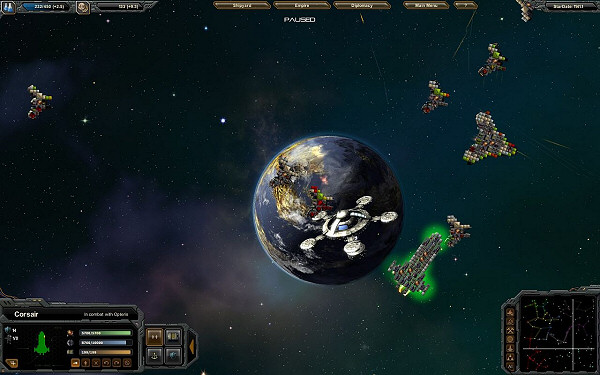 Exploration is enjoyable, although not as intense as it could be, as in reality there are only a handful of surprises to discover and these will be revealed after only your first playthrough of the game. You won't find an any space monsters or pirates in the current game. The closest thing to space monsters is the Remnant, a grouping of ships that orbits some of the best planets in the game, but they seem like more of a "gear check" to see if you are powerful enough to take them rather than a viable or exciting threat to deal with. They do offer a few surprises, but even these are limited in scope.
Technically, pirates do also exist, but they feel more like the start of a good idea rather than a fully fleshed out feature. They also seem to be biased against the human player, which is a mechanic that I find a bit cheap and unfair.
In terms of planet exploration, StarDrive does have a few planetary surprises to discover. These are certainly worth collecting, as each will provide a somewhat significant bonus to the player of some kind. Every race in the game can benefit from these items, so grabbing them as quickly as possible is important. Every race also prefers the same exact climate, richness, and production except for the Opteris, so exploration is also very much a race to the best planets all around. I'd have preferred to see some races that preferred and thrived on swamp, desert, or ice worlds, rather than each race preferring Rich Terran ones.
The tech tree and research options are of debatable quality and quantity. Having researched and played with every tech in the trees, I feel like the number of techs is generally sufficient without having too many unnecessary options. There are some that are of only situational use, such as things like EMP weapons and missile defense systems that may not fit your current goals, but most will be useful to just about everyone.
Tech progress may still be a bit fast for some, and with no "end game" endless technologies, the player is left with an empty research queue once everything has been discovered. There are ways to slow the pace of tech during initial game setup, should you find this is the case for you. I'd have loved to see a mechanic whereby existing weapons could be miniaturized or improved, so as to keep even early stage weapons somewhat useful ala MoO II.
One nice thing about StarDrive that may redeem it in this area is its openness to modding. There are already several tech mods available, and I'm sure we will see even more additional techs from the community in the future. Whether or not these will suit your taste, be balanced properly, or will be used by AI effectively, is a different matter.
Aside from ship design, exploration, and research, a lot of other mechanics are quite similar to 4X games of the past. I'll discuss diplomacy and espionage a bit more in the AI section, as these are a little different than other games.
Freighters and trade routes can be manually controlled, and in StarDrive each and every one of these ships is an actual ship flying about the galaxy. Like most things that don't have to do with combat, these can be automated, and I would recommend doing so as it does a great job moving your goods around for you.
Colony building is limited, with only a few building choices to worry about. You will change your queue when you research a new technology to incorporate the new structure. Beyond that, you will generally leave it empty, build ships or stations, or since troops currently have an insignificant cost associated with them, you'll be smart and just train troops during any planetary downtime. Even with planetary governors managing your colony, I feel that a large number of buildings could become somewhat tedious to manage, so the limited selection is acceptable in my opinion.
StarDrive's primary gameplay focus is on ship design and combat, not colony or trade management, and the limited options and automation available help keep things that way. If you're looking for Civilization in space, you're in the wrong place. If you're looking for epic battles between hundreds of ships with lasers, cannons, fighters, and missiles flying everywhere, then StarDrive has exactly what you are looking for.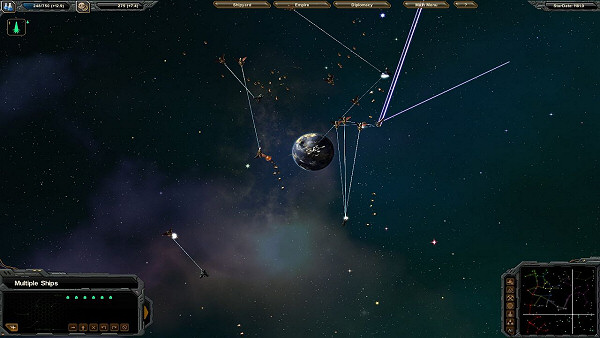 Multiplayer is not present in StarDrive currently. While I myself am not an avid multiplayer gamer when it comes to these types of strategy games, I know a lot of people are disappointed that they can't test their ship designs out against each other at the present time. One very important thing to note, however, is that the game somewhat compensates for this through he use of its own adaptable AI. I'll discuss this further below, in the AI section of my review.
AI
In any single player 4X game, the capability and competency of its AI controlled opponents is of the utmost importance. Can the AI manage its holdings effectively? Can it defend itself from external threats, yet continue to expand and take offensive actions against others? Will it have rapid personality swings and make seemingly schizophrenic diplomatic decisions?
I know there are players who are going to be concerned with whether or not the AI cheats or receives unfair advantages in any way whatsoever. The answer is, yes, StarDrive's AI does receive unfair advantages at higher difficulties. I'm not 100% sure how many they receive, but it is fairly obvious based on the diplomatic/espionage screen that their advantages are quite extreme, at least on the highest difficulty level (brutal). Does it matter in the long run?
That's ultimately up to the individual player, but in my opinion, as long as the AI is competitive, this is a forgivable sin. In most playthroughs I am far and above my opponents in all categories, but against 7 opponents on brutal difficulty, I found myself in close to last place in each category for a significant length of time, meaning I was going to have to work very hard and effectively to survive. This, in my case, makes me feel comfortable with their advantages. This is pretty common in 4X games anyway, but I did want to point this fact out to those that may have been wondering.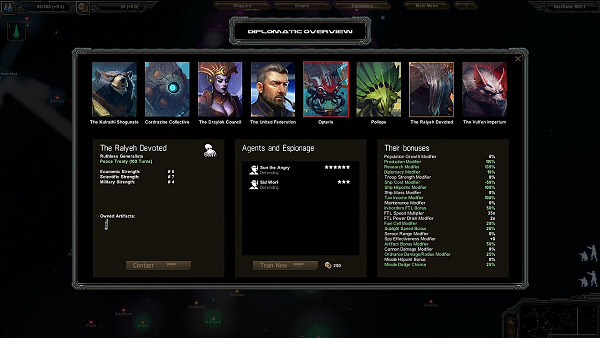 Offense and Defense are two important areas and StarDrive's AI has gotten a bit better about handling them. For both offense and defense, the AI builds quite a few different fleets and assigns them different purposes. While their individual ship designs are not always the best, they tend to be rather effective at building workable fleets. For example, they tend to leave their troop transports in the rear and send their battleships in first to clear a path. Should they sense the tides have turned against them, they also aren't afraid to cut their losses and retreat as quickly as possible. In addition to troop focused fleets, the AI will also equip many of its ships with bombs, and will assist the war effort by bombing your planets into oblivion if given the chance.
Offensively, the AI has surprised me a few times with its ferocity. The AI spares no expense in its fleets, and will often send more ships then you'd been expecting. I was also surprised to see it execute a few multi-pronged attacks, even at one time hitting three of my systems simultaneously. What I did not witness was the AI using specialty weapons or boarding techniques, even in circumstances where they could have clearly dominated me had they used some ingenuity.
Defensively, the AI will respond to threats throughout their empire pretty quickly in my experience, but it does not always handle very focused attacks from the player all that effectively. Players using vast quantities of troops to attack enemy planet's by bypassing defensive ships, as well as fleets built primarily of bombers, have proven difficult for them to overcome.
AI ship designs are somewhat lacking, but one of the best features of StarDrive is the AI's ability to steal a player's designs. Did you wipe the galaxy with your epic Draylok designs last time you played? Don't be surprised to see them used against you the next time you play as a different race. This is a feature that often catches players off guard, and one you truly can't appreciate until you've played a few games with different races. Combined with the AI's offensive capabilities, this can create a very tough challenge for those caught unaware.
From a diplomatic perspective, the AI has been relatively consistent in its actions. Relationships rely on several factors including whether or not you have planets they desire, whether or not they feel you are a threat to them, whether or not they feel they could easily conquer you, the length of your relationship with them, how you have treated others diplomatically, and so on.
Each AI is also assigned a personality at game creation, and this can and will impact their willingness to negotiate with you and with others. Establishing a relationship early, typically with a non-aggression pact, can reap long term dividends as it can later lead to a trade treaty, an alliance, and perhaps, even a willingness to join a player led federation.
As an example, I was able to form an alliance after some time with several races and maintained them without issue. Even though I denied a request to declare war against their rival, and this did hurt our relations, they still remained my ally and did not act irrationally. Another time I accepted their request to declare war, and shortly after that they signed a peace deal that left me at war alone against their former rival. Not very nice, but it shows that using caution when dealing with your ally's requests is rather important.
I'm also pleased to report that your allies will often agree to your requests to declare war against another race, although whether or not they decide to do anything other then make a declaration is difficult to tell. There isn't a direct request like "send me help now", or "go attack target X" that I could find, so it seems war is more a state of what could happen rather than what will happen.
The AI also participates actively in the espionage world. If you don't build some spies, even for defensive purposes, you can fully expect the AI to steal things from you at every chance they can. Your income will go down at times mysteriously, you may notice the AI has some new technologies they didn't have before, and so on.
Spies are dual purpose, so training a spy up and leaving him "unassigned" will provide you with defense against enemy spies, while leveling him up and sending him out to steal from others will of course provide advantages as well. Should you be caught spying on the enemy, expect them to react as they should, with anger and resentment towards your attempts. In this aspect, the AI handles itself quite well.
Stability and Performance
Throughout the beta and now the release, I have been fortunate enough to have both a desktop and a laptop to experience the game with. I spend the vast majority of my time on the desktop, but after spending some type on my desktop experiencing the game so I could write this review, I decided to let my laptop take a crack at my ongoing sandbox game by transferring all my save files and designs over to it. I am glad I did this, as it wasn't really until I played StarDrive on my laptop that I truly began to understand some of the frustrations others have expressed with its stability.
Sound has been an issue throughout the open beta for some players, but I have not experienced any sound issues on my desktop in StarDrive's release version. Also, I had not played StarDrive on my laptop in a few months prior to this review, and had not experienced any sound related issues at that time.
It wasn't until a few Opteris attack fleets showed up on my doorstep that I experienced a complete loss of all sound and music in-game while playing on my laptop. I tried to turn sound and music options on and off, but nothing beyond a complete exit and restart of the game would bring the sound back. In addition, the sound would cut out shortly after re-loading once the Opteris showed up again. I think that beam weapons may have been a factor in the sound loss, but it is hard to say.
I soldiered on through the sound issues as I was really interested in seeing my fleet clash with the Opteris space and ground forces. Unfortunately, I was unable to proceed with my defensive strategy ultimately because of a far worse opponent. StarDrive completely locked up and I was unable to exit without using task manager to end the application. I restarted and reloaded a prior save and all seemed fine, even sound returned, but the sound dropped off and shortly after that the game seemed to lock up again as the Opteris attacked, even without my attempts at boarding.
After three attempts to restart and reload the game only to have it lock up shortly thereafter, I had no choice but to exit the game until I could get back to my desktop to see if it could do any better. Returning to my desktop did allow me to proceed, so your experience may vary.
I experienced good performance with the game overall, at least until the later stages. Playing StarDrive on its epic size setting with brutal AI is a very demanding task. There are a substantial number of things going on, and tons of ships flying around. I did notice in the later stages, several hours into the game, that this combined with some intense combat situations did introduce some lag on my desktop. This was particularly noticeable when my beam and missile ships clashed with some Ralyeh missile ships, and projectiles began flying everywhere around the screen. It wasn't a drastic difference, but it was certainly noticeable.
Aside from this, the only other time I experienced lag was when I increased the game speed to 2x, 3x, or 4x, and only again in these later stages. In these modes the game must process everything going on in the galaxy at an increased speed, so for that reason I feel like some lag is not unreasonable. Returning to 1x cleared up the lag as long I was outside of intense battle situations.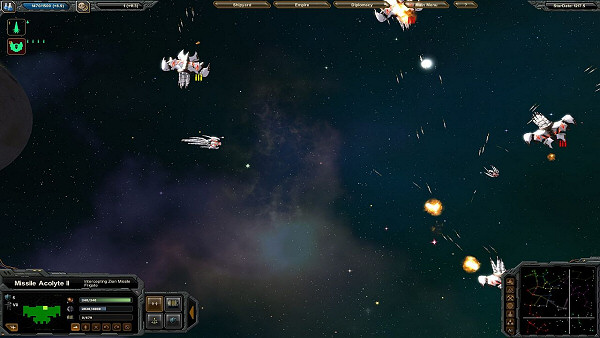 Mods
One of StarDrive's best added value features is its mod support. Even if development itself some day halts, it has left the door open for aspiring designers to add and contort mechanics to their whim. I've seen in the past how mods can truly transform titles that were good ones into great ones, so the importance of a good mod or modding team can not be easily dismissed.
Bugs, Exploits, and Room for Improvement
Troops are one of my biggest pet peeves right now, and one that I believe are going to see attention very soon. They are very cheap to build, free to maintain, and are the most versatile units in the game. They can of course defend your planet and attack enemy planets. One issue many people have expressed concern over is that they can assault other planets often unescorted since they can typically bypass enemy ships completely. StarDrive does have some optional gravity wells and in-system warp speed settings that can be changed upon game setup to prevent this exploit, but these didn't seem like suitable fixes for the core problem.
In addition, this is not even the biggest issue I have with troops. Troops can also directly assault enemy ships. In my recent playthrough, I discovered that nearly every enemy ship I encountered, from the smallest fighter up to cruisers, could not only be defeated, but could also become one of my ships, if only I sent one or two troop ships to capture them. Imagine stealing 6 or 7 600+ value cruisers with only 7 or 8 troops which took only 50 production to create. That's a huge swing, and a much better alternative to destroying them, and also, it is completely broken.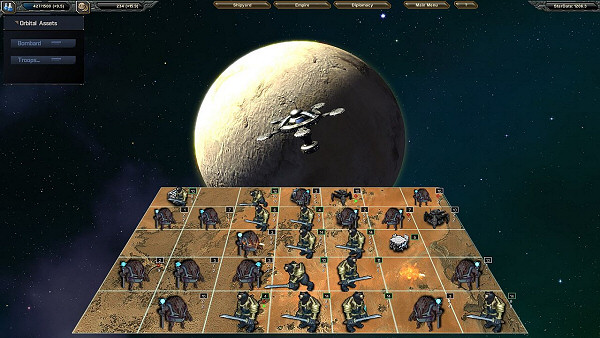 Playing around with troops highlighted another issue with ship assault and boarding. I noticed that enemy ships that have been captured still belong to the enemy fleet. Even though I try to assign them new orders, they will continually start flying off into enemy territory without my instruction. It was only awhile later that I realized that they were obeying instructions that their former master was giving to the remainder of his fleet. This became rather frustrating as I captured more and more of the enemies ships.
In addition to the two issues above, there were numerous other bugs I noticed while playing. These bugs were generally annoying rather than game-breaking though. I received a blank message, that appeared to be a declaration of war, after destroying a Ralyeh colonizer. I noticed a lone Federation marine on one of my planet's that was filled with troops, and received no notification that he had arrived. My troops also had to be manually ordered to destroy him, even though we were at war at the time. A couple of the titan class ship designs are not in the game yet. Filling a planet up entirely with troops prevents any enemy troops from landing.
Furthermore, there are some features that I hope see some refinement and I will briefly list a few of them here. Pirates are currently in game, but consist of only a couple of ships that are either paid off or destroyed, and they seem to only target the player. There is one minor race in the game that has relatively little impact. There aren't any space monsters or neutral threats to deal with aside from some creatures that will spawn when investigating anomalies. Random events are quite limited, consisting primarily of a few planet quality changes and hyperspace flux. It isn't possible to see a race's diplomatic stance when it comes to other races, so making informed decisions is nearly impossible currently.
Speaking of features you may feel are missing, and if you are someone who values community interaction, I feel it is worth mentioning that StarDrive's developer currently has over 2600 posts on his forum, which is an average of over 7 posts a day. If you've ever been frustrated by the silent treatment some developers present you with, or have felt like your voice hasn't been heard, then StarDrive may make you feel differently. I have personally witnessed numerous ideas and balance changes presented by the community that have been implemented throughout the beta period.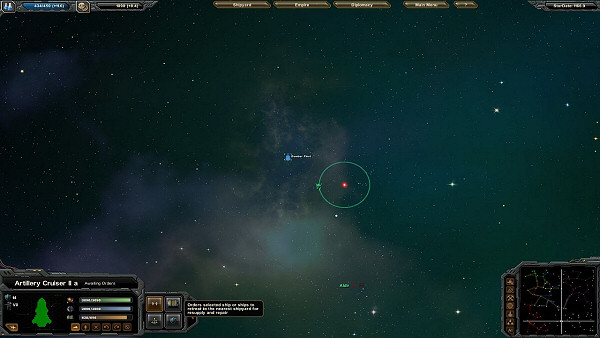 Final Words
In my opinion, I do feel StarDrive's release is a bit premature. While bugs and balancing issues are expected post-release, some of the issues I have described experiencing with this release version are a bit more serious than that, especially when playing on my laptop. Since the game was already available to anyone interested in playing as a beta, I'm not sure why the game's release wasn't pushed to allow more time for features to be finalized and for bugs to be squashed. As such, those who are easily frustrated by technical and gameplay issues and who don't like to participate in beta versions because of them, may want to wait a bit longer for these things to be patched out.
For a game designed and developed primarily by only one man, the range and scope of StarDrive's design has had to have been a monumental undertaking. To succeed where entire teams of 4X designers have failed, is simply remarkable in my opinion. While I've listed my fair share of shortcomings with the game as it is, it is important to realize that the game itself is still a good game that is fun to play as long as you aren't experiencing some of the actual technical issues that I experienced on my laptop. StarDrive is a solid title that is enjoyable but not infallible, and much like every other title in the genre, has its own shortcomings that may prevent some players from enjoying the game.
| | |
| --- | --- |
| | great |
The Good:
– Ship design is fantastic and allows the player to feel responsible for ship effectiveness
– Enemy AI will use prior player designs to its own advantage
– AI races behave reliably in diplomatic matters rather then erratically
– Espionage offers an alternative form of combat and advancement
– The AI offers a significant challenge, especially for inexperienced players
– Developer is very active with the community and patches frequently
– Supportive of the modding community
The Bad:
– A lack of variety in random events and non-race threats like space monsters
– Numerous features, like pirates and minor races, feel like concepts rather then full features
– Stability and performance are issues for some players and hardware configurations, especially in the late game
– Limited victory conditions
– Game still feels unpolished in several areas and is in need of bug hunting and refinement
Keith Turner, also known as aReclusiveMind here on SpaceSector, has been an avid gamer ever since he first laid his hands on a Commodore 128 in the mid 1980s. He enjoys multiple computer game genres, but his primary interests are in deep strategy games, 4x games, rpgs, and action rpgs. He enjoys writing and hopes to contribute with additional reviews, previews, and informative AARs to the community. See all Keith's posts here.
Subscribe RSS
92 Comments
Related Articles:
Post category:
Game Reviews