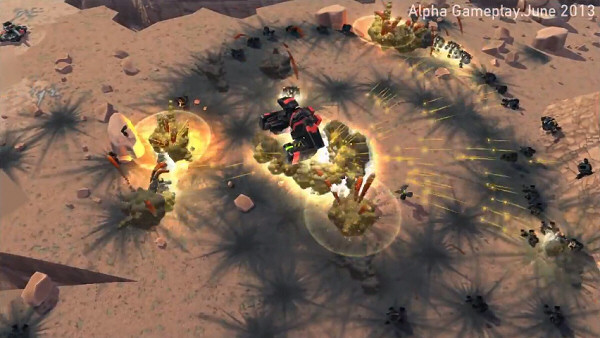 Remember Planetary Annihilation, a Total Annihilation inspired by sci-fi RTS proposal that succeeded on Kickstarter with a total pledge of $2,229,344, last summer? Well, if it's the first time you read about it, know that this title managed to generate quite a buzz by then, if not by its design then by the highly successful Kickstarter campaign itself, which managed to raise $1.3 million above the funding goal.
The 1997 Total Annihilation title seems to have been an RTS of particular importance. I don't know first hand, because I didn't play it. I was probably very busy playing Master of Orion 2, or Red Alert at the time :) But, judging from Planetary Annihilation's major success on Kickstarter, and the fact that some of the guys who were behind Total Annihilation are now part of Uber Entertainment, reinforces the belief of TA's significance. And, makes this a worth title to check out by Total Annihilation fans, or by RTS fans in general.
Uber Entertainment started sending Alpha access to its backers a week ago, and they're selling pre-orders at Uber's shop starting at $40. Now, it's also available on Steam, as of today, for $89.99/€82.99/£68 (I doubled checked the prices), through Steam's "Early Access" program. Which seems to be Steam's way to release game's in alpha state these days.
Mind that this is still a work-in-progress game! Beta should start in September 2013, and the entry price should drop by then (apparently that's the way it works according to Uber):
"This is the pricing determined over a year ago. Our Kickstarter set these levels, and while we understand people may not like it, it's the decision we had to make. But that is the schedule if you want to wait until the price drops to a level you're more comfortable with." –Garat / Marc Scattergood (Producer, Uber Entertainment)
It's not unusual to see Kickstarter campaigns charging more for Alpha or Beta access. I always see that as an excuse for people to increase their pledges in order to help a project kickstart. But, does that make sense when the game is effectively being sold on a store, on Steam in this case? Time will tell. Anyway, the official release is slated for December 2013. The game will run on Windows, Mac and Linux.
Here's the Alpha launch trailer.
Subscribe RSS
30 Comments
Related Articles:
Post category:
News & Announcements
,
Videos