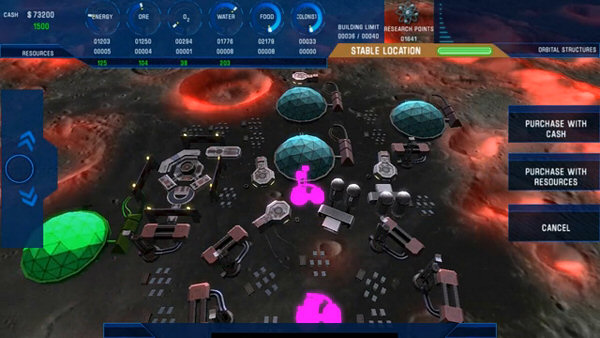 Indie dev Scott Jones went to Kickstarter about a month ago for Colonisation: Moonbase, a game for Android devices which would allow you to build a base on the moon. A bit like playing SimCity on the Moon, by the looks of it. But, with a higher focus on strategy and resource management, and with story missions and goals.
Scott did not make it on Kickstarter for Android devices. But, with the feedback he obtained by then, he decided to start a new Kickstarter campaign, this time for the PC. That's the beauty of using a flexible game engine like Unity3D, which allows you to release for multiple platforms.
It reminds me of Outpost, also a space construction and management simulation game by Sierra from 1994. And, it clearly has a SimCity touch to it. Scott also mentions to have been inspired by Theme Park, but I'll have to take his word on that one :)
Proposed game features include 70 buildings to construct, technology development, story-based missions, resource mining, trade with Earth (you should be able to see transports landing and taking off), and little ships (the "cars and people" from other city-building games), for flavor.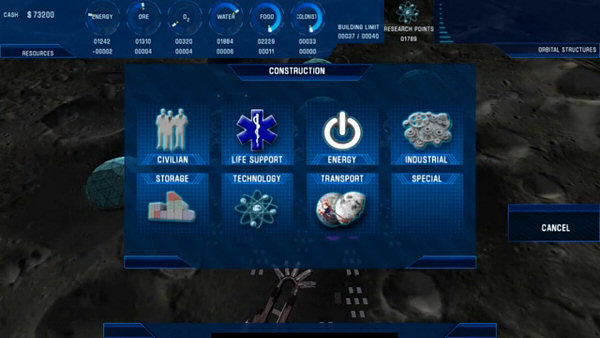 Scott Jones's Colonisation: Moonbase proposal in a nutshell:
Construction and management simulation "city-buiding" with strategy elements
Futuristic space setting (build a base on the moon)
70 buildings, tech development, story-based missions, resources mining, trade
DRM-free
Windows PC
£15 (~$23) pledge to get a digital game copy
ETA: October 2013
Target: £6,800 (until July 29th, 4:43am EDT)
Why Kickstarter: Help the dev complete the game working full-time; repay some of the generated debt;  software licenses, game assets, wages, utility bills (e.g. electricity)
Scott says that the game is currently in Alpha, and that every backer would be allowed to play the current version during the time of the Kickstarter, when and if £10,000 are raised. This stretch goal should also unlock four additional soundtracks and allow for better game polishing. £15,000 would bring additional buildings. More than that should allow Scott to design more story missions and possibly implement other ports (iOS & Linux).
Subscribe RSS
13 Comments
Related Articles:
Post category:
Kickstart
,
News & Announcements