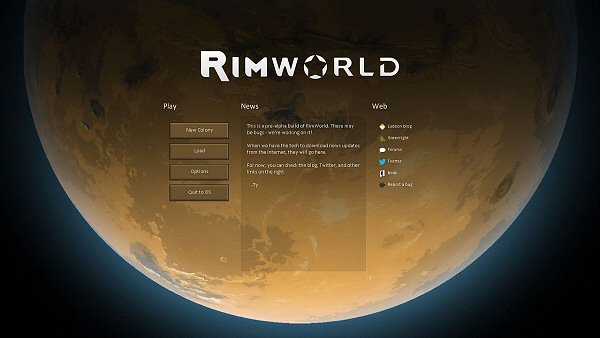 This is a continuation of my RimWorld: A Pre-Alpha Story – Part 1. If you haven't read it yet, you should check it out.
As a reminder, RimWorld is on Kickstarter now.
Day 18 –
George the Oaf finally decided to join us after many long chats with Holland. Don't worry, he kept it friendly. George informed us that he'd done a bit of farming in the past, so we decided to let him have at it. He wasn't kidding. He's started two tending two more growing patches on the east side of the colony, and our food situation is really starting to turn around.
We also picked up a fellow named Vincent who landed and tried to wander by. Like so many before him, we threw him into our makeshift prison. I'd like to say we did it to save him from a untimely death. There are certainly a lot of dangers out there, and going along alone is just asking for trouble, right? The truth is often less honorable though. We had a room available, and Holland didn't have much of anything to do, so the practical decision was to keep them both occupied and earning their keep. In the long run, the more bodies we have, the more defense we have, and in the end that's better for everyone. Life out on the colony often isn't about what's right, no… it's about what needs to be done.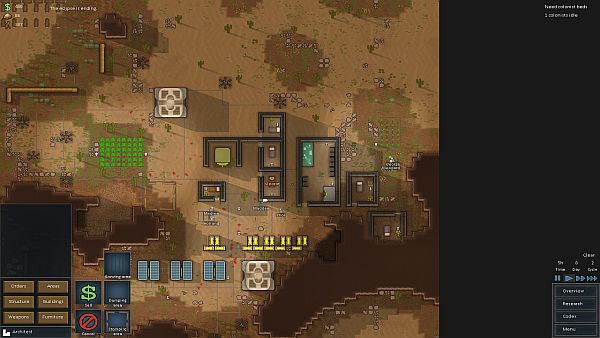 Day 21 –
It's been a busy few days. We took out a small group of 3 raiders and imprisoned another fellow named Small in an unrelated incident. For a brief time we had two prisoners. As you know, we captured Vincent a couple days ago. At the time, I'd considered it the just choice. Whether he knew it or not, we were saving him. Only we didn't. I'm not sure why, but we've had some issues with the power system we have running through our walls. It's a convenient way to get power around the colony without running endless amounts of conduit, but it's been a bear to maintain. Today we had a pipe burst in the wall of Vincent's room. All our bedrooms are pretty small in order to make the use of our materials, and this means Vincent's bed was right near the blast. Holland let us know that he didn't survive it.
I'm trying to stay positive. I'm trying to remind myself that he wasn't really a part of our group anyway. Plus we were having to feed him while he was imprisoned with us. In that respect, we've got one less mouth to feed now. None of us have had a lot of time to deal with it, anyway. We've had a solar flare and now all our electronics are down, which has given us quite a few other things to worry about.
On a completely unrelated and random note, I'm kind of glad I'm still sleeping outside…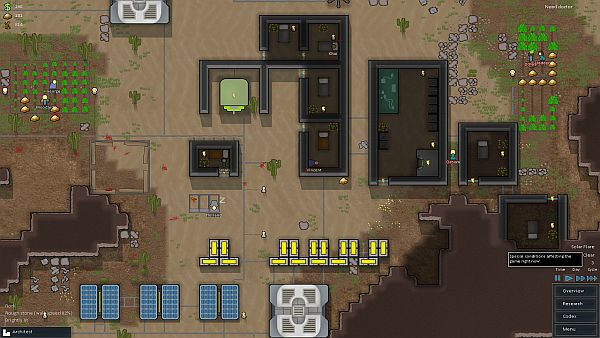 Day 22 –
So much to do and so little time. More people means a need for more beds and more food. Life on the colony has gotten better, but it's never easy. I probably shouldn't even admit this, but there's not much use in lying. We only just today removed Vincent's body from his room. We fixed the wall yesterday and left him entombed in there. Even worse, honestly, the only reason we moved him today was because we needed the space. A new female prisoner named McMahon was arrested and our other cell was occupied. I know it sounds bad, but if you haven't been in our shoes, you shouldn't judge. We just didn't have time to clean all the blood out.
If you can't tell, we aren't exactly running a resort here. People should know what they are getting into out here. Our bedrooms, for those that even have them, still have sand floors as it is. I don't have one myself yet, but as I mentioned, maybe that's not so bad. The new prisoner did give Choi something to do, finally. He carried McMahon to the cell and turned her over to Holland's care. It's about time Choi did something for us.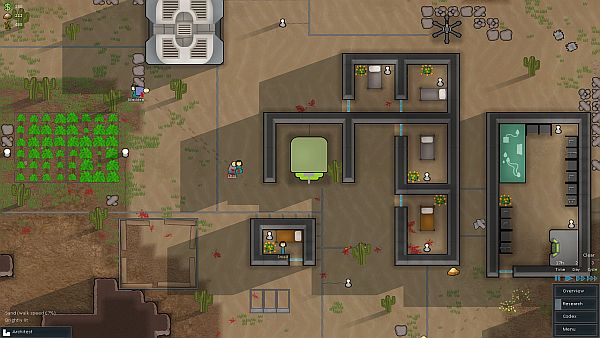 Day 23 –
The raiders are getting fiercer by the day. I don't even bother writing about them all anymore. This time we took down 7 of them. The west side of our colony is starting to look like a sea of blood. They did have some nice weapons. We've got more pistols than we know what to do with at this point. I'm packing an Uzi now. I'm not the best shot, but I can spray with this thing. We've also got a Lee-Enfield, some incendiary launchers, a frag grenade, and some pump shotguns. Not a bad arsenal overall.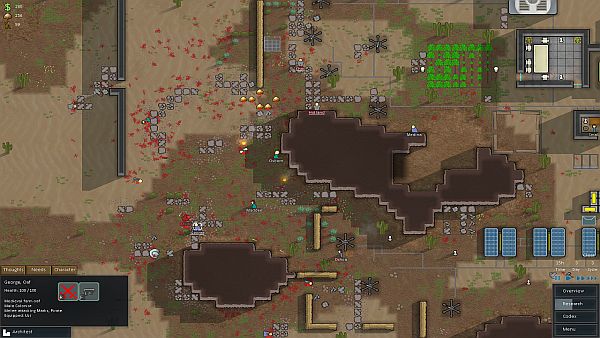 Day 24 –
We may have turned a corner today. We'd captured a pirate named Marks in the last raid I mentioned. George, our resident Oaf, had been quite the scrapper in his youth. He had a hard right hand and everyone knew it. He knocked Marks out with it once the rest of the raiders had been defeated. Being a pirate, we didn't have much sympathy for Marks. He deserved almost anything for treating people the way he did. Shortly after that is when we heard the call from Lightmass Travelers Inc., a slave trade ship flying by. Just out of pure curiosity, we decided to see how much a pirate was going for. As it turns out, quite a bit. It was too much to turn down, so we sold him to the slavers. Not our proudest moment, and everyone in the colony felt a little bad after that.
…I probably shouldn't mention what we spent the money on… but the weapons ship John Larman had a deal on an M-16 we just couldn't pass up.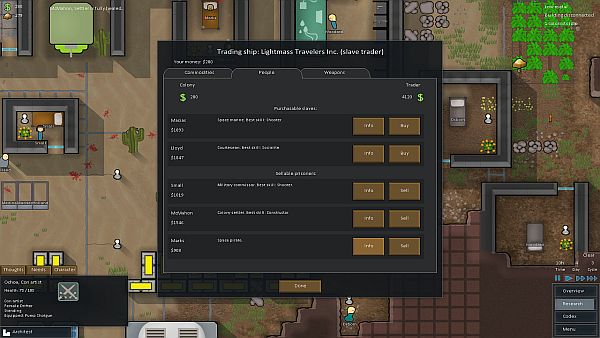 Day 26 –
We are 10 strong now and dividing responsibilities is more important than ever. It's high time we cleaned up this place. It's been a sty way too long. Small was the last one to decide to join us, so we decided to let the newbie be on sweeping duty for a while, haha. I'm just glad someone is going to start cleaning up all the blood, and that it isn't me. I'll stick to constructing, repairing, and mining, thank you very much. We've also seen yet another eclipse. Once again, I'm happy we chose to make ample use of geothermal power. It's been quiet on the raider front. Maybe we've seen the last of them.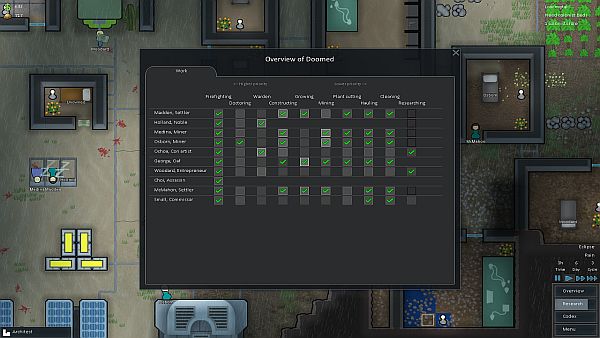 Day 29 –
Well look at us now! Research is paying off and we've got hydroponic plants growing. We've even got fresh carpeting being installed, as well as other less glamorous flooring. Everyone is armed with weapons taken from past raiders and we have food for days and days. We even sold a bunch of pistols, that's how much weaponry we've been taking in. Sure, the three of us who started this colony are still sleeping outside, but hey, we're tough. Holland isn't such a bad guy after all, and Madden is tough as nails too. Haha, you know, I think we're actually going to make it as a colony! We feel invincible!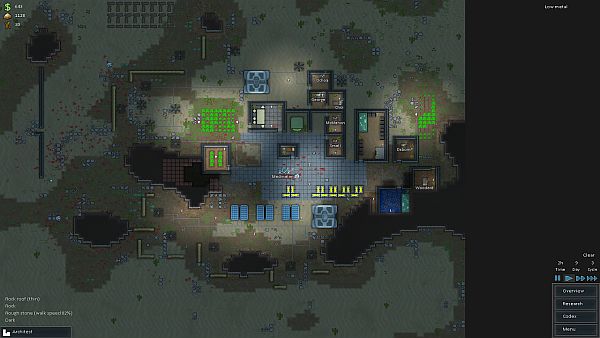 Day 31 –
Hey journal, Medina here again. So, I'm told there is no cause for alarm. That's hard to believe with a raid party 15 strong looming in the distance. We've held out before, and I feel pretty good, but we've never seen this many. I don't know if word about our colony has gotten out… we did have some raiders escape awhile back. That or perhaps lady luck just isn't on our side. In any case, we'll be prepared when they show up.
Day 31 Update 1 –
Maybe selling a fellow human was a bad idea. I have no proof that this is related, but this just seems like the result of bad karma. It's a cruel joke. We just got word that another batch of 15 raiders have landed southwest of us. That's 30 vs… yes, just 10. We've got turrets and a good defensive position, but I have the feeling some of us are a bit too cocky for our own good. We have some impressive weapons and one good assassin, but is that going to be enough? The funny thing is these groups don't seem to be affiliated. What are the odds.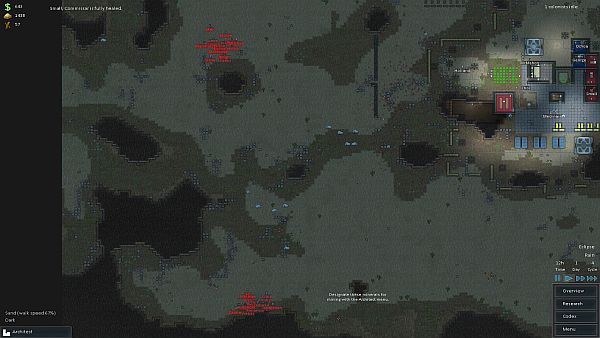 Day 31 Update 2 –
I really underestimated our assassin, Choi. With his help, we've defeated the first set of raiders. Holland got quite a few good shots in too. Both Choi and Osborn ended up going down in the fight, but at no time did they ever turn their back and run. I should clarify though, they aren't dead. We managed to carry them back to their beds to rest. We won't have time to wait for them… the 15 other raiders are on the way. It's time to put this down and get ready for the fight. After that I'm going to need a long nap.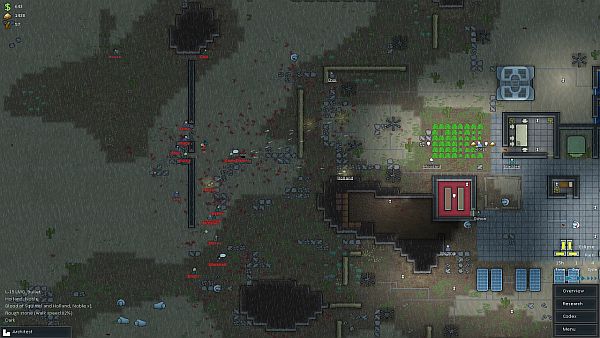 Day 32 –
This is George. I don't know how else to say it, so I'll just say it. Medina is dead. One of our turrets was just destroyed and several people took a hit in the blast. We're in deep trouble. I don't even know who's alive anymore, if anyone. I've crawled away, but hell, I think I'm done. I hear them pounding on the door, so I guess it's time I say goodbye.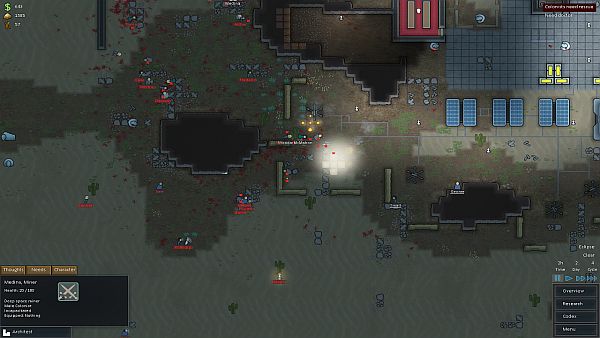 The End
Closing Notes about the Story
Note that there is no direct link in-game between my actions and the raiders showing up, as far as I'm aware. I think AI Randy Random just wanted to toss me a challenge. I don't think the slave selling or escaping raiders had anything to do with it, but the colonists do suffer a loyalty penalty when you sell someone into slavery. In fact, quite a lot of things affect colonist mood. What is also interesting is that loyalty is equal to either happiness or fear, whichever is higher. So in theory, you could use fear to control your people as well. There is one item in the game that can cause fear right now as far as I know. Still, it's an interesting approach that I'd like to see further developed.
There were a few other events that can/have occurred in my playtime that are not mentioned in this story. Lightning storms that can start fires, supplies that crash-land on the planet, and total destruction of all your crops are three other types of events I experienced. There are also a few items shown, but not talked about, like graves (NW part of my colony). You can bury dead animals and people in these.
I hope you enjoyed the diary from colony "Doomed"!
Subscribe RSS
14 Comments
Related Articles:
Post category:
After Action Report
,
Game Previews