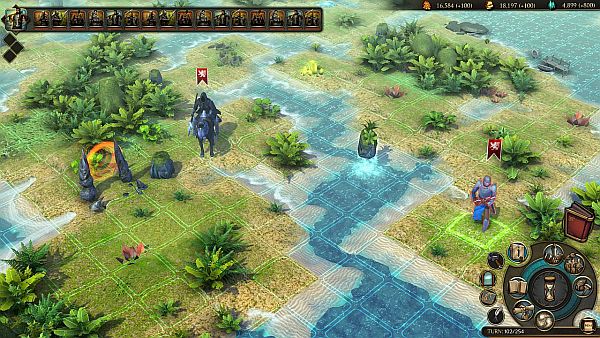 Great games are often imitated, but rarely duplicated. Simtex, together with MicroProse, is widely regarded as one of the most influential developers of 4X games in both the sci-fi and fantasy genres. Both the Master of Orion and the Master of Magic series, despite being released nearly 20 years ago, are still often considered the pinnacle, or gold standard, in their respective genres. Many developers have tried to channel the magic of these two legendary titles into their work, but far more often than not, we've disappointingly watched them fall short of their goals. Despite these failed attempts, and despite the seemingly impossible task of pleasing our nostalgic desires, something about those classic titles still has us thirsting for a successor. Master of Magic fans, prepare yourselves, a new contender shall soon be ready to be tested.
Of all the upcoming games in this genre, the closest in both spirit and form to Master of Magic certainly seems to be Wastelands Interactive's Worlds of Magic. Worlds of Magic was successful on Kickstarter, not once, but twice, and the reason for that seems pretty clear. Fans are hungry for a successor. I've discussed Worlds of Magic a few times now, and based on what I've seen and experienced, it appears they are doing everything they can to stay true to their goal. Their frequently updated wiki contains a wealth of information, and I highly recommend you give it a look for yourself. Once you've read about the global spells, the artifact creation, the way faction leader sorcerers are created, the unique unit abilities, and so on, the path they are on is pretty clear.
With all the disappointments we have faced over the years, everyone certainly has a right to be skeptical. You also probably have some questions about Worlds of Magic and its claims. Well, curious gamers, now is your time to shine. I've been in contact with Wastelands Interactive, and they have been kind enough to agree to an interview with SpaceSector. Rather than ask all the questions myself, I'd actually really like to get the input of you, our readers and fans. Let's ask them the tough questions and gather the details we need to know. Who knows, we may even be able to get them thinking about features and elements in a whole new light prior to release. Worlds of Magic is coming from a new developer, and it is certainly up against some tough competition this year, so I'm certain they'll appreciate the comments and suggestions.
Please leave your comments and questions below. Once everyone has had a chance to get their question in, I'll gather them up, and then I'll send them as many questions as possible. I can't guarantee to ask every question, or that they'll be able to answer every question, but at least together we'll do our best to uncover the mysteries. Once I've gathered the responses, a new article will be posted with both your questions and their answers.
Subscribe RSS
31 Comments
Related Articles:
Post category:
Interviews