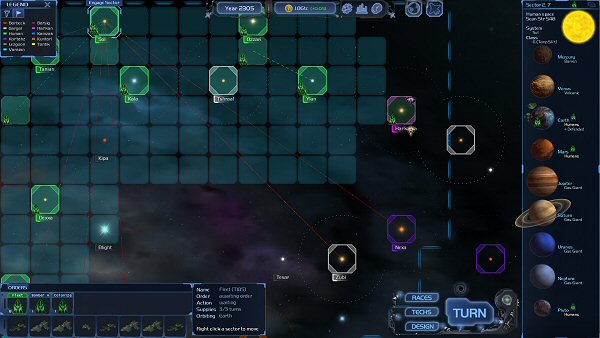 The first time I played Horizon, a recently released space 4X strategy game by L3O Interactive and Iceberg Interactive, was about seven months ago, on July 2013, when the game got on Steam Early Access as Alpha. By then I wrote an alpha preview and wrapped my appreciation with this sentiment "while certainly playable, and enjoyable to some extent, Horizon still seems far from a finished product, as not unexpected for an Alpha.". Well, I'm afraid to say that my sentiment didn't change after playing and reviewing the release version now, and what was before an expected sentiment for an Alpha version is now totally unexpected, and unacceptable, for a released product. Horizon is clearly still very far from a complete, polished and enjoyable game.
Oh boy, what a disappointment. A game that seemed to have it all to pay a good homage to the great space 4X games of old, namely Master of Orion, Star Trek: Birth of the Federation, among others. Turn-based strategy, hands-on turn-based space combat, an interesting and somewhat novel research system and a promising story element integrated with the traditional sandbox nature of 4X games. An indie game that took so many years to make (early concept art dates back to 2006 as far as I know) made by people who clearly love these kinds of games, as you can clearly notice while playing the game.
However, it's also quite clear that this game has not been submitted to sufficient playtesting. And, while I think the devs have done some things right, there are lots and lots of other things, little and not so little details that make it very hard for the player to get into this game. And when you start to get a hang of things, you realize that there's actually no challenge to be found here, but only a very dull and predictable galaxy filled with interesting races and potential for fun but hardly any game at all. My feeling is that a lot of bad stuff could have easily been taken out of the way a very long time ago. And now the game is released and it's ultimately a boring and flawed experience.
Let's start with the good aspects.
Research
Horizon offers a very interesting new twist on how research works in a 4X game. Instead of knowing the entire tech tree from the start, the player only gets to see a basic set of technologies and needs to unlock new techs through archaeological digs on planets with artifacts, through quests (when in story-mode), upon new levels of refinement of existing techs (which sprout new discoveries) or simply by acquiring new techs from the other races. But, you can't make use of recently discovered, or bought techs right off the bat. First you need to "discover" them, where they act like prototypes or only theoretical research, so to speak. But in order to actually use the techs you must continue your research until you manage to level them up from prototype status (level zero) to level 1. Then and only then you can use the techs at their most basic level.
An excellent and elegant research system for a 4X tech system, if you ask me. Novel, dynamic and one that adapts to your play style. Unfortunately, its execution doesn't live up to its full potential. You see, while the system does work like described, the techs themselves are not particularly interesting, with most of them giving you only a set of modifiers, following the level 1, level 2, level N approach granting you a +7, +11, +13 bonus (as an example) from a big mixture of effects. It's also quite common for different techs in different fields to grant bonuses in several major areas of the game, like research, industry and trade, resulting in big mixed bags of research which don't make the decision to go after particular techs that meaningful. Also, getting new techs from existing techs is an arbitrary exercise, sometimes you get new techs other times you don't, so sprouting new tech paths feels too random and too much out of your control.
So, while the research system sounds innovative and interesting in theory, and is indeed fun to play to some extent, I wasn't particularly happy about the actual techs provided nor about the obscure and arbitrary feel of the tech progression. At least you can give them the credit for having tried something different.
Storyline Mode
The other major novelty and selling point of this game is what the devs call the "Normal mode" scenario. There's a "Classic mode", where the player and every AI start in equal footing. This is the traditional way to play a 4X game. But, Horizon also offers a storyline mode on top, where different races start the game with different status. Some races will have more technology or more systems and everything unfolds according to a storyline prepared by the devs. I played two "Normal" games and two "Classic" ones.
What a lovely new twist this story-mode presents. And quite a challenging one to do right in a 4X game, which tends to be story-free due to its intrinsic sandbox nature. But, L3O proved that it's possible to mix story and 4X gameplay. However, I was not entirely convinced with the end result. I liked quests being triggered and popping up from time to time. It was refreshing to go after a minor goal for a change, which takes you out of your main strategy agenda for galaxy domination. Some event happens, you're presented with a scenario and you're asked to choose what to do. Some decisions will grant you more immediate benefits while others will require a bit more from you. The quests are not very complex and are quite cool to follow. Nothing spectacular or flashy to see here but still entertaining stuff nevertheless.
So, Horizon's storyline-based mode is a great aspect, right? Well, perhaps you'll like it, but personally I don't really like it that much. I mean, it's nice for a try and a change of pace, but after seeing and experiencing the quests once I quickly felt the need to return to the classic sandbox mode gameplay. Why? Because, unfortunately the quests system's best aspect is also its worse, which is: "it takes you out of the main strategy agenda for galaxy domination". So, what this means is that while the quests can surely entertain you for a while, they also drive you out of what you're supposed to be doing, which is to devise a domination strategy to vanquish your rivals and win the game. So, I would say that while the storyline scenario experience is fresh and welcome, it's also not that well integrated into the main game. I feel that it takes you out of the main game too much. At least that's what I felt while playing it, of course you may think otherwise.
Now, the bad aspects.
Colony Development
Colony Development is a mess. Well, at least at the moment it is (the last version I played for the review was v1.0.0.77). I understand the general idea behind it. Managing a large empire in a 4X game has a tendency to quickly turn into micromanagement hell resulting in a boring and frustrating experience more times than it should. So, what I think the devs tried to do here was to lower the amount of things you could do in a planet to a few upgrade choices, like improving the farming capability, the research potential, production capacity, the amount of trade facilities and tourism attractions. What this means is that you will not be constructing individual buildings on your colonies but instruct them to develop certain areas more than others instead. So, some planets would probably be your production powerhouses while others may be your top research centers and others will be tourism hubs, for example.
This all sounds good in theory. The problem is that for most of the time I didn't have any idea of what exactly the impacts of my decisions really were. So, it's pretty common to end up asking yourself a ton of questions, like "Why did the population growth just dropped?, or "Why did tourism income just doubled?", and "What exactly does fertile soil does?". Or, "Why is the capital generating less money from trade, with more trade facilities, than a much smaller and less developed planet in the same system?" And other doubts. Lots and lots of doubts. I mean, how is the player expected to make meaningful decisions with so much obscurity?
Colony development, at the moment, is very unintuitive, even counter-intuitive at times (example: more farming potential resulting in slower population growth). It's also a very complicated system filled with obscure information involving lots of numbers that you struggle very hard to figure out. And the manual and the tooltips don't help you either. I mean, you can improve a few aspects in detriment of others but the major problem is that since the economy is so obscure, and the effects of your choices aren't really that meaningful you end up developing all your planets in the same way. I mean, nothing stops you from doing that.
So, in the end you're generating almost the exact same amount of tourism income and research output from all of your planets. And in a scenario like this, why should I develop this planet differently from the other? Why should I care? All planets will end up being exactly the same, and in no time you're swimming in credits and nothing really matters any more. You can just build anything you feel like to after some point. That's how unbalanced the economy system is, which is a clear indication that this game didn't endure proper playtesting.
Space Combat
So, the colony development experience is very poor, and unfortunately the space combat experience is not much better. Now, to its defense, Horizon's turn-based combat system is actually very detailed and shows a lot of potential for providing lots of fun in the long run. When or if many things get fixed and improved, that is. The ship design system allows you to play with many aspects when you customize your ships. You can toy with fire arcs (different firing angles), choose missile weapons, beam weapons, fighters, four different hull types, shields, different armor, targeting computers and other components to research and use, although most of these are upgraded automatically (you can't refit your ships either by the way).
So, during combat, the direction from where you attack counts, ship components can be destroyed. You can also scan your enemies during battle to see their components, to see which are enabled and which are disabled. There's also space stations and planetary defenses. So, in its bones you can definitely spot a lot of good references to Master of Orion 1 and 2's own ship design and space combat systems. And that was definitely a good start.
Unfortunately, the problem is one of execution. The space combat UI is very clunky, so there's lots of clicking and miss-clicking going on. There's also some technical issues which hinder gameplay, where sometimes ships overlap and it's very hard to select or target ships. And there's also some technical glitches like the camera going back and forth quite easily. Also, space combat unfolds in a system base, so it's quite common to have to drag your ships from one planet to another where the main fight is taking place, and that process can take ages and it's quite a chore to go through. Add to that the miss-clicking issue, ships not obeying movement orders from time to time, ships missing completely, or hitting at full capacity on what feels like a totally arbitrary and obscure fashion, and you can easily see that the overall space combat experience is quite a nightmare.
It's really a shame. I think the combat system is quite detailed. There's definitely a lot of things going on, and some were done decently, but ultimately the combat is a chore to play, at least in its current form. There's an auto-play feature that allows you to skip the battle details if you want, but unfortunately more than once I felt that the AI did a very poor job managing the battle. Wounded enemy ships (that I was attacking) got neglected in favor of fresh new ships when I switched to auto-mode ON, a clear sign that the AI can't be trusted. Also, there's no battle report at the end of the automatic battles, so, you don't have a clear idea of how well your AI fought your battles for you. So, you feel the urge to fight all your battles by yourself but you can't because everything starts to drag quite quickly.
Speaking about AI, here's what I think about it overall.
On AI
So, I found the tactical combat AI lacking, and unfortunately the strategic AI isn't better. In all the 4 games I played for this review, I expanded constantly and was declared war only once. I refused treaties, neglected my military many times, played in "Hard" difficulty once. It didn't matter. The AI was always very passive and again I was only declared war once and even then I didn't understand exactly why. When you play in story-mode your experience may be slightly different though, because many of the races will be far more advanced than you. So, you may feel a challenge there but it's ultimately an artificial one because you're not playing in an equal footing.
But, in general it's very easy to bribe the computer controlled races. I mean, almost all of them, apart from the "repulsive" ones which you're not allowed to negotiate with by design. And I even tried to bribe the other races with a non-Human race so that I was sure not to have a diplomacy bonus, that the Humans receive. It didn't make any difference. You can bribe the large majority of opponents left and right and it's quite easy to reach friendly status and a couple of treaties in a few turns. I tested this behavior carefully to be sure.
But, one time I was alerted not to continue my expansion. And I thought: "Well, there's hope here, looks like the AI is behaving competently after all". But, the sentiment was short-lived. In the next turn I continued my expansion, colonized yet another planet and in the next turn I was offered an alliance by the same race that threatened me not to expand or else a couple of turns before. Confusing, at best.
But the AI isn't lacking in combat and diplomacy aspects only, it's also very incompetent at the strategic game overall. So, the AI gives you an expansion "jail-free" card, that we already know. But, the AI is also quite terrible at expanding itself. The game imposes no limits to expansion by the way. More colonies essentially means more money and more everything. So, I just kept expanding, like you can see in the graph below, but all the AIs just refused to do so. This in a "Hard" difficulty game.
So, I kept expanding, spreading tourism improvements, trade facilities and research everywhere I could – completely neglecting farming, because well, I just could – and I was basically swimming in money in no time. "So, it's time to create a fleet of doom", I thought. Actually the fleet limit is 10 ships per fleet, but nothing stops you from creating many 10-ship fleets. So, I decided to invade a race not because I felt they were a threat to me but because I just could. And nothing was happening anyway.
Had a hard time figuring out how to invade a planet at first. You need to clear out the defensive starbase first and all the ships that happen to be around, which was quite an annoying experience because enemy ships just kept popping from nowhere turn after turn. And, you also need troop transports to invade, and there's ground assault hovercrafts, drones and other types of assault troopers you have to consider. But, I finally figured out how to invade the race's homeworld. I lost my first assault attempt but I knew that it was just a matter of time and of bringing overwhelming forces next to finish the job.
So, in this little invasion story, I picked the specific target arbitrarily. I invaded that race because I could, and they didn't expand to a single planet in the entire game, and I basically decided to call it a wrap.
In conclusion, I didn't feel a single thread of challenge in this game. At least strategically speaking. I was always sure I was going to win the moment I figured out that the economy posed no challenge and that I could just keep expanding and being friends with everybody. And so, most of my individual scores (expansion, technology, economy, etc) were off the charts. And, although the AI can give a fight in the tactical combat here and there due to the sheer number of ships they build, or on story-mode because some races will be insanely superior to you from the start, never did I feel that I couldn't invade an enemy system if I really wanted to. And, that was it.
Now that we cleared the good and the bad let's talk about one aspect where I had mixed feelings.
Diplomacy
The diplomacy system is quite well sorted out, if you can excuse the terrible AI performance handling it, that is. You can make a request, an offer, a demand – and contrary to other games you can actually request things from friends without upsetting them. You can propose treaties, cancel treaties, threaten races. Races can also surrender, which is something I witnessed once and I feel that it was perfectly timed out – in other words it felt that the race capitulated at the right time. The races are interesting, and you can play with the Humans, the alien races or you can customize your own race.
The diplomacy UI is also quite good. It's not excellent because it doesn't tell you as much as you would like. For instance, many times I was told that relations improved or degraded and the UI failed to tell me why. But, overall the diplomacy system is well fleshed out. Nothing terribly innovative here but it's a very complete, helpful and easy to use diplomacy system.
The problem is the AI. I mean, what good is a system in a game if you feel that there's no challenge, no problem to be solved there at all. Again, it's so ridiculously easy to bribe the AI that I could stop right here. And since there's no multiplayer, there's very little left to feel challenged by in this game.
But I need to say something more about the AI, in a general sense. I understand that the AI is an aspect of a game that is very hard to do right, especially in a strategy game where your opponents are actually expected to give you a challenge. This is not chess we're talking about here. The AI isn't expected to perform like a human player, and it's even allowed to cheat in a game like this. Some will even argue that cheating is the only way to implement a challenging and yet fun computer opponent in a game like this anyway.
So, a suggestion to all the devs currently working on strategy games out there, particularly on 4X games, please, devote a lot of attention to the AI aspects of your games, as early as possible. And I'm not talking about how fancy, elegant or how fast your AI software behaves, I'm talking about pure hard playtesting. 4X games need to be playtested to death until you feel that you have not a perfect AI but a sufficiently good one. And, unfortunately I feel that the AI in Horizon is just making the first strides at the moment. Perhaps the devs will manage to pull a rabbit from their hat regarding the AI, or perhaps they will not, but please devote some serious time playtesting the game so you can perfect your AI. Or, at least I hope multiplayer is in the corner for Horizon, otherwise, there's not enough challenge to be found here, and when that's the case there's hardly any game at all.
Wrapping up
So, while at the surface Horizon seemed like an interesting game with some solid aspects clearly inspired by classic space 4X games like Master of Orion 1 and 2 and Star Trek: Birth of the Federation – you see it easily in the ship design system, the space combat, the star map, the race customization, the research system – it's actually when you try to play the game that you find what a poor experience you get.
I really sympathize with the devs on what they accomplished thus far and tried to accomplish here. I really do. Developing a game like this is a monumental task and just reaching this far is a huge achievement. But, what saddens me is that I had to review this game now when it's clearly not finished yet, clearly knowing that with more playtesting it could have turned into a decent game. But to achieve that the devs need to re-think their economy and combat systems along the way, and they need to gather as much feedback as they can so that the game can be properly balanced and the AI can start to behave in a way that people will start to think it's good enough, which currently is clearly not the case.
Now, I'm not saying that the game wasn't tested. It clearly was, from a software standpoint it clearly was since in 42 hours of playing this game I only found a single crash and didn't experience any other software bugs or odd behavior. The game is very stable and appears to be relatively bug-free. So, the software itself appears to be in very good shape, even considering the relatively small amount of bugs reported in the game forums.
The major problem here is at the level of usability testing and playtesting, the types of testing that are required to understand if a game is intuitive and enjoyable. With respect to usability the game needs more polishing. Right now the UI isn't bad overall but there are many occasions where it's hard to see the big picture of things. There are fleet, planet and colony lists that you can consult at any time which allow you to have an idea of where things are and what you're currently doing in your empire, but the windows system isn't very well done, so it's very easy to get frustrated moving windows around because they are on the way of what you want to grasp.
Verdict
4X games are very hard games to make. And above all, they're very hard games to balance right and to develop good AI for. Proof of this is that all 4X games, without exception as far as I know, and I've been playing them for more than 20 years, start in a poor, or let's say, sub-optimal shape. So, it's quite common for this type of games to need an expansion or at least more than a couple of heavy patches to turn them into very good experiences. And this happens in indie space but also in 'AAA' space. Of course, some games get released in worse shape than others. Horizon is yet another example where the game was released prematurely. It's starting to become a bad habit, unfortunately. And if playtesting was what this game needed than I think there were better ways to achieve that than to release the game on Steam for $29.99. I mean, if it wasn't ready for prime time then it should have stayed in Early Access where it made more sense for it to be.
Now, it's not like the game is terrible, or the worst 4X game ever, and that nobody will have fun playing it. No. I'm convinced that some hardcore 4X fans may find some fun in this game, even if just for memories sake of revisiting some of the mechanics that made Master of Orion and other 4X games of old great. I mean, I found some aspects of it to be fun, like the quests' system, the research system to an extent, some parts of space combat. The star map presentation isn't bad either. However, the colony development system, most of the space combat, the poor balancing and the lack of challenge were a total letdown. Also, another group of 4X fans may be willing to participate in what the future may hold for Horizon. I myself haven't given up on this game, we never do here. And, the devs have been putting patches almost every day which already solved some important issues. So, there's a chance that the game will continue evolving and probably turn itself into an enjoyable title at some point in the future. And, we'll be here to re-assess it at a later occasion if the opportunity and necessity arise.
However, if you're a casual gamer, or even a strategy gamer in general, and you're curious about 4X games, I encourage you to look elsewhere because Horizon is clearly not ready for prime time yet.
| | |
| --- | --- |
| | bad |
The Good:
– Reasonably well done story-mode with quests, a rare commodity to find in a 4X game
– Offers a refreshing new twist on how research works with event-driven breakthroughs
– Although not very user-friendly, space and ground combat offer quite a lot of depth
The Bad:
– Obscure, uninspired and poorly balanced colony management system
– Space combat can be a chore and controlling ships is very clunky for the most part
– Lack of challenge, and the AI is poor in both the tactical and strategic aspects
– Overall unfinished, unpolished and very poorly balanced game
Subscribe RSS
94 Comments
Related Articles:
Post category:
Game Reviews