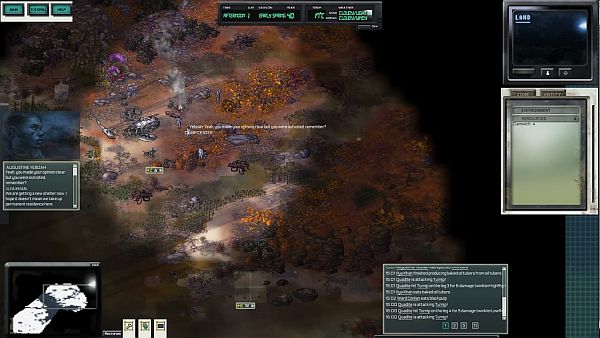 Things certainly seem to be ramping up for developer Refactored Games and their sci-fi colony simulation game Unclaimed World. Just a couple of weeks ago, I reported on a brief alpha trailer for episode 1 of the game, an episode titled "The Lost Explorers". After a long period of nearly complete hibernation, at least from the public information perspective, it appears that Unclaimed World is waking up in a big way. If you weren't content with the short two-minute trailer, you'll be very interested in a new video that has been released with over ten minutes of unedited alpha footage.
Unclaimed World's latest demonstration video certainly reveals a lot more about the game than we ever knew before. Within the video, we see how resources are gathered from the nearby surroundings, how to hunt and collect food, how crafting is performed, how orders are given, how combat occurs, and how buildings are constructed. It's a relatively hands off system, and very order driven, which is not unexpected given that the game is a simulation. We also learn that the alien wildlife can be very aggressive, even to the point of attacking their own kind. Seriously, those Quadites need some anger management I think. It's fair to mention that the video notes do indicate that this particular setup had a lot of predators nearby, which is why we see a lot of combat in this video.
Highlights of the video for me personally included the deconstruction of certain pieces of the crashed ship for use in other construction project. It's interesting to me that they included this as an option, as it seems like something we would naturally do in a similar situation. There also appeared to be a ton of resources available for gathering nearby, so hopefully they have some interesting choices regarding these. I also liked the banter between the colonists, including their different personalities, but I do have a slight concern as well. It seemed a bit scripted, and in a sandbox simulation that element could get stale quickly if that's actually the case. I'm hoping its more context driven than it appeared in this initial video.
The video ends by stating that open alpha is coming in early 2014. Unclaimed World was successful on Steam's Greenlight program not long ago, so we can expect to see it on that platform at the very least.
Subscribe RSS
17 Comments
Related Articles:
Post category:
News & Announcements
,
Videos