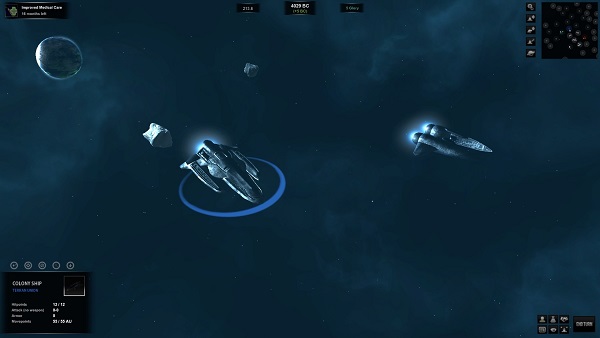 Star Lords has been in Alpha for a while now and since it was first announced and covered by SpaceSector in an Alpha First Look Preview it went through a few changes. The studio was reformed under a new name Arkavi Studios (formerly known as Neogen2 Creations) and got itself a publisher Iceberg Interactive. The game also has been made available on Steam Early Access. It now has been rebranded as Lords of the Black Sun, explained here, and is has transitioned from Steam Alpha to Beta on April 22, 2014.
Lords of the Black Sun endeavours to keep its mechanics simple, yet offering an assortment of gameplay options to the player. The developers have listed being inspired from 4X board games and not just PC titles. A simple game can still be fun and quite good if properly executed, but simplicity does not necessarily mean transparent game mechanics either.
As it Stands Now
Despite having transitioned into Beta, it is clear that Lords of the Black Sun (formerly Star Lords) still has much to go before it can be considered a finished game. There is no indication of a release date so we can hope it will get the time it deserves to reach an enjoyable experience. The truth is, at the moment of this writing, the game is far from being a fully enjoyable experience. Hopefully, the necessary changes and improvements will be implemented before release.
A few of the game mechanics lack either transparency or are poorly explained currently: such as different technologies having different costs per month, which is unrelated to the number of labs present. Also, the exact mechanics and values involved in production output, and what the numerous Minister traits do and how they affect your empire are still a bit unclear.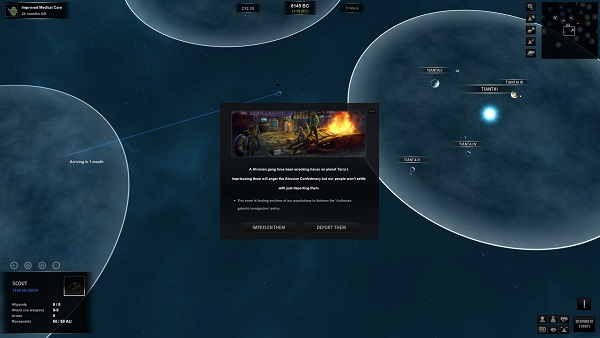 There are still a few game breaking stability issues. The game does not alt-tab properly, and even in windowed mode is prone to lock-ups if the screen is minimized. The game still experiences the occasional crash and there are still circumstances that can corrupt your saves rendering them useless. Though the game is still in Early Access, some of these issues have persisted since the Alpha.
You can read the early alpha preview here since the game's core concept and features have not changed much. Here are the highlights of features that are present or planned for release.
Core Elements
8 playable races with four difficulty settings, overall, the differences between races at the moment isn't enough to make them feel unique as they seem to only provide bonuses and penalties, and access to different Glory actions.
Pirate Clans and Minor Races are also present, with which you can establish trade routes.
Pirates act as both racketeers and loan sharks, while Minor Races can be developed making them stronger and better trading partners. I would like to see more done with these two elements, though this is a very good start to have them in to begin with.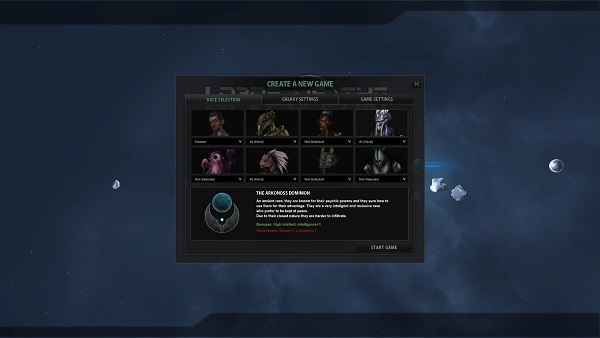 A greater variety of results for space debris could improve the system as I have not seen much variance in negative results and too many 'nothing happened' results, thus making finding these objects less interesting than they could have been.
I enjoyed how sometimes random events were tied to your choices in policies, tax rates, and government spending making you consider your actions carefully as these decisions had effects beyond the bonuses and penalties they give making the universe feel more alive.
Colonization
A little more variety would go a long way as you only have four types of planets: Rocky, Desert, Ice, and Gas Giant (the last three require advanced technologies to colonize) with some worlds requiring improved colonization techniques.
Multiple races can colonize the same system in multi-planet star systems.
Worlds can have numerous bonuses and penalties that are either discovered by colonization or by using dedicated survey ships. This extra layer to exploration is quite welcomed as it leaves a few surprises for blind colonization.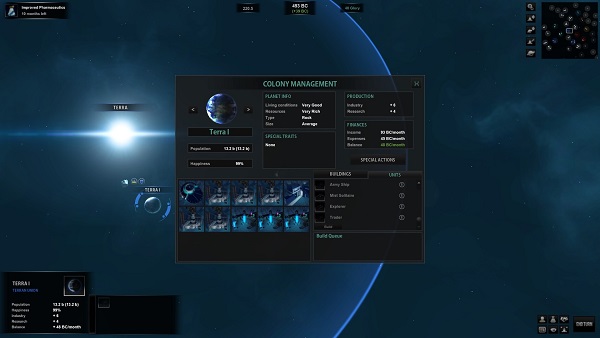 Colonies have limited space to build structures on. However, at the moment space is not restrictive on medium or larger sized worlds making it too easy to find optimal strategies that work in all playthroughs.
The production system is poorly explained but it is based both on local industry and empire wide industrial output (which is the average number of factories you have between your worlds). Better explanations of the interaction and a more transparent view of the mechanic are needed.
Empire Management
Adjust taxes, social spending, and even state sponsored propaganda if enabled via social policies.
Establish trade routes with other races, both pirates and minor races included.
Recruit ministers that offer advice in their given field and which will also impact your population's support for varying policies. I only wish the interaction was better documented.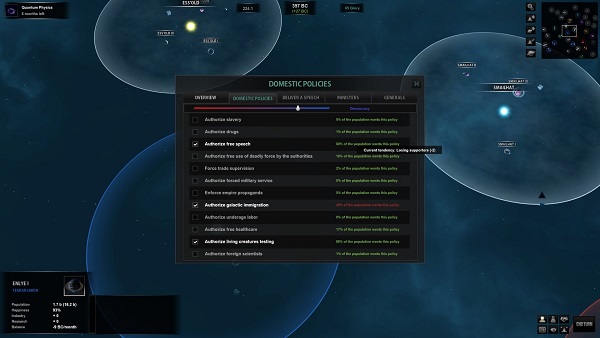 Pass laws in the social policies mechanic to shape your empire with various trade-off bonuses that will affect the type of government your empire is (which will impact diplomacy, as similar government types will trust each other more easily).
I would like to see more options made available to the Glory system since the mechanic has a lot of potential. This mechanic allows you to accumulate points from colonization and won battles to enable empire wide bonuses.
I feel the tech trees are still too basic with a few random tech placements. Otherwise the system is straight forward; you research technologies that are separated into three branches (military, economy, and science) with each branch being a separate tree.
Diplomacy and Espionage
Establish treaties, form alliances, and build trade consulates and embassies with other empires to further relations and trade revenue.
Threaten races that step on your toes or warn other races about the schemes their enemies are planning against them. I always wanted to see the ability to warn another race of another race's treachery, so this is a welcomed addition.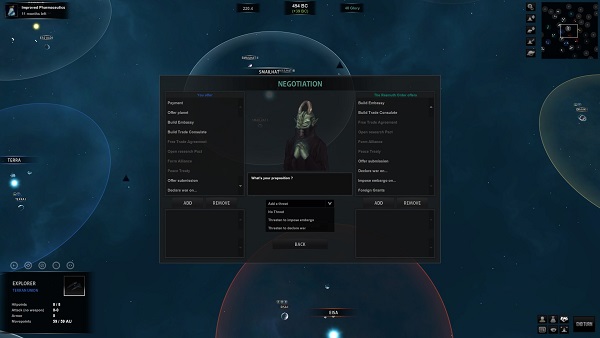 Build your diplomatic reputation to make foreign exchanges easier.
I personally like that fact wars require a Casus Belli (Just Cause) to avoid suffering a hit to your reputation, otherwise wars of aggression without a proper reason hurts your reputation which has a global impact on your relations.
Recruit Agents to defend your empire or perform acts of espionage or sabotage on your enemies (or allies). This includes assassination of ministers to sabotaging technological research or different elements of their empire.
Combat
Turn-based tactical combat using a one side at a time turn resolution. I personally prefer a ship based initiative system as it is too easy to wait and then spring on the enemy as it is now.
Ship facing matters, as weapons can be disabled on flanking shots and engine can be crippled with rear shots. It makes positioning important and offers incentive to outmaneuver the enemy.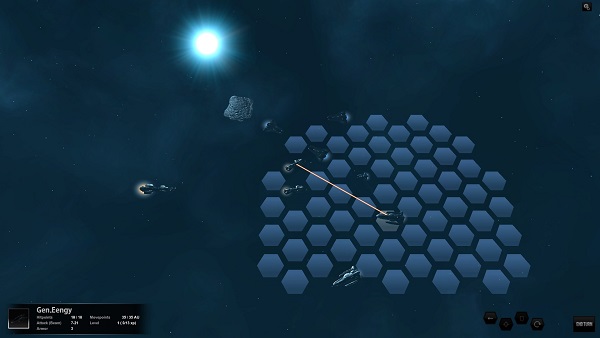 I do feel the weapon system is too basic and could be improved significantly. You use either missiles or beam weapons to attack your enemies, and you can only equip one or the other.
Use special modules that can have varying effects like repair capabilities, cloaks, ship teleportation, and offensive abilities that can damage or disable components on a ship (though in the current beta build there seems to be no way to activate these abilities).
Ship Designer
The basics are there as you can design your own ships by using one of the four hull types (light, medium, heavy, and capital), but I would like to see more work put into the ship designer.
I feel like the system is too basic at the moment as you only select an armor (optional) and engine to use, any special modules (only one), and one of the two type of weapons available (you can stack multiple weapons but only if they are of the same type).
Have a wide selection of special modules to customize your ships with giving them important roles in battle (a current glitch will only let you select from the first 6 modules you have researched).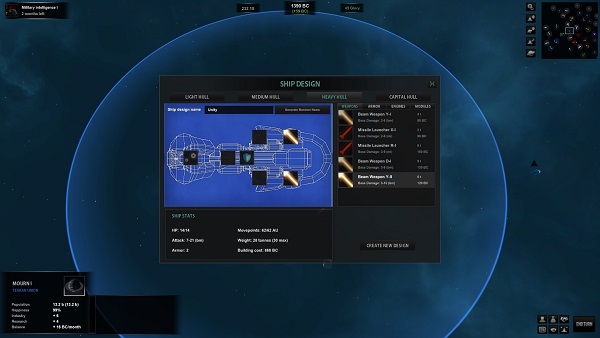 Planned Features (discussed here)
The game will have a storyline that will be told via events by release (not yet available in the Beta). They mention this will have a major impact on the game and can be disabled for a more pure sandbox experience.
Efforts to expand the tech tree during Early Access to help offer more choices and diversity between the races has been discussed by the developers.
There are also planned improvements for the ship designer.
Multiplayer is planned for the game later (no exact details are given on how it will work for now).
Current Impressions
I think that Lords of the Black Sun does have the potential to be an interesting game, offering espionage, varied diplomacy, and having social policies which is not often seen in a space 4X game. A few times I was hit by events that were either tied to espionage actions or to my current social policies, which helped in making me feel events were unfolding around me based on my decisions. I feel this may be one of the stronger points of the game.
The diplomacy system provides a wide selection of choices and acts as a solid foundation to build upon, and though in the early game it came off random, it was interesting to see the AI factions requesting Embassies and Trade Consulates as fledgling power blocks were being formed. Since I cultivated a high level of diplomatic reputation I found that after a while the aliens came to me with offers.
The game's music is also very atmospheric and having random events that are tied to your policies and budget choices help a lot with immersion. However, the game's rather bland and overly minimalistic visuals do not help it. They come off as too dark and muted, and nothing really stands out visually. Also, the nonsensical placement of some of the techs (like having ship teleportation as a prerequisite for cloaks) shattered this immersion, and it makes the game feel rough and unpolished even for a Beta that is still in Early Access.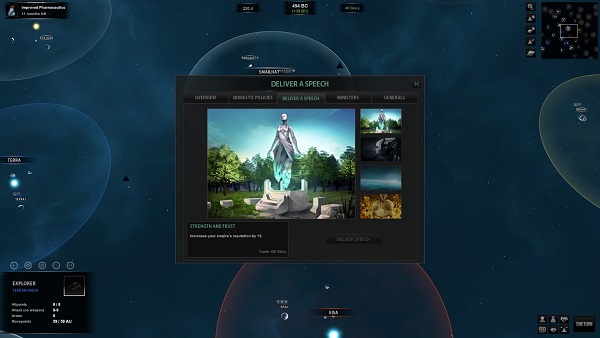 I feel that the ship designer needs to be seriously overhauled, since it was probably the part of the game I felt was most wanting. While I was designing my ships I did not get the feeling I was making a space ship. There was no decision between which defensive system to put it or any engine type considerations. Also, with only two weapon systems to choose from and only being able to equip one of them on the ship compounded this feeling. I did not feel eager or engaged with the ships I designed and the battles they fought in.
It also feels there is not enough to build on your colonies, as long as you do not get straddled by a bunch of small or tiny worlds you will be able to run at maximum production efficiency and fill up your worlds with a large number of labs, quickly blowing your way down the tech tree. I never had to change my strategy between games and it rarely failed either. It didn't even take me long to figure it out either. This could be improved if the player had more constraint or choices of what to build on their colonies.
Hopefully, the developers will have the time and ability to address the many issues with this game as it still has the potential to be turned into something worthwhile. However, in its current state it is better to wait. Feel free to ask questions in the comments section and I'll do my best to answer.
Edward Varfalvy has been gaming since the early days of the Atari 2600. He started playing strategy games on his NES with Romance of Three Kingdoms, but soon graduated to playing on the PC with titles such as Civilization and Master of Orion. He loves sci-fi and fantasy, as well as historical strategy games, be it turn-based or an RTS. His true love is the 4X genre. Interested in covering these titles he hopes to bring reviews, previews, and news updates for the site. See all Edward's posts here.
Subscribe RSS
42 Comments
Related Articles:
Post category:
Game First Impressions
,
News & Announcements