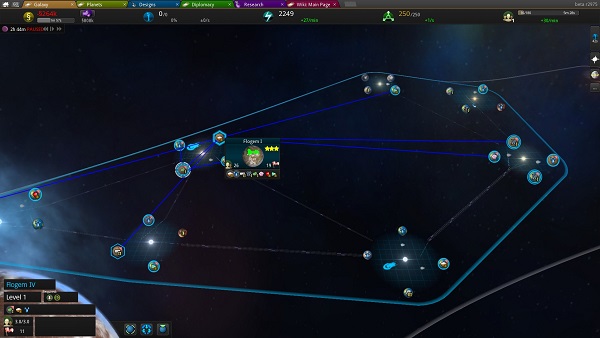 Star Ruler 2 by Blind Mind Studios has gone live on Steam Early Access last Friday July 18, 2014, as a recent addition to the list of smaller studios who have taken this route to gain early feedback as their game enters the later stages of development. Back in our interview the developers said they wanted to wait till the game was very playable and fun for the customer before they put it up on Steam; there is no release date confirmed, however, they plan to have a final release version by December but leave the door open for delays:
"We intend to release no later than December. Any delays would be to add additional content we didn't anticipate being able to develop within our release schedule." ~Blind Mind Studios
Basically, the game is a space 4X game set in pauseable real-time where the player can control the time-lapse considerably by both accelerating and decelerating the speed. Everything happens on the same layer, as fleets engage combat on the star map as the player manages their empire.
The aspects of the game which stand out the most, in my opinion, are the ship customization system – which lets the player scale-up the size of their warship to whatever size his industry can manage, a diplomacy system that involves swaying votes in a senate like system for such actions as annexing worlds, and an empire-wide economy where the player sets up resource networks that influence the development of their planets.
Stability and Ship Customization
The game seems to be stable enough as an Early Access title. Game performance is smooth and unless you go overboard on the size of the galaxy, games load quickly, and I only experienced a few crashes. The largest source of stability issues I experienced stems from running longer games, which seems to make the game more prone to stalling and crash when reloading an older save state. Usually a restart of the game clears these. However, even this was relatively rare in my playtime.
I will cover diplomacy and the economic model more in my "First Impressions" section below. However, I will cover ship customization here as it was one of the defining and memorable features of the first title.
Ship customization has changed a bit from the original Star Ruler. The player can still size their vessel as they wish. Subsystems are now added on a hex grid, but depending on the subsystem the player decides between number and size. There is a difference in having a single 6-hex large railgun or having six 1-hex railguns on your vessel. Increasing the size of a ship doesn't change the number of hexes it has (that is determined by the model template), but it will increase what 1-hex is worth and does. In addition, placement matters as there is directional damage.
It should be noted the game is still in Early Access and there seems to be a good number of missing features. I have not seen the special weapon systems that were discussed in a previous live stream, nor does the tech tree seem to be complete.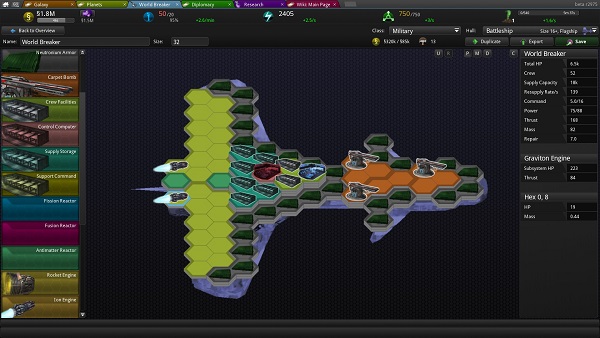 List of Features
Game Set-up:
An in-game tutorial that introduces new players to the game's basic mechanics is present in the game.
Customize your faction and your enemies' factions with a set of merits and flaws.
Select one of the 4 FTL systems (Star Gates, Fling Beacons, Hyperdrive, and Slipstream) or start a game with only Sub-light engines.
Select the number of stars in your galaxy and choose the number of galaxies which will be separated by a large and cold vacuum (though only one shape is given at the moment).
Empire Management and Diplomacy:
Colonize worlds and export their resources to build a highly interconnected interstellar economy. Use these resources to influence the growth and direction these worlds take in production.
Raise your worlds to maximum level to build powerful wonders that can easily tip the scale in your favour.
Acquire Influence actions via the purchasing of cards from a commons pool; use these influence actions to spy on your enemies, designate unique flagships, table proposition for the senate, or influence the vote to pass or block a tabled proposition.
Annex the worlds of your enemies peacefully, claim the artifacts of others, designate systems as protected, or open another empire to galactic scrutiny as all factions can spy on them via the diplomacy system by tabling proposition and voting on them.
Build space stations that help with production and act as shipyards, as well as economy, defense, and influence based stations.
Ship Building and Combat:
Build large flagships that act as the center of your fleets that can be built at any scale.
Build smaller support ships that protect planets and space stations, or fill the ranks of your flagships to create fleets.
Design the layouts of your support and flagships.
Engage in multi-fleet combat and even though individual ships can't be commanded, multiple fleets can cooperate to flank enemies.
Equip weapon systems with special properties that can be used to tip the scale of battle (I have not seen these in the build released on Steam but were mentioned by the developers in the Live Stream)
Others:
Research tech by investing in tech branches, and then use the Insights gained through research or exploring debris to unlock special projects (these vary from getting certain modules early to selecting between two exclusive branches to shape your empire) to further advanced your empire.
Activate ancient relics left behind by an ancient seeding ship following a programmed routine for powerful bonuses (or kill them off to deny new relics to all players).
Play online or via LAN with friends in multiplayer matches, with a built-in IRC chat to speak with the community.
The game will be very mod friendly.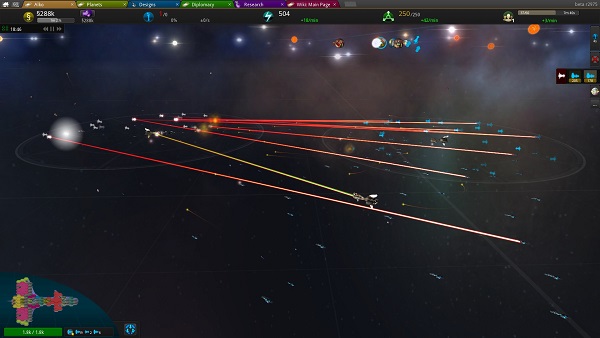 Far from Finished
As mentioned, despite the few stability issues the game runs very smoothly for an E.A. title. However, a few things did stand out: the game is far from complete like there doesn't seem to be many special projects; the tech tree also seems far from complete; I did not see many modules for the ship customization, especially those hinted at in the Live Stream, which means there is still a long ways to go.
Other elements that show the game is far from complete: the AI can't handle other forms of FTL so they are locked in using Hyperdrive. There seems to be no pre-built factions (though the tutorial hints they are supposed to exist). The race art seems to be still using the placeholder assets, and there only seems to be one galaxy shape at the moment. Also, there seems to be only one ship-set for visual purposes. There have been hints that there will be more but there has been no confirmation of just how many will be in release.
However, to the game's credit each critical element of gameplay is present: diplomacy, planet/empire management, wonders, ship customization and combat. It's just that some of these elements are not in their full iteration.
Here is an excerpt from their Steam Store Page:
"The game is fully playable but is in various states of completeness:

Art: Ships, stations, and various components of the interface are using temporary art or do not have their full set of art implemented.
Audio: Only about one third of the soundtrack has been finished and many sound effects are placeholders.
Mechanics: Core gameplay mechanics are present and functional but are not content complete.
Stability and Performance: The game is stable and performs well on our development machines but is likely to encounter issues specific to particular hardware configurations. The only way to improve this is with the help of as many people with different machines as possible.
Fun: We believe the game is already fun but there's plenty of room for more! We'll continue to add content, improve usability, and add new features according to our existing plan and community feedback.
AI: The AI is competent enough to win a game but is easily outsmarted by an experienced player. Continuous progress is made in the AI's skill but there's plenty left for it to learn."
Hopefully, the missing bits will be added by release time. Or, the game will be delayed if it takes longer than predicted. So far, there has been a few patches since release that have begun to address the technical issues and beginning to add to the game.
First Impressions
Overall my experience with this title was a delight. I found that the game does begin to fit the bill of 'easy to learn and hard to master' as I quickly grasped every concept of the game after the tutorial but totally fell behind in military production and got curb-stomped in my first play. I admit I am not the best player, I am pretty average, but lately many games I have played I can beat the AI on the hardest setting. So it was refreshing to have my behind handed back to me on a silver platter for once for a game still in Early Access. Not saying the AI is amazing as I quickly learnt to counter it, but it certainly was able to use the mechanics present effectively and still mounts a solid resistance.
Despite being a little random, the card/action based diplomacy system that uses the 'produced' resource Influence, seems to work quite well. It immediately feels like you are pushing your agenda's forward in something that feels like the Space-UN and perform actions such as annexing a system without going to war and other forms of jerk-move real-politics. Giving players another avenue to expand (there is even a Wonder that makes you a Senate Beast or directly annex worlds one at a time). I really liked this and I even came to appreciate the system's more random elements of acquiring new cards/actions as it kept me on my toes looking out for opportunities to seize.
The economy is highly abstracted and may put off some players. However, one does need to consider the 'time-tested-and-true' approach of moving 60% of your population from farming to industry or science on a dime was just equally as abstract, and silly as importing fruit from a planet to another so that you can export its electronics. Once I got past the abstraction, the system seems to mesh very well and creates for an interesting economic model. I get the feeling I am managing a huge empire that is highly interconnected, as I have a few core worlds that act as the center of my empire and dozens of support worlds whose only purpose is to feed my ever hungry and expanding empire. It felt satisfying.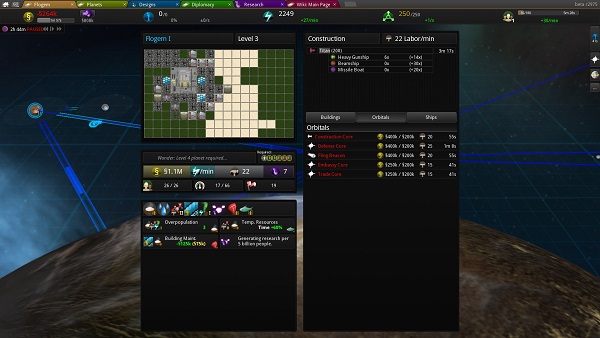 There is not much I can add to what was said about ship customization, however. I felt it was easy to grasp and the tool used allows for pretty quick ship designs. The system is surprisingly free-form despite the use of hexes. I wish the tech tree was more fleshed out and the more unique systems were in the game already as this was probably the thing I noticed was missing the most.
Closing Thoughts
The game is very different from its predecessor and I imagine those that were expecting a linear progression HD version of the original Star Ruler may be a little disappointed. However, I still feel the same developers are behind this title and many of the interesting aspects of the previous title are still present. The game is its own game, a slightly different direction as opposed to a direct sequel.
Overall I enjoyed my initial experience with this title, but it definitely won't pass as a finished product and hopefully the game will be in the state it should be in for the release version when that day comes.
However, it is still an Early Access game and Steam has made it clear that there is no guarantee of satisfaction or even completion with these titles. Practically invoking Caveat Emptor (Buyer Beware) to the tee. Personally, I tend to see Early Access as something closer to a Kickstarter except that you have less options of investment and you get an immediate early copy. However, the principle is the same; you are not getting a finished product and are taking a huge risk. It is not meant for everyone.
If you are uncertain, it is best to wait for the full release at which point the game will have a tonne of Let's Play, Early Impressions, Updated News, and probably have its first Reviews coming out soon. Early Access is for the adventurous or risky sort, or those that wish to support a developer.
We will bring you more information about this title as it nears completion and offer a comprehensive review after release. Feel free to ask any questions or leave your own impressions of this title in the comments section below.
Star Ruler 2 is available on Steam Early Access for $19.99 USD. Since the game is in Early Access it can only be purchased from Steam at the moment, however, there are plans to have the game distributed at other outlets after release (no confirmation on which). Though the current version uses Steam to download and update, the game can be launched from the desktop without the Steam Client active (completely turned off, not just the offline mode) after installation.
Subscribe RSS
45 Comments
Related Articles:
Post category:
Game First Impressions
,
Game Previews
,
News & Announcements