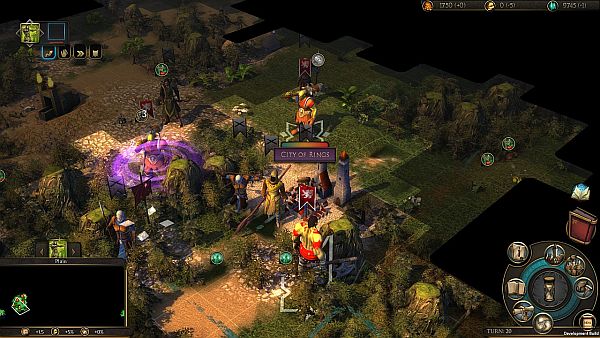 Were it not for the well timed assistance of Wastelands Interactive, Worlds of Magic may have ended it's life as little more than an idea. Worlds of Magic, as you may recall from our prior coverage, is an upcoming 4X fantasy game that hopes to channel the spirit of the classic Microprose game, Master of Magic. Alive and well, Worlds of Magic is progressing steadily according to developer Aaron Ethridge's recent radio interview with KTAM radio. At a bit over an hour long, this interview reveals numerous details about the game, its origins, and its future. If you're interested in the game, or perhaps in the story of how the idea became a game, the interview is certainly worth a listen.
While the interview itself contains a lot of details, what you may be most interested in is where the game is heading in the near future. Aaron notates that they are currently aiming for a launch on Steam Early Access this September. For Early Access, the plan is to have 4 of the 8 races completed and in-game, including the Grey Elves, High Men, Unhallowed, and the Draconians. Each race will have 9 unique units, not including any ships. 200 of the roughly 400 planned spells should be present. Heroes themselves will be in the game, though likely without their custom models. Crafting is nearly completed as well. What about the AI though, will there be an AI to contend with? Well…
The interview reveals that the AI has been in development for a few months already, but is admittedly the biggest challenge still before them. The ideal, as Aaron states, is to have each AI develop a strategy based on the spell circles and abilities available to them. They're not thinking purely of other Sorcerer Lords though, as wandering monsters and independent cities should be pursuing their own goals and objectives as well. Independent cities may even launch their own military efforts and become significant challenges if left alone too long. While certainly an admirable goal, I can see this also being a very daunting one.
While Early Access should start this September, full release won't come until at least February 2015 at this point. This allows the team time to take EA feedback into account. In addition, it allows them to avoid launching a head to head campaign against other AAA 4X games like Sid Meier's Civilization: Beyond Earth.
Subscribe RSS
13 Comments
Related Articles:
Post category:
News & Announcements