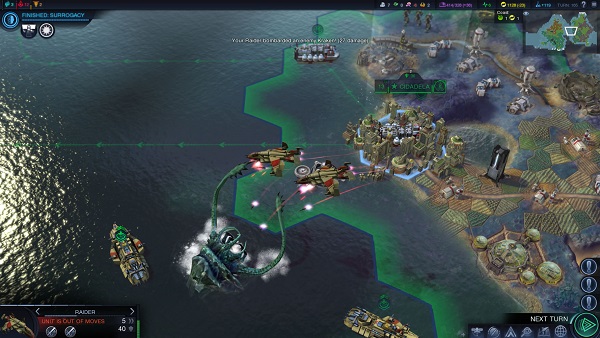 Several weeks remain before the release of Sid Meier's Civilization: Beyond Earth, the new turn-based sci-fi 4X strategy game by 2K and Firaxis Games. SpaceSector approached Firaxis for an interview and despite the hectic schedule of pre-release, the two Lead Designers, Will Miller & David McDonough, answered our questions. The answers were brief but hopefully a bit of information will be there for our readers.
However, before bringing you the interview, people interested in Civ: BE can find more information about the game on their twitch streams. These videos can be found on their twitch channel, which are archived for later viewing. They cover topics such as early game choices, affinities, the virtue system, some early and mid-game techs, and espionage.
These live twitch streams air on Thursdays at 2PM Eastern Time (11 AM Pacific Time and 8 PM CET) and for the last few weeks have been on a weekly schedule. Here is a quick lowdown of features they discussed: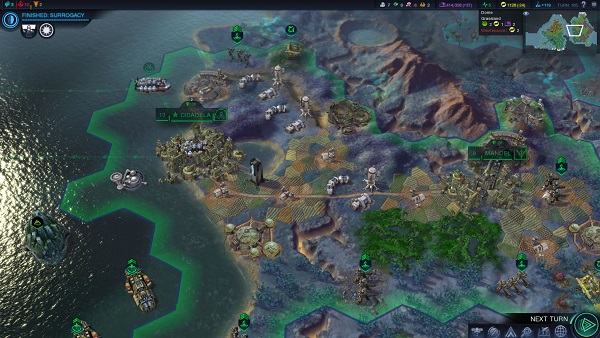 Basics:
The native fauna are not just mere barbarian. They are not always offensive (but can be opportunistic), however they can be provoked if pressed and at lower aggression levels won't aggressively pursue fleeing units.
The factions only offer a single unique quality, similar to the more basic Unique Abilities found in Civ V. These factions are further customised via the seeding process.
During the creation of the game, the player will seed their colony project. Selecting your faction, ship (which gives a little boost), colonists (which gives a basic output bonus), and cargo (a freebie at the start).
Cargo includes a free building, a unit, or population. While the ship trait will give effects like having a larger zone to pick for your first settlement, seeing several strategic resources, or having the coastline mapped on the minimap.
The Tech Tree is more of a Tech Web as the player starts from the middle and spirals outwards from there in all direction. Each core tech referred to as a branch tech will have leaf techs, these tend to be more expansive to research but offer useful buildings, units, bonuses, and many times affinity experience.
Virtues are the replacement to social policies in Beyond Earth. They operate the same way with the exception there is only 4 trees and each go 15 virtues deep. The player also gains additional bonuses to go deeper in any given tree but also gains bonuses when unlocking more virtues within a given tier, thus rewarding both deep and wide strategies within the virtue system.
Check our previous coverage on Beyond Earth if you want to know more about the three different affinities and other basic gameplay concepts.
Affinities and Unit Evolution:
Players gain affinities level from accumulating experience by completing quests and researching (or stealing) affinity techs. As the player goes up in affinities they gain passive bonuses from their affinity and unlock the ability to upgrade their units.
Unit upgrades are the replacement to the traditional tech replacement of older units. Though some units only appear later and some only to a given affinity, the player will be able to upgrade older units to the graduated state.
These upgraded units will have a choice between two bonuses the player can take. Also, at a given affinity level the earlier 'neutral unit' will change to its superior affinity aligned unit, each with its own choice.
Three of the five victory condition is tied to the affinities, one for each. The last two are achievable by everyone, First Contact with another race which is similar to the Technology Victory, and naturally the Domination Victory (which is still based on being the last faction to still own their original capital).
Supremacy can build a Warp Gate back to Earth to "liberate" humanity from its organic prison. Purity can build a Warp Gate to bring in settlers from Earth to start a new home for mankind, and Harmony can merge its consciousness with the alien world in a perfect symbiotic relationship.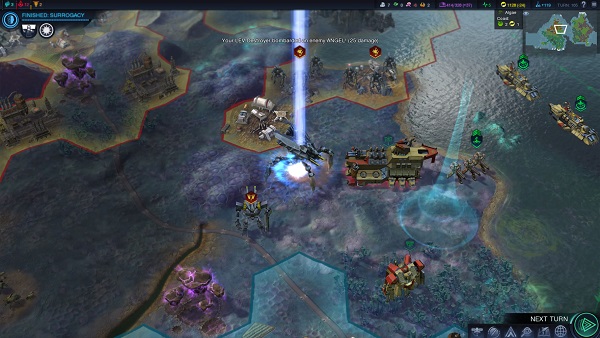 Espionage:
The latest video goes into great detail on how the espionage system works, one of the elements of the game that has been greatly expanded upon from its last Earth-bound predecessor (i.e. Civ5).
Agents can be deployed to increase intrigue in a given city, or used to stop agents and reduce intrigue in your own cities. Intrigue seems to be accumulated individually for each city separately.
Agents can stay at the Headquarters to offer a passive boost to your faction which can be set by the National Security Project.
The agent's chance to succeed is separate to getting caught or detected. Also, the more factions that dog-pile into a city the more likely a spy will be caught or detected to counter-balance the rapid increase in city intrigue (the Casablanca Effect).
There are buildings, wonders, and even satellites that can help the player defend themselves against enemy agents.
There is a quest chain that relies on espionage which helps the player further expand their espionage capabilities.
Once the player reaches a certain intrigued level they can perform actions such as taking energy, science (which are not deducted from the target), or steal technologies. You can even get free units based on the enemies' units available (though they will match your affinity, however) and sabotage their satellites.
The player will also have a powerful actions that is dependent on their affinity and even have access to coup-d'état which lets the player flip a city to their faction. This includes their capital which means it is possible to achieve a domination victory peacefully.
The player can get more agents via technology, virtues, and even quests. The construction of the spy agency that unlocks the espionage mechanic for your faction grants the player with three starting agents.
Lastly, there is one faction that specialises in Espionage. The ARC, which gets all-around bonuses to espionage.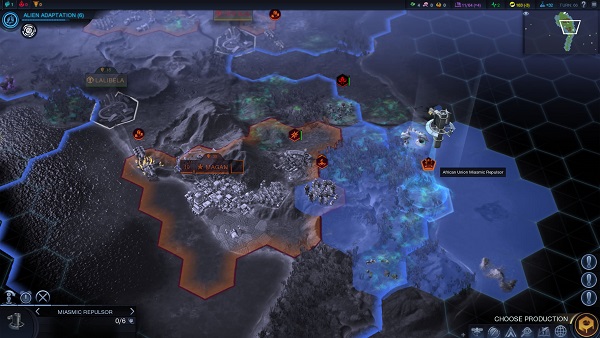 Interview with the Lead Designers
Here is the interview with Will Miller & David McDonough, Lead Designers of Civilization: Beyond Earth.
SS: What gameplay feature has been the easiest and which has been the toughest for you to reach the state where you were finally happy with the end result? Also, speaking of features, are there plans for continued development post-release with DLCs and expansions like with past Civilization games?
Will & David: That's a really great question. We're very happy with how the game is coming together now, but I guess as designers we always feel a need to keep tinkering with the design. Right now we're focusing on getting Beyond Earth finished, and we don't comment on future plans.
SS: You mentioned giving the players options when they start new games, from selecting the planets biome to the load out of their colony ship during the seeding phase. Can we expect many of the options we are accustomed to from past Civilization games when we set-up a new game like disabling certain victory condition, changing the overall aggressiveness of the aliens, and further planet customisation options (like multi-continent, Pangea, or having no oceans)?
Will & David: Yes, absolutely. You have plenty of control over the planet's geology and ecology, whether it's super-low rainfall or humid, ancient or new. Those play into the scripts that go about designing the game. You can also disable certain victory conditions, if you would like.
SS: You spoke a bit about favours during diplomacy. What sort of actions can we expect out of 'cashing-in' favours? Will we be able to use them to influence other factions to go to war or to make demands from them, like "stop 'spying' on me" or "stop encroaching on my territory"? What other improvements in diplomacy can we expect from Civilization V?
Will & David: Yes, many of those options are possible with favors. They work a bit like a currency for diplomacy: you can earn them by giving the other leaders valuable energy, resources, or other forms of aid, and then cash them either in to get different resources back at a later date, or to demand a positive response to something you need the leader to do – up to and including declaring war on a mutual enemy. In addition to the favor system, the other leaders will contact you from time to time to discuss things like your Affinity development and attitude towards wildlife. Our hope is that players will find this gives them a better sense of how the AI's attitude towards them is developing over the course of the game.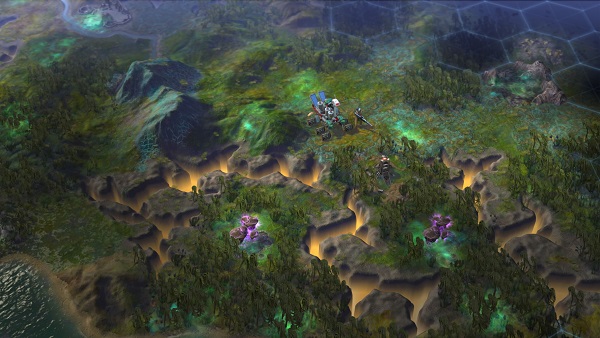 SS: Let's speak about the tech web. We noticed that the leaf techs tend to be far more expensive than the core branch techs and many of them have affinities attached to them. Can we research multiple leaves under a branch tech? Also, if we can, what prevents the player from leveling up multiple affinities since it seems we are encouraged to go down 'one path'? Also, are hybrids possible or even viable?
Will & David: Yes, you can research any leaf tech under a branch tech. You can also go down multiple Affinity routes, although you may have the most success if you prioritize and focus on just one. You need to have a certain level with an Affinity in order to pursue its victory condition, so if you don't do that and straddle a variety of Affinities, you may find yourself limited in terms of what victories you can achieve.
SS: Lastly, many veterans of the genre still hold SMAC in high regards to this day despite its age, though Civ: BE does seem to focus on bringing the concept of Civ on an alien world to a new generation of gamers and fans of the later Civ games, but what do you consider Civ: BE brings to the table for those that enjoyed SMAC?
Will & David: One thing we hear a lot from gamers who played Alpha Centauri was how much they enjoyed the characterization of the leaders and how it built its world from simple elements. We're trying to do the same things in Beyond Earth, creating the idea of how a world might be expanding or developing, while letting the player's story take center stage.
SS: We would like to thank both Will Miller & David McDonough and Firaxis for this opportunity and taking time from their busy schedule to answer our questions.
Sid Meier's Civilization: Beyond Earth is developed by Firaxis Games and published by 2K Games. It's slated for release on October 24, 2014 as a world-wide release. The price is set for $49.99 USD and is available on Steam. The pre-order offer is receiving the Exoplanet map pack for free. The game can be ordered online (and for digital distribution in the form of Steam keys) from several outlets, two such examples are Amazon and GamersGate.
Subscribe RSS
52 Comments
Related Articles:
Post category:
Interviews
,
News & Announcements