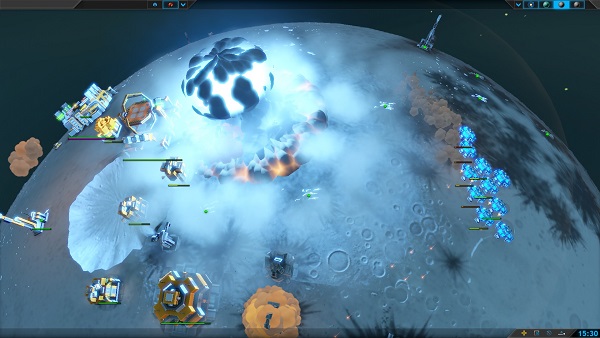 Planetary Annihilation, the sci-fi strategy game by Uber Entertainment, was released last month on September 5, 2014. As many expected, the game was perhaps released a little too early and even promised features only made it into the game with post-release patches. This review will look at Planetary Annihilation in its current build as of the date of this review.
Planetary Annihilation harkens back to the style of RTS such as Total Annihilation and Supreme Commander, and even some of the original developers of Total Annihilation are present in the development team of Planetary Annihilation. The focus is more on macro-level play of economy and mass production of units across large battle grounds over tactical nuances of unit positioning and use of special abilities.
This leaves Planetary Annihilation in the interesting spot that it may appeal to many older RTS fans or those that are looking for an alternative to the recent trend of real-time tactics games; however, it may disappoint those that actually do prefer the real-time tactical trend (RTT). Either case, Planetary Annihilation offers an interesting alternative to current gen RTS, as it focuses on battles that use moons and planets as weapons themselves.
Game Set-up and Basics
The game offers several modes for the interested player. The game's heavier focus on multiplayer is apparent though, as the game doesn't have a strong single-payer component (discussed later). There's traditional multiplayer matches, though the game doesn't seem to have an auto-match system at the moment, so the player will have to create his own game or join an existing one. The lobby system has plenty of filter options to help players look for games they may be interested in and the player can fill spots with AI controlled commanders for co-op play.
As for single-player, a player can choose to do an AI skirmish mode which is similar to the multiplayer gameplay but only against, and with, AI controlled commanders. There's also the "Galactic War" mode which is a simple meta-skirmish game where the player moves across star systems and picks up technologies to customise their load-out and invade enemy systems to achieve the final goal of totally annihilating their enemies. This review will touch up on this mode later.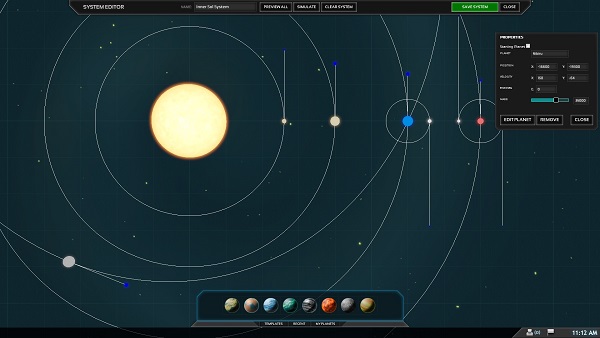 The player can also design their own systems, with several custom systems already included. One such map is the inner system of Sol, which you can edit as you wish along with the others. Naturally the game also has a random system generator as well.
Planetary Annihilation doesn't have multiple factions (though they are several different commanders but their differences are mostly aesthetic). Instead, the player has access to a huge selection of units with varying different kinds of attacks; in a given game it is unlikely a player will be able to build everything (but not impossible) but nothing stops a player from switching up their tactics and production queues. Overall, this offers a wide variety of tactics and build orders to anyone, but can disappoint players that enjoy asymmetrical balance or unique factions.
A Core Issue
It should be noted that the game doesn't seem to have an in-battle save feature. Though this may seem negligible for smaller battles, longer multi-planet battles, that can last over an hour, can feel drawn out without the option to save and exit the game, especially if you enter a planet entrenchment conflict as it may take a while to break the siege. This lack of save compounds the issue when the game experiences a server disconnect (when not in offline mode) or some of the rarer graphical glitches which usually are fixed (in other games) by saving and reloading the game.
This sort of forced "poor man's ironman mode" might increase the challenge as you can't merely reload a failed assault, but it may not be what some players are looking for, or becomes frustrating when a technical issues ruins a game. These tend to be few and far between, but they do happen often enough that most would take notice of them.
Presentation
Graphically the game uses a colour rich style that makes many of the models look 'toy-like', similar to Legos. This gives a distinct visual style and post-processing is used to great effect. These visuals include the rising and setting of the sun (as the planet you are on rotates as it orbits its star), explosions, and illumination from generators. Also, a lot of the structures are animated.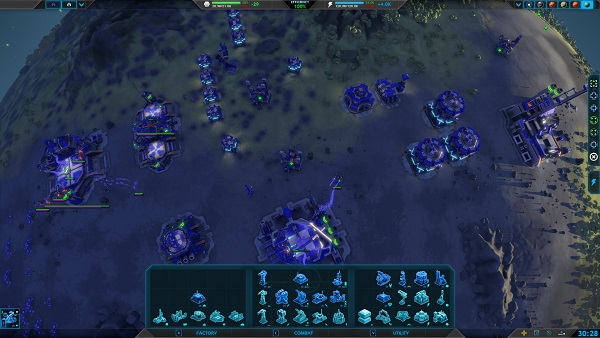 With respect to audio, there's bombastic orchestral themes, to capture the larger than life feel of the game. The music seems to pace to the rhythm of combat, except for usual explosive start of each battle. Sound effects are not truly note-worthy but do work well with the audio scores and the game's visual style.
A Word on Economy
We have already covered the basic mechanics of the game's economy in our first impressions article and beta preview. As mentioned the game uses a streaming economy which means metal is deducted as it's consumed, so the queuing of units does not require immediate purchase and in addition metal is deducted by the second. While energy is used up as facilities that need it are powered up.
Understanding this is paramount and the game fails to explain this clearly in-game. Though community guides do exist, the game only offers a small YouTube video as a tutorial. Considering that most RTS usually use pay-in-full up-front for production, this streaming economy may be something new to some players and even veterans may wonder the nuances of the economy. More intensive tutorials are not something new in this genre, and would have been useful here.
But, once players understand the basics, the game does offer the tools for them to manage their economy. This is done by showing the input, output, net change, storage capacity, and current storage of each resource. The game also conveniently shows the economy efficiency of the player. Generally it is good to be as close to a 100% efficiency without actually being at a 100%; also, avoid floating too many resources (have an excess that is either building up or being wasted).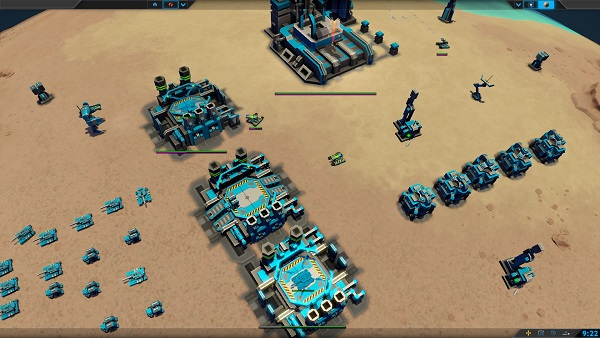 The reason this is getting explained is to stress the importance of PA's economy. Though this statement is true for any 4X, RTS, or TBS game ever built, having your production streamed properly and efficiently is paramount to winning the game. Many times defeats will come when an opponent out produces you. The game focuses more on expanding your resource production and matching it with the right production. This doesn't mean critical decisions on what you build don't matter, but being able to keep your economy on par with the enemy is important. A lot of battles will be about denial and seizing sections of the map.
Fortunately, PA does offer a lot of tools to manage the economy as you will likely be building bases on more than one planet. Buildings can be assigned to command groups, you can skip to planets via the system bar, and you can set rally points for your factories. More importantly, you can also set them on continuous build and set a queue of several different units.
Another thing to note about the economy is that your fabricators can be used as factory enhancers, so the player doesn't have to always build more factories. They can use existing fabricators that have nothing better to build to boost the speed of any factory, but this will cost the energy need of the fabricator and the accelerated production means more metal will be streamed. This offers an interesting strategic choice of a few really fast buildings or many slower producing buildings. These fabricators can be reassigned at a whim which can help shift production towards the units you need while still trickling the other units out.
One problem is that it is sometimes easy to misplace your fabricators and keep tabs on all your factories if you build many. Though there are keyboard shortcuts to help the player, it will not be uncommon to have a fabricator or two loafing around someplace not being useful or a factory producing the wrong things (or you forget to re-activate and thus being dead space).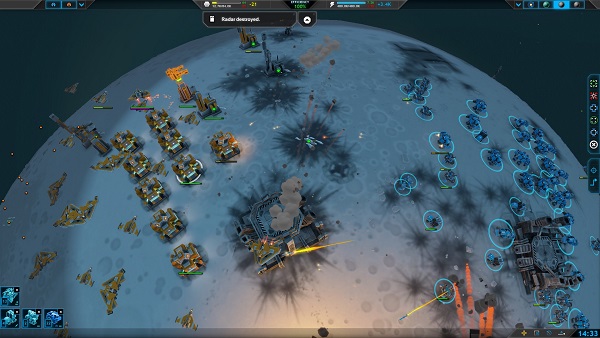 The Core of the Game (Combat)
It should be noted that combat is more like an extension of the economy in the war that the player will be waging. The game doesn't possess unique unit abilities except for the Commander's Uber-Cannon and most units have a single function. There's also no tech upgrades via building or core component to improve your units. The only escalation you will experience is the production of tier 2 factories from tier 1 fabricators which will be able to produce tier 2 units and tier 2 fabricators which can produce the more advanced stationary structures.
Micromanagement of combat is not as pronounced in this game. This doesn't mean flanking the enemy from an angle they did not expect won't pay off, or managing your armies so that cheaper units run in front to soak the damage while the correct units move in behind to kill off what may harm you so that the rest of your army can have a free parade. In many ways such tactical skills might be able to break the dead-lock when two opponents are equally matched in economy or as a means for someone that is underperforming to make a turn-about and still win the game.
However, winning the economy game is the key to winning the war. Tactics will have a place when trying to deny regions from an expanding enemy or claiming your own slice of the map. Especially in the early game when armies are still small, a bit of micromanagement of the conflict might be able to turn the tide. Ultimately, what does matter more is if you built the right units. Having an army of air units versus a swarm of anti-air vehicles will be devastating to your air force; however, if the enemy did not have any anti-air you will be shooting fish in a barrel.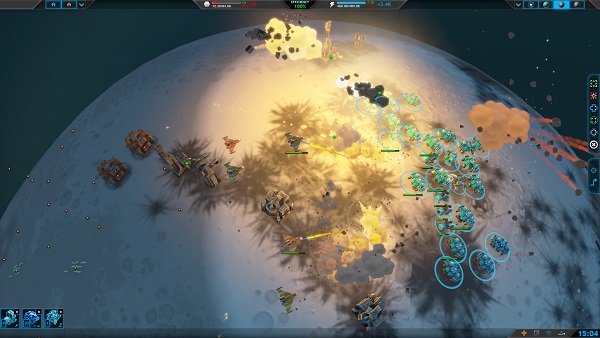 Another interesting thing that makes conflict interesting is the wide array of stationary defences the player can build. These can include walls, turrets that can cover almost any aspect of warfare, radar, space defences, and even interplanetary nuclear missiles. Generally, everything has a counter. But, mass will always win. So, overwhelming your opponent's counter can sometimes work. This means timing your attacks can be paramount, or performing suicide runs to knock out key structures can help a lot.
The last thing to note here is that to win you must only kill the enemy commander which means many battles can be quickly won if you can snip an unwary commander that is left out in the open. This also means, knowing counter snipe tactics will be pivotal for your survival especially in multiplayer games. This "King Piece" approach to combat is interesting as it means no matter how big you are you're always vulnerable to a quick defeat which does counter-balance the economy focus of the game quite nicely.
Orbital and Planetary Level Warfare
The orbital layer is another thing to note in this title. Controlling orbital space with fighters can give any player a leg up as they can dominate a world, with orbital defense stations that shoot anything under it to powerful slow moving death satellites that can devastate any enemy with no space defence guns or orbital fighters of their own. Planetary Annihilation offers a layer of combat that is not seen often in other RTS games.
The game offers a lot of variety in how to defeat your foes; some of the more unique is seizing a small moon and building massive boosters on them that will turn the world into a deep impact death machine. The other is seizing control of a metal world, which can be turned operational again and be used as a planet killer. Even indirect means exist, like seizing gas giants can be a massive economic boost that is hard to compensate for.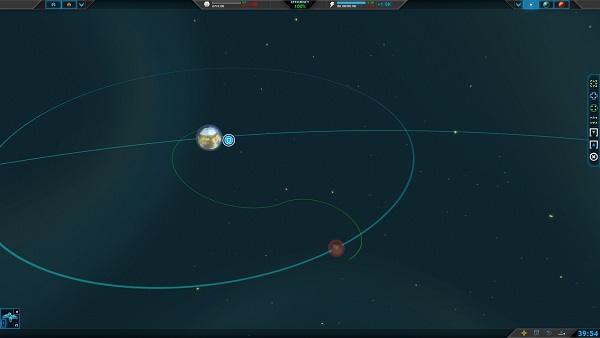 The downside is some of these features may seem overpowered at a glance which means if one of these elements is present there will be either a rush to claim them or aggressive denial to prevent it, which will make some maps predictable. Example: Metal Worlds can destroy any planets with almost no cooldown. Naturally, taking control of one is a long process but once you have control of one, unless your enemy is on your Doom Star too, they are dead. However, for players that cares less about fairness, enjoy the mayhem. The balance comes from that either player can achieve these trump cards equally.
Galactic War
The game offers a Galactic War mode, which as described earlier is a meta-skirmish game. Overall, the system feels underdeveloped. There is no strategic component, seizing systems gives the option to explore and find a random tech to slot into your load-out. The other problem is that the system severely limits what you can build and you need find the right tech to build advanced structures and units. Since these techs are randomly gathered, it means you will hit situations where you'll miss a critical component to win the map. Though creative thinking can overcome most of these situations there will be times it won't help.
These include having no definite means to invade another planet that has been entrenched, while being able to repel the attacks of the enemy (thus getting locked into a stalemate); worst yet, if you can't defend in which case defeat is your only option. Another situation that may seem grossly unfair to the player is still being limited to tier 1 units while the enemy produces tier 2 units. Since getting these techs are random, these pitfalls are rarely the player's fault.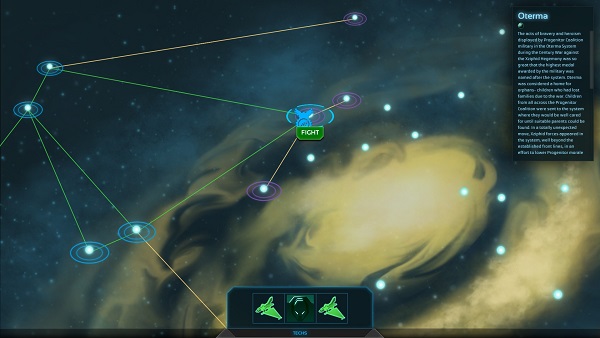 The key problem is that Galactic War attempts to create asymmetrical play (akin to having actual factions) via limiting your build orders; however, it is random techs that define your capability which throws any semblance of balance out of the window. This can be a fun challenge at times, but can also be frustrating as Galactic War is fought in something similar to an ironman mode (loosing means the end of the whole game and you must start from scratch, no second chances).
AI and Stability
The game's AI is competent enough and will challenge many players. Usually the AI does a great job of expanding and massing a decent army. It also does a decent mix of early and late game harasses combined with massed attacks. One aspect of the AI that is interesting is that it tends to have personalities that will favour one attack over the other; one example, the AI will sometimes build a large number of stationary artillery to the point of surrounding the player's base with them. This makes fights interesting as you never know what to expect.
The downside of this personality mechanic is that the AI will sometimes have a preference that will shoot itself in the foot. Though this does mimic the odd human player that does something totally absurd, it seems detrimental for an AI to be shoe-horned into such behaviour as well. Any competent human would shift their tactics under these circumstances which the AI doesn't seem to do. This produces results such as a naval AI building a huge fleet for a small lake on one planet, or the AI ignoring space on a map where the space race is a sure win (the latter happens all too often).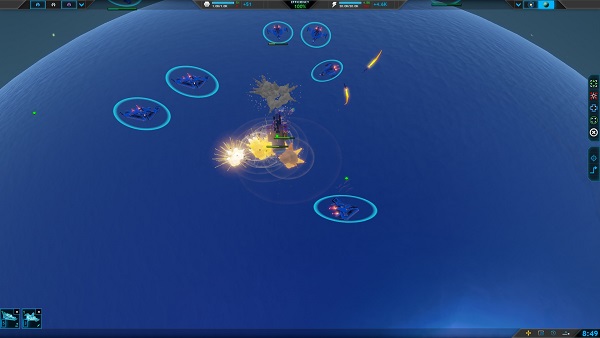 Also, the AI path finding needs a bit more work. All too often you will see units getting stuck in V-shaped hills or pressing against a building sliding very slowly to one side till they clear the obstacle and move normally. Considering how tightly packed some bases will be built it is not uncommon to see such incidents arise in a game. Another issue with the AI is that it has a bad habit of leaving its commander too undefended making it sometimes vulnerable to a commander snipe attack.
Overall the game is stable and runs smoothly for the most part. However, there are a few hick-ups: it seems the game takes a long time to load maps no matter how small they are, large maps and the lack of unit caps (which is a cool thing) can cause these long battles to slowdown even a high-end machine to a grind, and server connection issues that occur often enough in online mode.
Fortunately, the game can be run offline for single-player matches but server disconnects can be frustrating in multiplayer. These disconnects don't happen often, but do happen often enough to be noticed. Even in offline, there will be occasional graphical glitches that can ruin a game, and without the ability to save a game it can scrap the whole match. Lastly, your system needs to be at or surpass the recommended requirements to be able to run offline mode properly.
As mentioned in the first impressions, the game's 32-bit client is not stable and it is recommended to be played in 64-bit. In addition, the offline mode will only work properly in the 64-bit client.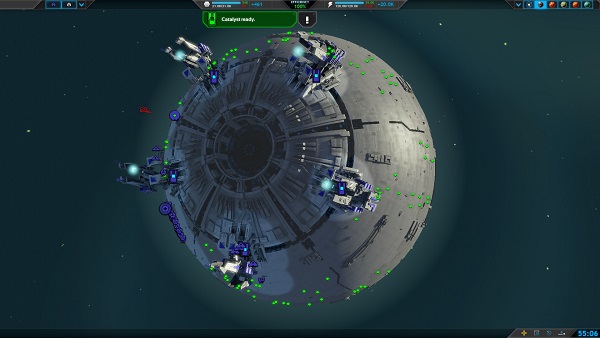 The Final Verdict
Overall, Planetary Annihilation is a fun game with decent polish. It goes back to some of the classics of RTS which have not been seen as often in the present era of RTS (which as mentioned have taken a more real-time tactical approach). The game offers something to veterans that have been eagerly awaiting a return to the good old days, or new players who are looking for something different.
However, the game is not without its flaws. Though an argument can be made for the streamlining of having only two tiers of units and no tech upgrades, and that the large arsenal of units available to the player does offset the fact that there are no different factions; one can't help but feel that this was not the best decision for the game.
The lack of factions makes every match a potential mirror match and doesn't stop the player from making it into one. The lack of upgrades means the vertical escalation is nearly non-existent. The game is entirely played on a horizontal expansion; in my book a good RTS tries to balance both types of progress. These design choices may actually hinder the game's replay value for some, including myself sadly.
The single-player component is also weak, as there is no campaign, and the Galactic War feature is underdeveloped and seems to be added in as an afterthought. However, even from a multiplayer perspective I have to be critical as there is no auto-match function. Though auto-matching is not a must, it has become a staple of games that wish to be taken seriously in the competitive multiplayer scene. When other games can do both, I find it hard to excuse one that does neither.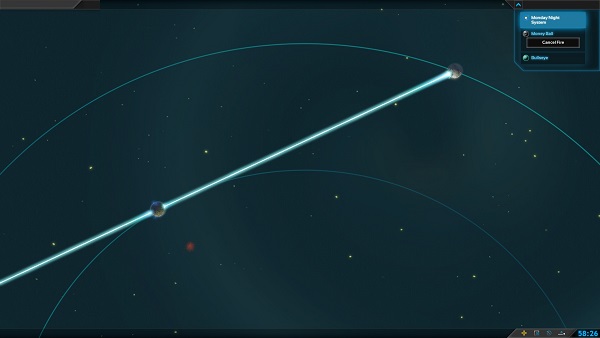 Despite these failings, Planetary Annihilation does offer a lot. The large selection of units and structures available is impressive. And, although a given world is small, the fact you can battle across multiple planets is something not seen often, especially with the ability to take the conflict to the orbital layer. For those that don't care about planetary war, you can always play on a single world map. Though naval power is not often useful, having it available as an option is fun especially if you play with maps with large bodies of water.
We can't forget the ability to seize gas giants for a massive economic boost, turning moons into planet smashers, and taking control of a metal planet and turning it into your own personal Death Star and rain total system annihilation across the map. This doesn't include the sea of long range artillery units and stationary structures, or inter-planetary nuclear missiles. Everything about this game is big, and if you like it big, it got you covered.
I had fun with Planetary Annihilation despite some of its technical issues. The game does certainly need more time to hammer out the kinks. Overall, the experience is fun and epic, but I find that only the AI skirmish mode seems to be worth playing if you are into single-player while more can be done for the multiplayer scene.
However, I do find myself understanding why recent RTS have taken the RTT route and do admit I prefer the RTT approach more, overall there seems to be more depth and involvement in those games. Still Planetary Annihilation is a fun distraction and interesting alterative to the current market of RTS games.
| | |
| --- | --- |
| | good |
The Good:
– Epic large scale battles across multiple planets with combat on land, sea, air, and orbit
– Weapons of mass destruction that includes flinging moons and using planet killers
– Streaming economy that eliminates some of the micromanagement of macro-play
– A capable AI that exhibits different personalities making AI skirmishes more interesting
The Bad:
– Larger maps and longer battles can cripple even the highest-end machines
– The lack of separate factions and tech upgrades make the game feel shallow
– AI personalities may sometimes be terribly adapted to the current map
– Even a month after release the game still has server connection issues for online play
Subscribe RSS
21 Comments
Related Articles:
Post category:
Game Reviews