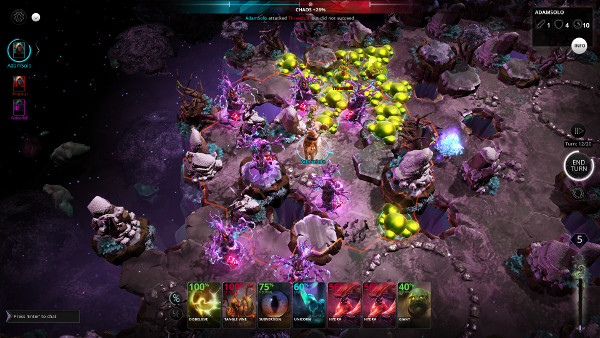 Chaos Reborn is a turn-based fantasy strategy game by legendary designer Julian Gollop. Julian designed other games you may know or have heard of, like the Rebelstar series, Chaos: The Battle of Wizards and the Laser Squad series. But, the title for he is most know for is the classic turn-based sci-fi strategy game UFO: Enemy Unknown (aka X-COM: UFO Defense).
A defining characteristic of Julian's design is the use of turn-based tactical gameplay, which is again central to Chaos Reborn. In Chaos Reborn, like in its predecessor Chaos: The Battle of Wizards, you're a wizard challenging other wizards for a battle to the death. You can cast a series of spells, including summoning creatures, forging equipment or casting direct spells like lightning and fire against your opponents. Some of these spells will be real, others will not. This uncertainty, on if your opponent is trying to deceive you is one of the game's most appealing concepts.
Julian succeeded on Kickstarter in April of 2014, securing $210,000 from a $180,000 goal. Last month (eight months later) the game was made available on Steam under the Early Access Program. Here's my first impressions after playing the early access version for the past month.
Early Access Impressions
Now, I'm not a multiplayer kind of guy. However, I'm really enjoying playing this game with other players online. There may be a nostalgia element at work here, as I was a big fan of the original Chaos game from the 80's as well. But, that's hardly the single reason why I like this game.
So, but what's in already? Currently, the game supports online multiplayer against 1, 2 or 3 opponents. It's also possible to play co-op in games of 2 vs 2. You can play against random players via a match maker mechanism or you can setup your own private games. On top of the online live play you can also play asynchronously where each player plays their turn at their own pacing. So, it's possible to create games that last up to 30 days where players (up to 4) can play the game in a very leisure pace. This is a good mode for people who like to play at their own pace with friends, perhaps playing one turn after lunch, and another later in the night. I had the privilege to play against Julian Gollop himself via this asynchronous mode in a tournament held at the end of last year: "The Gollop Wallop 5" (I'm the greenpower guy there). I lost  to Julian :)
On top of the online multiplayer mode there's also a single-player offline battle system, which was added just a couple of weeks ago. In this offline mode it's possible to play with a combination of human and AI players (so, playing hotseat is supported). When playing offline against the AI the game provides a disclaimer that "the AI is very rudimentary at the moment". And, I can confirm that it is still very weak indeed. Just for this impressions I played 5 games in a row against 2 and 3 AI opponents and I managed to win all of them, and quite easily I would add.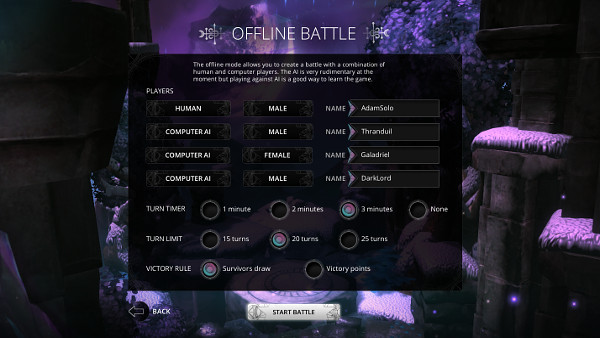 During my sessions against the AIs I've seen very bizarre stuff, like enemy wizards reluctant to move even when at the face of danger, and other times deciding to do suicide moves; AIs casting too many illusion spells (you can cast a real creature or an illusion, an illusion has always a 100% chance); AIs also make use of the dispel spell too much (to challenge if a creature is real). I've seen Giants using their special weapon (a giant rock) on very questionable targets, and AI wizards casting offensive spells on the least threatening creatures, and many other random and odd behavior of this type.
The experience is night and day compared to playing with human players online though. There, matches are very challenging and can be very intense if not even nerve-wracking at times. The community seems to be somewhat large and quite friendly and I account only one unpleasant experience while chatting with a player, but in general everybody is very supportive and fun to play with. While I win almost every time against the AI, my online ranking statistics state that I only win 43% of the times online vs human players, as you can see below.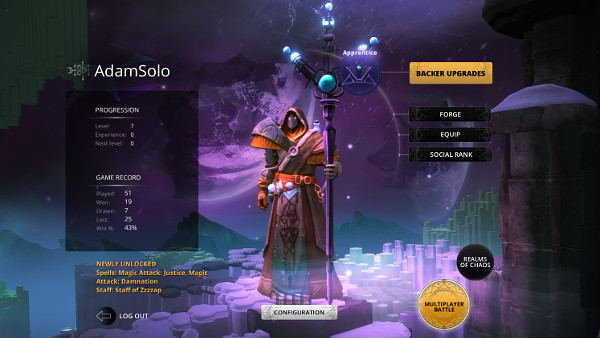 It wouldn't shock me if this was all the game had to offer for its asking price. But, Julian has more plans in the pipeline. There's an equipment design feature planned, called "Forge Master" where it will be possible to create equipment for your wizard. The equipment can then be chosen before battle, leveled up and traded with other players. Then there's a "Social Ranks" feature also planned which will act like a progression system where your wizard may level up and unlock new game modes at certain stages. These new game modes are: "Wizard Lord", "Wizard King", "Demigod" and "God" and after you reach "Wizard King" you should be allowed to design and populate your own Realms. The last mode: "God", states that it will be possible to "influence the development of the game lore and future game features". So, Julian seems to have long plans for Chaos Reborn.
On top of the equipment design and the social ranks system there's also a single-player RPG mode planned called "Realms of Chaos" where "you can enter a realm and travel the land, encountering all kinds of creatures and enemy wizards". The objective in this RPG mode is "to defeat the Wizard King before he casts a banishing spell". Co-op is also planned for this exploration mode. More on this single-player RPG mode on the official website.
Closing Thoughts
This game is quite solid and enjoyable already, especially if you consider that it is still in Early Access. But, I do have a few minor issues with it at its current state. Like for instance, sometimes it's not clear when there's line of sight, or when a terrain is or not passable; other times it's somewhat easy to make a control mistake leading you to a different hex tile than you previously planned due to how the attack system works. Your wizard also tends to dismount from creatures easily in order to attack sometimes, leading it to become vulnerable, so if you're not careful these little mistakes may cause major frustration sometimes, especially at defining moments. However, I think these are minor flaws that the devs can still fix while the game isn't officially released, which should happen around May of this year.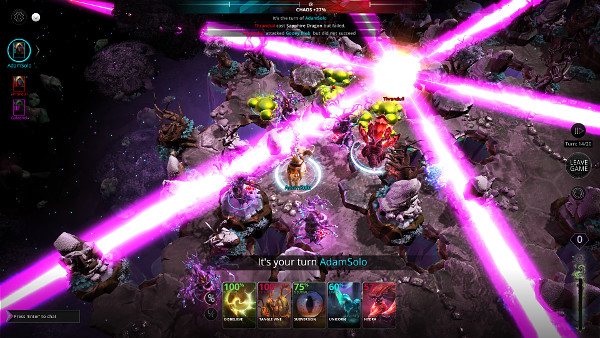 Balance-wise the game is also quite good already. I feel that the different creatures, spell types (Chaos, Neutral and Law) and staffs (one favoring weapons, others offensive spells, neutral spells, chaos spells, law and growth spells) are interesting and it will be even more interesting when it's possible to equip the staff of your choice, as of now the staff type is attributed to each player randomly.
There's a mana system, where it's possible for the wizards to increase their spell casting odds or unlock a super spell when a certain mana level is reached. Map elevation is also a factor, with high elevation giving you attack and defense bonuses. Certain creatures have special attack types like web attack (from Spiders) which immobilizes creatures, one-time super shots (the Giant), charge bonuses (if creatures move before attacking), among others. So, there's plenty of tactical depth at work here.
The game is also very stable at the moment (v0.23) and it's usually fairly easy to find people to play online, taking no more than 5 to 10 minutes to arrange for a 4 player game, which is definitely a good sign.
Now, this all sounds wonderful but I should warn you that there's a game element that may cause some problems to some people. Creatures in this game don't have hit points, so they either die or survive upon each attack. So, even if you have multiple good odds to strike a creature that's no guarantee that you'll strike it down, even if it's surrounded, in lower ground and suffering from overwhelming odds from all sides (there's no flanking modifier for example). The opposite is also true. Sometimes it can be frustrating to watch your Giant or other strong creature like a Hydra die at first blow to a low offense creature like an Elf or a Dwarf. This is either something you learn to accept or not as the RNG (random number generator) is what it is. So, if you have issues with this sort of system (like the one you find in games like XCOM: Enemy Unknown, for example), you may have a problem with this game, as well. Personally, I don't have a problem with the RNG but I admit that sometimes it can be frustrating to watch some of these unlikely events turn up, especially when they don't favor you! :)
Chaos Reborn is not finished yet, it is currently in Early Access, but already provides a very entertaining experience. This is the perfect game to play with friends in short play sessions from 10 to 30 minutes or even asynchronously over the course of several days. And while it's still incomplete, this is a game I find very easy to recommend already at this stage.
Chaos Reborn is currently in Alpha/Beta under Steam's Early Access program and is available on Steam and on the Chaos Reborn official website for $19.99/€19.99. The official release is targeted for May 2015.
Subscribe RSS
14 Comments
Related Articles:
Post category:
Early Access
,
Game First Impressions
,
Game Previews