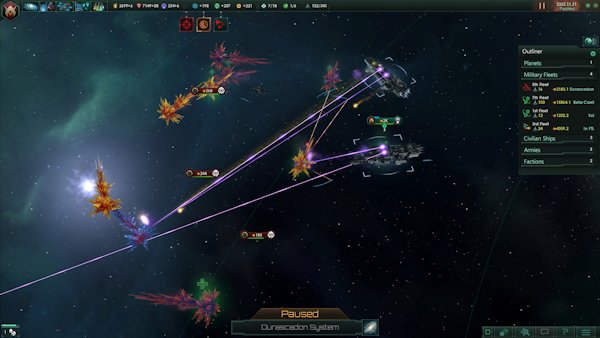 Paradox Interactive has released Stellaris on May 9, 2016. The game was developed by their in-house studio at Paradox Development Studio. The game is a pausable real-time space 4X Grand Strategy game. Paradox moves away from making historical games set within a given time period and braves the frontier of a more open-ended 4X experience yet staying true to their Grand Strategy formula.
The game seems to take lessons from past Paradox games, though it shares some similarities with Europa Universalis IV it takes quite a bit from Crusader Kings II. Yet the game does more as it adds new features with far more choices in technology and configuring your armed forces.
The game also looks good, using Paradox distinct art style to give a pleasing visual to the 2-D assets, but having the rich 3-D assets as well. It scores an epic soundtrack that gets a little repetitive only because of the amount of hours you can accidentally sink into the game, even then, I still enjoyed it. Also, despite the massiveness of the game, I had no crashes and found only a few none-game breaking bugs.
Overall, the game delivers on what was advertised and showcased in the developer diaries. A full review of the game by SpaceSector standards will take quite some time to complete despite the generous lead time with my review copy. This said, instead I will do a shorter first impressions article where I'll also tackle some of the distinct features of the game, sharing my hands-on experience with the title. A full review will come later.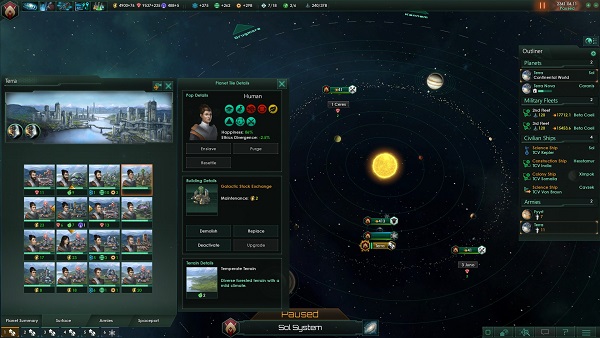 Note: I will make references to the concept of the pop a few times in my article, this refers to the population unit you manage on your planets. Think of Civilization's assigning citizens to tiles, or MOO's (2 and the reboot) assigning of population. That's basically a pop.
Unlike in those games, happiness and political allegiances are not just general statistics. Each pop will have its own happiness rating and ethics. Those who've played Victoria II will be familiar with the pop.
In the Beginning
The game gives the player a few pre-generated races with a bit of back lore for each, along with two human variants. The real strength comes from the customizer; the player can edit and modify one of the existing templates or create their own, and naturally modify those into new variants themselves. The player is given a wide selection of choices of aesthetics and traits, they can even name the race and civilization separately, adjectives used, their star and home planet, and even use one of the two pre-made star systems (Sol is one of them).
The system lets you design not just the race but its socio-politics in the form of government type and ethics. These have far reaching impact on the game as it will have an effect on the policies you can enact (which in turn will effect what you can do in your empire), options during events and quests, and the reaction of your pops to said policies. So if you want to make a "Rome never fell" humans or the humans from Starship Troopers then go right ahead. The alternative human faction is actually humans that survived a botched first attempt at interstellar travel.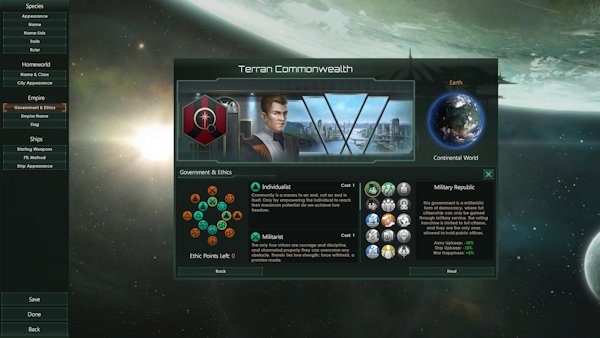 The game itself will generate races randomly when you start a new game. You can select to have your custom races forcibly show-up in a new game. This is good if you want to recreate a bunch of races from your favourite sci-fi franchise and want to see them in the game. This does mean you won't have fixed races you will see in each game but this also means you will never know what to expect. This can lead to interesting scenarios and sometimes not in favour of the race you designed.
Examples: one game could generate several empire builders as the game evolves into an Axis versus Allies scenario, or you can have a bunch of imperialists and isolationist fighting each other as a single Fanatical Purifier (kill all other forms of life) race successfully wages its crusades. That later one is what I got in my first game, they control the largest area and I am the only thing containing them on the northern arc.
I can see some would prefer established races, but the replayability and the fact you'll never know what you'll get from this format is well worth the trade-off. You can always lock races you create to always show up. What I would like to see is having a feature of flagging a race you meet in game to be saved as a custom race, if one catches your particular fancy (though nothing stops you from recreating it on your own as a custom race).
The interesting thing I noticed is I am actually interested in customising my own faction. Usually human variants I admit, but I still play with the designer a lot. I usually like playing pre-made races in other games, but the system here seems to give a lot of options for the player that are more than just picking bonuses and maluses.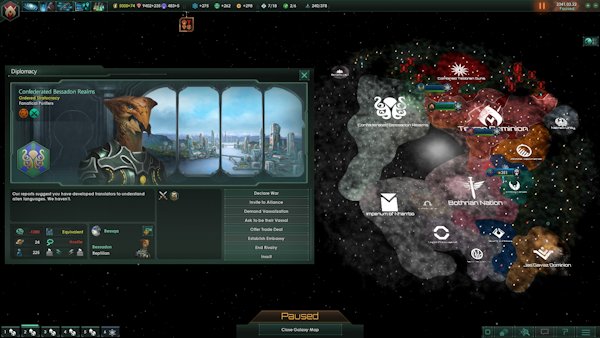 Is it a 4X or a Grand Strategy?
The answer to that question, it's both and it meshes them quite well surprisingly. You'll all start off from a single world, explore, expand and exploit as one would expect. You'll stumble across many stellar sights and colonisable worlds are not that common, especially in the early game before unlocking the other colonisation techs. However, even then many worlds will remain non-colonisable, though they can still be useful sites for mining and science stations.
Also, as your science vessels survey planets they will find anomalies, which can give one time bonuses, upgrade the planet with a resource, or even trigger a quest chain that will have you exploring the galaxy. This is above and beyond all the random events that will trigger in your empire.
Overall I liked this treatment of space, not every system is useful, not every planet can be exploited, and not every world can be terraformed and turned into an Eden-like world. There will be neutron stars and pulsars, black holes, and even ancient relics of a long lost age. The game strikes a perfect balance between having things in it, and being the great void of solitude that you'd expect deep space to feel like which you will eventually fill.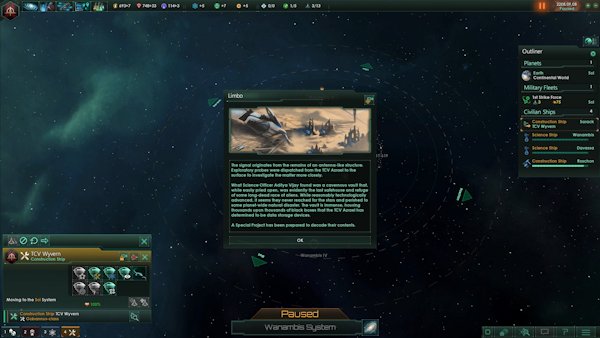 The grand strategy elements become more obvious as you get into the mid game. The diplomacy system is what you'd expect from a Paradox game, a network of affiliations. You can't bribe your way into everything as multiple modifiers come into play, and some races are just going to be stubborn. Genocidal sociopaths and isolationists are not going to share star charts just because you have a huge bribe. Also, a given game can be very long, and there is a lot of jockeying around.
What I mean is a large empire might be forced to break up under its own weight, or you might get hit by a war you have no choice to unconditionally surrender to and be taken down a peg or two. The closest I ever seen to a steam roll are those genocidal aliens in my game, but in that case I am the wall saying no to their advance.
Another major difference is that you can't lead a war where you take all the enemy's planets in one fell swoop unless they didn't have that many to start with. Anyone who played past Paradox games will know about war goals. You can always elect to turn a powerful faction into a vassal instead, and integrate them later, which does take a long time if they were too big to begin with.
This might put off those that like rolling over entire empires in one war for a quick conquest victory, but this also protects you from the same thing happening to you. Here, you need to play it a little more cleverly. This doesn't mean there is no extermination, there is and it's literally just that. You can enslave and purge conquered races (if you have the correct ethics) or even your own race (if your ethics allow it).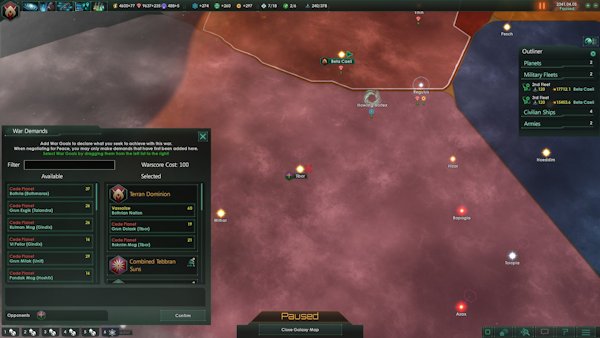 I heard you can't micro all your planets?
That is true, you have a control cap, beyond that you have to assign sectors and let the AI manage those regions or get hit by a scaling penalty. However, before anyone hits the panic button the system is not as bad as it sounds and is even necessary in my opinion. First, the management of which tile each of your pops go on, upgrading old tile buildings, and building new ones can quickly get out of hand fast as you have to deal with wars, random events, expanding your empire, and exploration. Once you have several planets you might actually want to pull your hair out, so sectors are actually quite welcomed.
Now I also said they are not as bad even if you want direct control because of what gets automated and what gets locked out from your control. You only really lose control of moving pops around and building in planet tiles, that's it, but you can also set the development priority and tax rate of the sector as well.
In addition, the AI will recruit planetary (ground) defense forces and build exploitation stations, but nothing stops you from doing it if the AI is taking its sweet time. You'll still handle colonisation, recruiting invasion forces, building up the spaceport, and building warships at said spaceport. You'll still manage terraforming satellites and can scrap anything that is in space as well.
Overall, I liked the system. Considering that even in my current game where I'm just the third largest empire on a middle sized galaxy and I have over 20 planets that needs constant attention for upgrading and expanding; I'm quite happy for the sector mechanic. Also, assigning systems to a sector requires more planning and thus is more interesting than a simple "automate this planet" mechanic.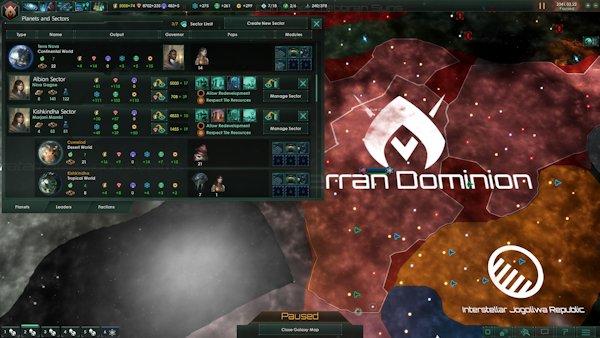 Tech, Ships, and Battle!
I won't go into too many details here for these aspects, I will save it for the full review but it's worth mentioning it a bit. The game certainly handles these elements well. As usual for Paradox games you don't have tactical control of your ships; of course this doesn't mean you don't have a lot of say on what goes on in a battle as the game gives you a wide selection of modules to design your ships with.
Many have wondered the purpose of a ship designer if you don't have tactical control in combat; the answer is simple because it still matters. Weapons have strengths and weaknesses, which vary even within a field. A good design can be the difference between rolling over the enemy fleet while giggling to seeing your fleet that appears to be much stronger go down like a house of cards. This will ultimately be determined by the techs you have researched as well.
Overall the system is simple enough but gives a wide selection of choices as you unlock them. You have to weigh the pros and cons of each system and make sure you meet the energy needs of those systems. You can even get access to specialised weapons later in the game. There is also a function to let the AI do it all for you if you are not into this sort of thing.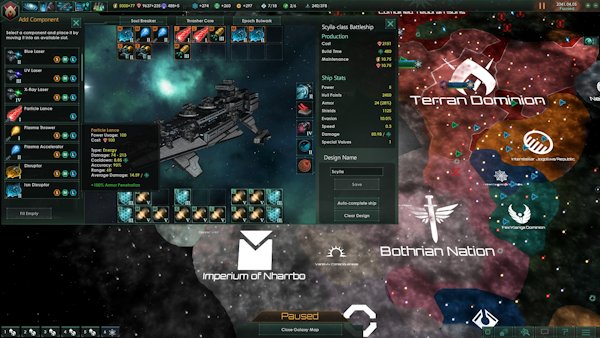 I should note though I lumped Tech into this part of the review, you do research a lot of techs that are not linked to ship modules, actually most techs have nothing to do with ship modules. Overall, the system is simple, and interesting. Read this dev diary if you want to know the details. What I can add is the end result provides a system that is random yet reliable enough that you don't feel you're at the mercy of the RNG Deities. Choosing which tech to research is always a weighed choice, which is good.
What is interesting is that any wreckage you scan with your science ships can actually lock-in the option for you to research the tech on your own, thus not needing to worry that it will appear in the draw randomly. These techs can also be outside of your prerequisite limits. This can be useful if you managed to down a few ships from a superior foe before you've surrendered. Thus, in the next war, you may very well be equipped with the very weapons that were used against you.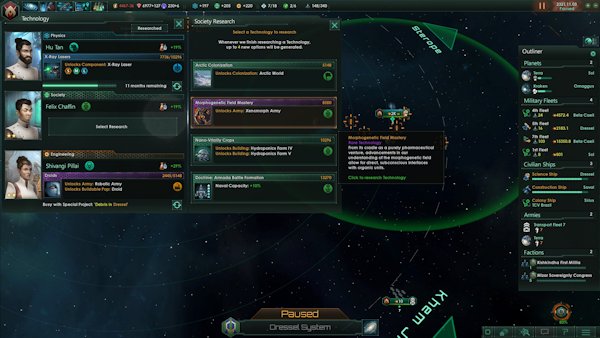 Closing Opinions
I was fortunate enough to be able to sink over a hundred hours into the game, in one week. I think that fact alone should speak volumes about the game. Of course the fact it's still the same campaign, though I did do a few other quick starts to see what different ethics would yield, this fact also says something else about the game.
Despite the time I spent with Stellaris, it still surprises me. This has to do with the random events that can happen in your empire, many are linked to what you are doing. Example, while trying to subvert a pre-star flight race an agent went rogue, so I had to dispatch a ship to fire a mass driver round at where he was hiding which the locals were tricked into believing it was just a meteorite strike.
Here is a screenshot of another event which I had resolved.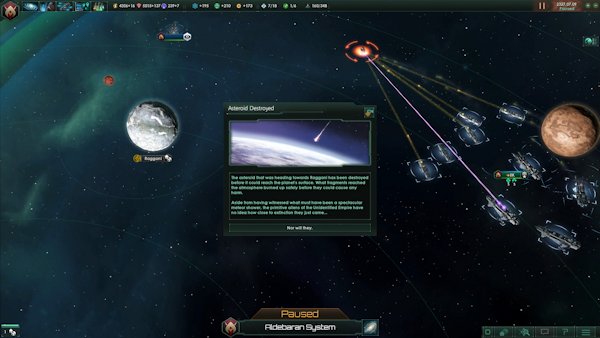 This is just scratching the tip of the iceberg.
Stellaris is certainly the most immersive 4X and Grand Strategy game I played to date. Also, the gameplay seems solid. However, this is a Paradox game and it uses the trappings of the Grand Strategy genre which I have discussed earlier. However, I find the mix blends well together with the 4X genre.
Then there are the little things like how you can terraform a planet before settling it, oh and it's actually smarter to do so. Pops don't like living on a planet that is getting its climate violently reformatted even if they hated the current one and final result will make them happier in the end. Unless they already super hated the old one, then you won't notice a difference in their anger.
The game also comes with the most comprehensive tutorial I've seen in a Paradox game. The advisor is voice acted, giving you the instructions verbally, which is useful for newer player who might be turned off by reading a wall of text for everything (there will be plenty of that as it is). Also, every screen will have a pop-up to give you more details. The full tutorial gives out quests to encourage you to explore the diverse game mechanics. Naturally, you can turn it off as well.
Personally, I think Paradox has hit their mark with Stellaris. Expect the full review in the coming weeks where I will try to nit-pick the game to the best of my abilities. Feel free to leave comments or ask questions in the comments section.
Stellaris is available for purchase at the Paradox Store, Steam, Humble Store, and GMG. The game's price is $39.99 USD.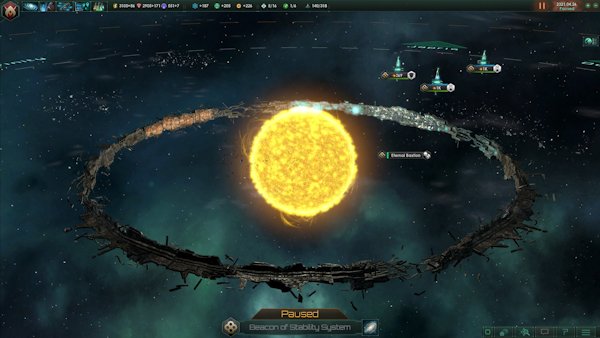 Subscribe RSS
64 Comments
Related Articles:
Post category:
Game First Impressions
,
Game Reviews