Legends of Pegasus is a new 4X space game that is currently under development by Novacore Studios, with a target release for Q2 2012. I've been following this title for some time now, but apart from a few screenshots I sensed that I knew very little about this new 4X space strategy game. So, I got in touch with the developers at Novacore Studios in order to know more about it, and to share with you guys what I could unveil about this new promising game. Novacore Studios' CEO Andre Overhagen kindly accepted to supply some of his time to enlighten us a bit more on their game. Here is what Andre had to say about it:
SS: Where did the idea for developing Legends of Pegasus came from?
Andre Overhagen: My partner Peter Seydel and I have always been big fans of the 4X genre. We've grown up with titles like Ascendancy and the Master of Orion series and loved them. So it was only natural that our first game should fall in this category. In the beginning, we chose Pegasus just as a working title, but over time we've grown so fond of it that we decided to develop the story based on the name. And this is how Legends of Pegasus came to be.
SS: Tell us more about the different real-time and turn-based gameplay mechanics. How, and when, are they used, and how do they mix together? I mean how is the transition between the two modes achieved?
Andre Overhagen: The game is a classic turn-based strategy title. The only difference is that encounters take place in real-time. This means that if you encounter an enemy faction, you'll switch to a real-time combat at the end of the turn. Instead of loading an instanced combat map however, the combat takes place right where the enemy ships met. So you may end up fighting next to your settled or upgraded planets, leaving them as well as structures in the orbit open to real-time attacks. Resulting changes to the game environment will be reflected in the following strategy phase.
SS: Please talk a bit about the graphics, sounds and music in Legends of Pegasus.
Andre Overhagen: Our graphics is based on DirectX 9 to make sure that even players with older or less powerful graphic adapters can enjoy Legends of Pegasus. Nevertheless the game offers high resolution textures for impressive graphics that are basically unrivalled in this genre. All sounds and music tracks were created by our own composer in collaboration with external music and sound designers. Our dynamic music and sound system creates a very distinct feeling for each race and offers an atmospheric sound environment for space encounters. A live voice kit enables varying messages from allied ships and background radio messages during combat.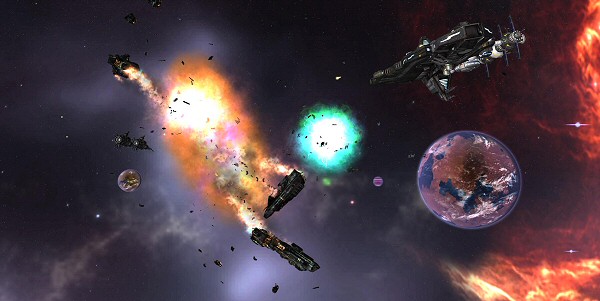 The fact that Legends of Pegasus will have a big single-player campaign is very interesting, since this deviates from the 4X tendency, where games are usually played in sand-box mode. Tell us more about the campaign, and the story behind it (also a bit of the lore). How does that all fit with the game's victory conditions (the end game)? Is there a sand-box gameplay mode also available? If not how have you planned to tackled a possible lack of game replayability?
Andre Overhagen: During the campaign, you play as the main character "Daniels". As you guide him through all three factions, you'll have a chance to try out all playable races in the game. The story is set during an attack war on Earth. You'll start out with a few surviving human space ships that get sucked through a wormhole, unaware of what happened or why they ended up in a totally unknown galaxy. In the course of the campaign, players will unveil the details and reasons behind this event.
The campaign contains several mission targets that players must complete. However, how you achieve your targets, how many planets you colonize and whether you opt for a more defensive or aggressive approach is completely up to you. Virtually all of the free game features are also available in the campaign mode. The storyline itself consists of three consecutive campaigns with several missions. During the whole story, the universe remains persistent, meaning that your next mission starts of exactly where you ended the previous one. So choose your actions wisely as they will have an impact on your future approach.
\Edit (Feb 7, 2012): Andre Overhagen: "Sorry i missed this one. Yes, we will definitely have a sandbox mode :)"
SS: I understand that there are different races in Legends of Pegasus. How will they play exactly? Are there different campaigns available for each race? How many races are there in total? Are all of them playable?
Andre Overhagen: Legends of Pegasus offers three playable races. Each race has its own economy system and different flaws and strengths in terms of production, combat power of the space ships etc. Apart from the race, players can choose an origin. These origins all have a different focus and introduce even more flaws and strengths to the races to further differentiate them. Players can even create their own origin to fully customize a race; e. g. set the focus on research, production or trade. These customizations can be saved and reused in future matches.
SS: The ship modularity concept seems fantastic. Tell us more about it. Can ship modules be damaged / targeted individually? What about the ship design itself, Kalypso Media talks about ship design as an "intuitive building system". What does that mean exactly?
Andre Overhagen: The game contains a ship editor which players can use to freely create their ships. The available components depend on what you've researched so far. Based on the general body size (e. g. Corvette or Destroyer) players will equip their ship with different modules. These modules have special purposes. Players can e. g. opt for military equipment to achieve better armoring and more weapon slots or research equipment to improve sensors and scanners. This basic setup offers slots for different components like weapons, drives, scanners etc., which are added by simply dragging and dropping them on the ship. The different components equipped determine the ship's abilities. As players become technologically advanced, they can specifically target the different systems of an enemy ship. If a ship is hit, all equipped components will suffer damage, impacting and eventually destroying their function.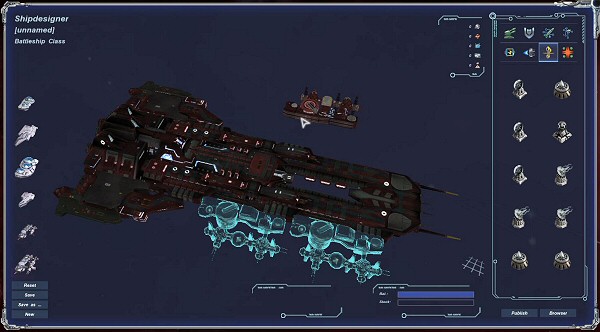 SS: Will Legends of Pegasus focus more on some aspects of 4X, like space combat, ship design or colony development? Or will it offer a balanced mix of features. Tell us more about the available features. For example, will there be diplomacy options? Espionage? Trade?
Andre Overhagen: Legends of Pegasus focuses mainly on its complex economy management, custom designing of space ships and tactical real-time combat. The economy management comprises expanding and managing colonies, relations and trading with other factions as well as gathering resources. During real-time combat the aim is to command your custom designed ships into battle and put their abilities to best use. Aside from devising a clever tactic, your success also depends on whether you picked the right abilities of your ships and the right constellation of your fleet.
SS: Now, about the research system, what can you advance more about it? Kalypso Media announces "hundred of technologies to research in dynamic and extensive tech trees". Does that mean that there will be random elements to the tech trees? Tell us a bit more about it.
Andre Overhagen: Each race in Legends of Pegasus has its own tech tree. Depending on the race's focus, these trees contain some exclusive technologies that cannot be found in other tech trees. On top of that, players can add so called "free tech trees" at the beginning of a game. These trees have their own focus and offer more aggressive or more defensive technologies or boost your research or industry. With this system, players can pick the tech trees that best match their playing style, offering lots of different combinations.
SS: So, we can develop our colonies using a slot (1 unit per slot) system. What kinds of structures can we build in our colonies?
Andre Overhagen: Apart from classic structures like factories, research institutions and defense structures you will be able to build structures that target economy and environmental factors. Players are not only able to build structures on the planet itself, but also within its orbit, e. g. space stations where you can build your ships. This is done via a very simple and intuitive drag-and-drop system.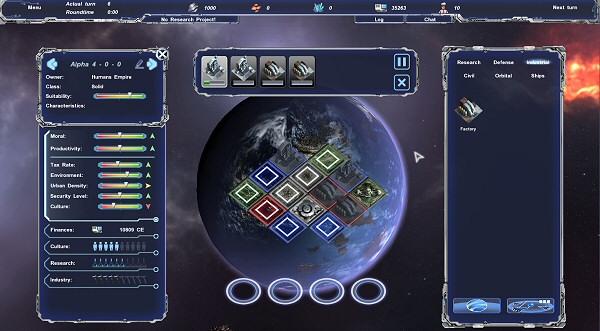 SS: How will the game be released? Both in physical and digital form? If digital which digital distribution platform(s) are you planning to sell it on?
Andre Overhagen: The game will be available in store as well as online. Digital copies will be available via Steam.
SS: Legends of Pegasus release date is targeted for Q2 2012 in Kalypso Media's website. Can you advance a more detailed release date at this stage? Kalypso also mentions PC DVD-ROM in Legends of Pegasus' page, so does this means that LoP will be released exclusively for the Windows PC? Will there be a demo?
Andre Overhagen: Sorry, but we can't give you a more specific release date yet. We can only confirm that we're aiming for Q2 2012. I can definitely confirm however that the game will be a Windows-PC only title by the time of release.
SS: Can you tell us some of your lessons learned in developing Legends of Pegasus? Successes, failures and doubts you have bumped into, so that other people may benefit from your experience in developing even greater 4X space games in the future?
Andre Overhagen: My advice is to create a playable version that reflects the basic concepts of the game as soon as possible. Like this, you are able to identify weaknesses in the game design at an early developing stage to avoid major changes to basic elements later on. In our opinion, the key to a good game is combining proven game mechanics with innovative gameplay. You should also make sure to separate the game in main and side features from the very beginning. This gives you the flexibility to react if certain components don't work out the way you've planned it without compromising the original idea of the game.
I would like to thank to the Novacore Studios Team, and particularly to their CEO Andre Overhagen for taking the time out of their busy days to do this interview. You can check out the official Legends of Pegasus website for more info. You can also check the Novacore Studios homepage. Some screenshots here.
Subscribe RSS
34 Comments
Related Articles:
Post category:
Game Previews
,
Interviews