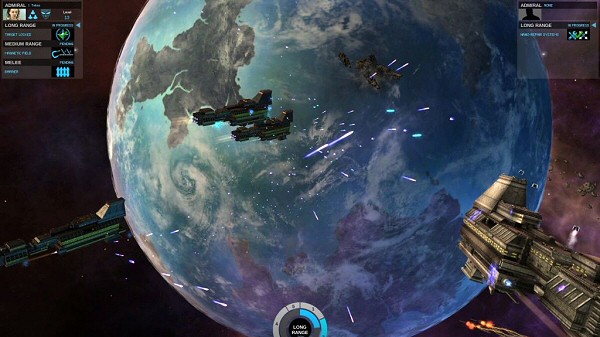 Endless Space is a 4X turn-based space strategy game consisting of up to 8 unique races, each striving to obtain victory over the rest of the galaxy. The 4X's are of course, eXplore, eXpand, eXploit, and eXterminate. Endless Space is brought to us by Amplitude Studios, an independent video games studio based in Paris.
I am going to break my review down into these 4 categories to explain how Endless Space handles each of them. As some people may care more or less about a certain category, I hope this helps them make their decision on whether or not this game is the right choice for them.
Exploring Endless Space
The exploration phase is where you will spend the bulk of your time in the early game. This is the phase where you will traditionally begin mapping the galaxy by scouting out your surroundings in search of inhabitable planets and discoveries. It is typically one of my favorite phases as it offers the opportunity for numerous suprise moments and is usually free of the micromanagement tedium that sometimes fills the mid-late phases of 4X games.
Travel in Endless Space is traditional, and consists initially of starlane travel, with technology allowing you to later travel via wormholes (starlanes you can cross in one turn, but which use all of your remaining movement) and eventually warp drive, which is essentially free travel between points without using a starlane or wormhole. This is a tried and true system used by many 4X games, and serves its purpose adequately. One issue I do have with their implementation of this system is that enemies in free space or between systems can not be engaged in combat in any way.
What you'll be exploring on the galaxy map consists of numerous star systems, with each system having up to 6 colonizable planets. Each planet can in turn be one of many types ranging from Ocean and Terran to Lava and Methane Gas Giants. In addition, each planet can have one of several anomalies, some offering bonuses to things like food, industry, science, or dust (known collectively as FIDS), and system happiness. Other anomalies are negative, but by obtaining the proper technological discoveries, these effects can often be mitigated. Aside from the planet type and anomaly, the planet also has a chance of containing manufacturing and luxury goods of different types.
For each planet you colonize that contains a luxury good, you obtain a bonus in some ways similar to an anomaly. If you hold a majority of these luxury goods, you obtain an added monopoly bonus on top of the usual benefits. The manufacturing goods are often required for certain ship design components and hulls, but once you have at least one source, I find I am generally not that concerned with them. Having more than 4 in your possession does offer an empire wide bonus though. All in all, the system works well, and the UI both on the galaxy map and within the system map are excellent. It is very easy to see by looking at icons near the system exactly what the system contains in terms of planets, colonies, and goods.
Unfortunately, beyond the discovery of inhabitable planets and goods, there is very little else to discover out in space. There are no ancient tombs or pre-existing civilizations to discover, features which have long been present within the genre. Master of Orion II for instance allowed you to capture the planet Orion and receive exclusive technologies unavailable by normal means. In Distant Worlds you can find abandoned starships, ancient ruins, and space monsters.
These type of unique elements encourage exploration and really help spice up gameplay. Though some prefer a more static galaxy, I personally prefer a galaxy that appears to be teeming with life and is full of surprises. Though the game does feature nameless/faceless pirates, there is no interaction with them beyond attack/defend, and in that sense they are essentially space "monsters" flying ships. It would have been nice if there was a way to obtain services from them as I've seen in other games like Distant Worlds. Aside from the pirates, there are no space monsters or other threats to worry about during the exploration phases.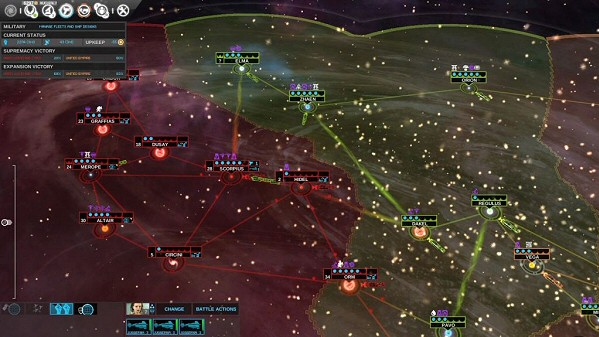 eXpanding your Empire
As you explore, you will also need to expand. Creating colony ships to inhabit new systems is again the standard here. Each colony ship subtracts one from the local population and takes a certain amount of your production points to construct.
Speaking of construction, it is worth mentioning that Endless Space uses a "system" based build queue. Though a system may have up to 6 planets, all production must funnel through one queue. Nearly all buildings, except for "Planetary Exploitations", which are specific to the planet they are built on, are system wide buildings. They affect every planet in the system, and the entire systems population is used for any population based calculations. As you can probably guess, building something like Public-Private Partnerships (+1 science per system population) is a much bigger priority in a very heavily populated system than in an up and coming one where it will yield little return. There are some flat upgrades that offer +X science regardless of population that are more appropriate for small 1 or 2 planet systems.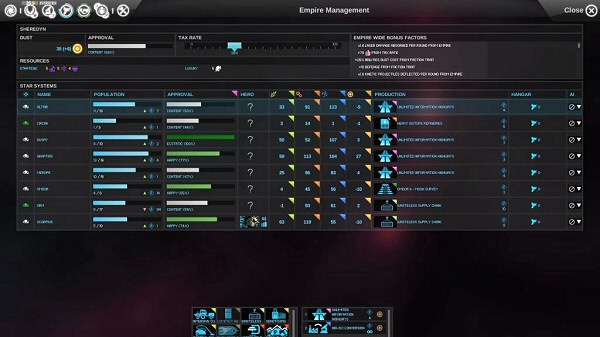 Now, coming back to expansion, in order to build a colony ship, you must dedicate all production until it is complete.
Endless Space uses a shared ship/building production queue. This can force some tough decisions very early on, as you must weight building something like a Heavy Isotope Factory (+10 production and an additional +1 per population on specific planet types only) versus early expansion. Depending on the planets you discover nearby in the short term, it may be worth colonizing a desirable world right away.
I must now cite what I consider a relatively major failing of the current game state. The Endless Space universe has 8 playable races, and every one of them will thrive best on a Jungle, Ocean, or Terran planet. Regardless of what their original homeworld type is, and a few of them do live on non-ideal homeworlds, they will still be seeking out the same planets and terraforming (once researched) existing planets to one of these ideal tier 1 planet types. The primary reason behind this is that the maximum population and output of these planets is higher than any other type. I would prefer that other planet types, especially their homeworld type, be just as ideal or even more ideal than the standard top tier planets.
As you continue to colonize, you will notice your new colony does not project a colored ring, called influence, for several turns after creation. During this early stage, your outpost can be invaded by other alien races without repercussions as long as you are in a state of cold war (this is the default state). Eventually, your colony will begin projecting influence of its own. This influence sphere can be viewed as a virtual barrier, and races you are not friendly with will not be able to colonize any systems that happen to fall within your sphere. Your ships will also have increased movement within one of your own spheres. Unlike some other games, you are unable to capture or claim enemy systems through the use of the influence.
eXploiting weaknesses
Exploitation is the phase for me that entails research, trade, construction, espionage, and diplomacy. Not only are resources being exploited, but other races are exploited as well during this phase.
Research consists of 4 technology trees, each a completely separate tree from all the others. The design behind each tree is fairly straightforward, and it is generally very easy to know what your research is going to provide you with and what you can get if you continue down that research path. There are technologies to unlock additional heroes (discussed later), larger fleet sizes, production buildings (FIDS increasers), ship hulls, battle cards, planetary exploitations (FIDS increasers that are planet rather than system specific), ship and travel speed modifiers, and a few other odds and ends. It is within the research trees also that you will unlock the ability to colonize new planet types, reduce anomaly effects, and explore moons (moons will sometimes contain a temple that grants a decent bonus to the system).
Overall research choices are interesting, but the vast majority of these trees are shared between all of the races. Each race does have a few unique techs, conveniently outlined in orange on the research screen, that are either truly unique or are techs juggled to a position earlier in the tree than usual to allow the race earlier access than other races. Even the unique choices are typically only slightly better versions of an ability or weapon someone else gets, and sometimes in the case of weapons there are higher level options available that make these unique choices obsolete anyway. This lack of diversity can hurt replayability as it homogenizes gameplay. Overall, I found that most of the races could be played the exact same way and be just as effective as one another. Only slight differences between them change this experience, but in the end aren't compelling enough for me to desire to play them all. You can customize your own race from the ground up by the way, which is always nice.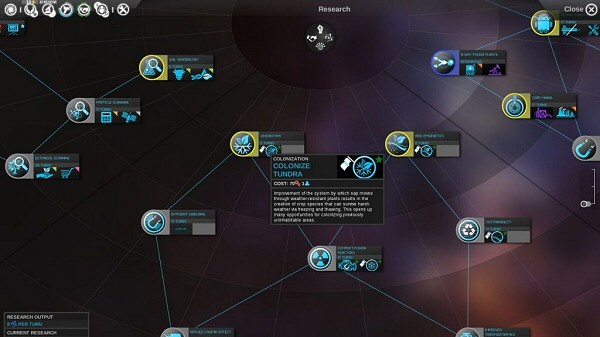 Trade is abstracted through the use of trade routes. Certain technologies will unlock the ability to have additional trade routes per system. If you are able to maintain peace with other races, you will receive some dust (currency) and science from each trade route. All of this is abstract to the player, and in the end viewing your systems and looking in the top right corner at the trade routes and gains is the only way I've found to see how trade is progressing. Unfortunately, there are no trade ships or other activities taking place on the galaxy map that show trade taking place. The system works, but is not exciting in the long run and wouldn't be missed by me if it didn't exist at all in the game.
Construction has been explained in the eXpansion section as taking place in a system wide queue. During the eXploitation phase, you will use your researched technologies to build new structures that increases the FIDS produced by your system. In addition, you may build some structures that enhance your defense against invasion or expand your influence. From the Empire overview on the galaxy map, you can assign an AI governor to control the production of from one up to all of your systems build queues. You can assign them a priority which helps them work towards your eventual goals. I typically choose Production or Science to promote the building of industry and science enhancing buildings.
Food is typically a non-issue as your colonies will continue to grow regardless as long as you have a positive gain each turn, which isn't hard to do the majority of the time. A surplus of food is not generally useful, as unlike excess production, it can not initially, without research, be channeled towards extra science or dust generation when the build queue is empty. I do appreciate the presence of the governors as micromanagement is not something I particularly enjoy once my empire gets large and building production falls behind research. They appear to do a generally good job and make adjustments to accommodate newly researched technologies.
One other thing worth mentioning as it relates to construction and system development is tax rate and dust production. Unless you can achieve very happy colonies with high taxes, which is possible with advanced technology happiness increasing buildings, it is advised to set your taxes as low as possible. Dust isn't particularly hard to come by and is worth much less than the huge production hits you will take from a non happy or ecstatic system happiness status. Right now, the balance is clearly off as happiness should not have as large an impact on FIDS as it currently does. And, since dust is not so limiting I see myself building the same improvements almost everywhere with no apparent negative  consequence, which makes system improvement construction a bit shallow at the moment.
Heroes are an element I have not yet discussed but which fall into both the eXploit and eXterminate categories. Heroes can be hired from the Academy and assigned tasks as either system administrators or fleet admirals within your empire. These heroes can level up and acquire new abilities as they gain experience. Administrators typically increase FIDS and happiness, while admirals will enhance the strength of your fleets with offensive and defensive bonuses and occasionally new battle cards. Assigning an administrator to a system can lead to large boosts as an experienced administrator can easily increase production of certain FIDS by 20%, 30%, or more. You are initially limited to 3 slots, but you can add more through research. Interestingly, the Horatio can clone their existing heroes and duplicate their really experienced and trained ones instantly. This is a very powerful ability when used correctly.
Diplomacy is pretty finely tuned at this point and has seen significant improvements throughout the beta and final release. In the initial stages of the game, all races begin in a state of cold war. This means you can attack each other's ships and outposts (colonized worlds that have not yet become fully established with influence spheres) without a declaration of war. In order to establish peace, trade agreements, or alliances, you will have to complete some research in these fields. Once you have the proper agreement researched, I found that approaching the race with a bribe of some technology was often all it took to get them to sign a peace agreement and begin our relationship. In my most recent game on "serious" difficulty, which is above the game's hard difficulty but is not the highest difficulty, I was able to quickly establish peace and trade agreements with 3 out of the other 4 races.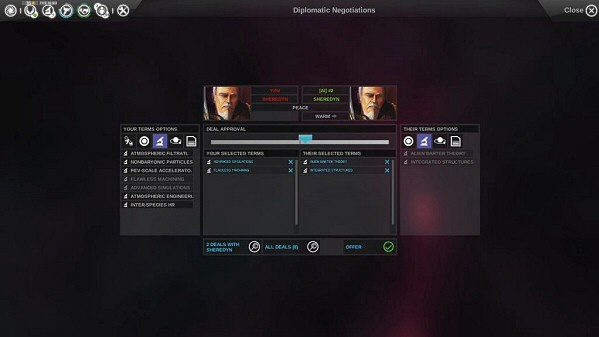 If you've read my AAR, then you know that my alliances fell apart in the beta due to steep penalties for being near one of my allies and for maintaining a small military defense. This has thankfully been patched since then, and it is now easier to maintain peaceful relations as long as you don't expand too large. My biggest remaining gripe about diplomacy is that it is not possible to make any requests of your allies or vice versa. They won't ask for your assistance defending a planet, and you can't ask them to send forces to defend you either.
Espionage is not present in the game at this time, but I wish it was.
eXterminate your enemies
Combat and victory conditions, that is what extermination is all about. Combat is of course, the most common element associated with extermination. Endless Space allows a player to obtain victory in multiple ways however, and I would be ignorant to suggest they aren't viable ways to exterminate your opponent's threat as well.
Combat in Endless Space is based on a rock-paper-scissors system at its core. Combat between two fleets is essentially an interactive movie. When you engage an enemy fleet, you are given the choice to simulate or manually control the battle. If you choose to manually control, you will be presented with a timer counting down the battle start and on the left side you will have three card slots, one each for long, medium, and melee range.
To better understand what these distances mean, I must first cover the weapon/armor types. It boils down to this. Missiles are okay in every phase but excel in long range. Lasers excel at medium range and closer and kinetics excel in melee range. Missiles are designed to be countered by flak, lasers by shields, and kinetics by deflectors. I typically used lasers as their accuracy at long range is still very good and you can typically eliminate a foe using kinetic or missile weapons within the long or early medium range phases. The AI was not very effective at retrofitting their ships in either my beta or post-release games. I was able to design ships that could effectively take down ships that had double their military value without even being scratched. Speaking of which, ship design is relatively basic due to these limited choices. You have 3 weapon choices, 3 defense choices, and then a group of engine, armor (HP), and miscellaneous upgrades you can tack on to one of the pre-existing hull's you've researched.
In each phase of combat, you can play a card in advance. Each card has a type such as Engineering, Sabotage, Offense, Defense, etc. These offer various bonuses from 20% repairs to your ships for that phase, to + 40% to your shields, to -25% effectiveness of enemy defenses. These cards also counter another type of card. For instance, I may play an offense card that counters a defensive card. If my opponent plays a defensive card that round, it is voided and he receives 0 benefit from it.
Personally, I auto'd most battles unless I thought card choice would matter. In general, combat in Endless Space is a big negative for me. The pace of each round is quite slow and there is not much to watch aside from a line battle. Both sides literally line up across from one another, fire one of three weapons that come in a few colors each, and that's it. Over, and over again. They recently added a free battle camera mode that allows you to move the camera to any position and angle during the space battle, but rather than make combat more interesting, it actually makes it more obvious how drab it actually is. In addition, you have limited time to select your cards to begin with, and trying to move the camera into position at the same time is quite difficult.
Defensive structures are not present in Endless Space, and this is a missed area of opportunity. I would love to see orbital defense stations added to the systems in the future so that systems behind the front lines can still maintain some minimal defense without a fleet. One particularly annoying aspect currently is that single scout ships can blockade an entire system's production for a turn even when a huge defensive fleet is present in the system. It is very easy to auto a battle to eliminate them on your turn, but the next turn they may just fly another in and again reduce your production to zero for a turn. I ended up having to have clean up fleets in my systems just to clean out any scouts that flew in to harass me.
In addition to eliminating all your opponents in combat, you can also win the game through diplomacy (allegedly at this stage), supremacy (capture homeworlds), expansion (75% ownership of all systems), economic (obtain X amount of dust over the game), diplomacy, wonder, or score. I've successfully won the game by expansion several times, and I've also lost due to the AI obtaining an economic victory as I was finishing them off.
eXtras regarding AI and difficulty
AI is a very important part of single player gaming and especially strategy gaming (the game offers multiplayer by the way). If the AI plays poorly or too predictably, the game can quickly become repetitive. The AI in Endless Space is effective in some areas, but in other areas it plays rather poorly based on my experience with the Serious difficulty.
The AI seems to be quite effective at the exploration and expansion phases now, and was able to beat me to wormhole travel technology and expand earlier than I did. They also were quite competitive in system infrastructure, and managed to keep me out of 1st place for FIDS and research despite my emphasis in that area. Granted, they did have slightly more systems than I did, but I was still pleased to see that I was not able to blow past them through my strategic tech choices and system upgrades. In the end, I lost to a United Empire AI who was beating me in all victory conditions and who got so close to victory they forced me to go to war with them. While I was taking their systems, relatively easily I might add, they managed to beat me via economic victory as I mentioned.
That brings me to the combat aspect of the AI. As I mentioned, combat is a huge weakness in Endless Space in my opinion, and the AI doesn't help make it any better. Even using the automatic battle option, my ships were crushing fleets twice their size without taking damage. I was able to bring my empire from dead last in military to #1 throughout the galaxy in around 30 turns of ship design/building. I built fleets of 3 Dreadnought ships that in total were around 8,000 military power. I was able to kill fleets of 15,000mp that were led by level 18 generals without my health bar even moving. This shows how strong the rock-paper-scissor mechanics are and how weak the AI is at adapting. Instead of retrofitting their ships to counter my lasers, they continued to build ships that I countered and I continued to take their system very quickly.
Ground combat does not exist in Endless Space. When you orbit an enemy system that does not have any defending ships, you simply press the invasion button and the strength of your ships invasion rating is compared to their planet's defenses and some formula calculates how quickly you will take the system as evidenced by a circular bar around the system that gradually changes from their color to yours. Unfortunately, there are no ground battles to watch or even cinematics to accompany this.
Final Verdict
Endless Space is quite strong in some areas, but for me fails to bring the entire 4X package I had hoped for. The biggest controversy by far is their decision to go with cinematic battle card combat mechanics, and even beyond that, to use a very limited 3 weapon/3 defense system. Had the cinematics been more involving, with ships zooming around, smaller ships flanking larger ones, carriers launching fighters that harass, and ships displaying gaping holes as they got damaged, I would have enjoyed the combat a lot more. Even the ship explosions are rather lackluster and don't give the audio feedback I'd expect.
If you can look past the combat shortcomings in design, AI, and mechanics, Endless Space is a great 4X game in many areas. The system wide upgrades make it easier to handle 5 and 6 planet systems without micromanagement nightmares. The UI is very slick and highly intuitive. It's really easy to see at a glance what your empire and fleets are up to. I appreciate the level of detail they have put into making everything very accessible to the player.
I have experienced very few bugs during my time with the game, and not a single system crash since alpha. I did see ships I was at peace with bypassing my blockades without open borders being in place, but that was the only noticeable issue I encountered in my most recent game.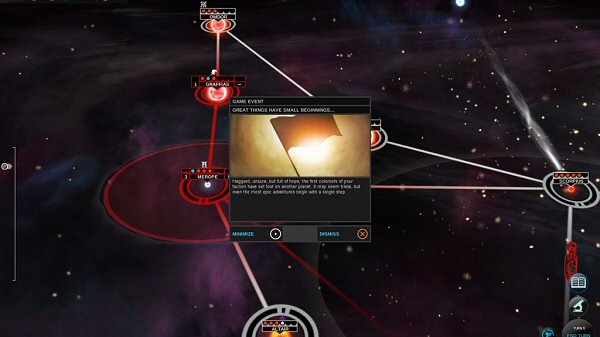 Ultimately, Endless Space is not a genre changer, but is a nice game at its strategy level with a relatively low learning curve. However, those looking for exciting combat or more involved strategy elements would likely be better served by other games based on my experiences.
My review is based on over 40 hours of gameplay overall and several completed campaigns during alpha, beta, and post-release.
| | |
| --- | --- |
| | great |
The Good:
– Graphics and intuitive UI look great and readily provide essential info
– Managing planets/systems is intuitive and enjoyable
– AI is competent at system development and management and offers a challenge in these areas
– Low learning curve makes it a good choice for new players
The Bad:
– Combat is unexciting in both design and implementation
– Exploration is unrewarding with not enough surprises and life (static galaxy feel)
– Replayability is hindered by simplified gaming elements and limited racial diversity
– Fails to innovate or expand the genre
Keith Turner, also known as aReclusiveMind here on SpaceSector, has been an avid gamer ever since he first laid his hands on a Commodore 128 in the mid 1980s. He enjoys multiple computer game genres, but his primary interests are in deep strategy games, 4x games, rpgs, and action rpgs. He enjoys writing and hopes to contribute with additional reviews, previews, and informative AARs to the community. See all Keith's posts here.
Subscribe RSS
42 Comments
Related Articles:
Post category:
Game Reviews