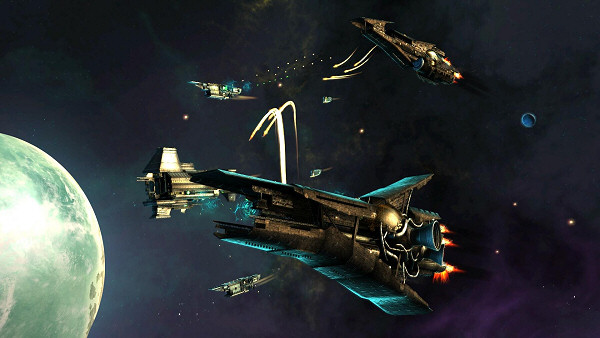 Amplitude Studios announced today that they are going to start working on an expansion pack for Endless Space soon.
Battles seem to be the expansions' big focus – "We know that we have definitely one focus for that Pack: Battles! We want to add more strategic choices, more feedback, fighters / Bombers / interceptors, more weapons, defenses, modules, formations, aiming strategies, boarding parties etc…"~Amplitude Studios.
But, there are many areas where the community wishes more enhancements and improvements. Amplitude listed the following so far:
– New faction and traits (focusing on new battle techniques?)
– Finding artifacts on moons or planets could be equipped on ships or heroes
– More different weapons types, more hybrids and new types.
– Visual impact of weapons on ships (I doubt we can go there…)
– Space stations to defend systems
– Options to make planets more unique by building special unique buildings. […]
– Ground Battles to accelerate the sieging if the invasion is successful. […]
– Huge Ships
– Planet defenses that damages sieging fleets
– Razing planets / Systems
– Destroying entire star systems (will disappear after being destroyed)
– Espionage and sabotage (also resulting in sabotage during battles). […]
– Heroes exploring artifacts unlock technologies on the tech tree
– Construction queue sorting options ( I guess this was meant more […]
– Boarding ships can capture enemy ships and keep them to use them […]
They are taking further notes on their forums on what people want to see in the game's expansion.
As of me personally, seeing that battles will get overhauled, and besides wanting to see many balancing enhancements in the game, like structures costing more to make you think more, I would love to have more elements in the game that make the ES Universe feel more alive. The diplomacy system for instance should contain animations and possibly voice overs to help us relate more with the different factions. Having little cinematic cut-scenes (or simply text with some suggestive images) would also help boost aliveness in my opinion (e.g. colonization, new tech breakthrough, invasion, random events, …).
We also need more to look for during exploration. Right now exploration doesn't feel rewarding enough. There are little to no surprises. Nothing is happening in the galaxy besides our fleets moving around, and the ones of our rivals. You know, perhaps we could see some trade freighters moving around, or space monsters or anomalies popping up (why not). There could also be super planets to look for, inhabited (or not) by ancient powerful civilizations with interestingly unique technologies (or booby traps!). Surprises! The game has a solid base alright but clearly we need more surprises, more feedback and more to look for. Right now things feel too static, and frankly quite dead.
The expansion work has apparently not started yet, and the devs are just taking notes still on what people would like to have on it – "It is important to understand that we decided to start discussions early on the content before to start working on the expansion, to make sure that packs answers your wishes".
This means this expansion will be paid but the devs stated that they are "still supporting the game via [free] updates". In those updates the devs' intention is to keep "adding balance, tweaks and other additions", decided through their Games2Gether system, where players are invited to vote on what the support team should focus next.
There is no time frame established for the expansion's release yet. What was announced today was that work on the expansion "will start soon". Basically, what Amplitude started today was a "call for ideas", for what people want to see in the expansion. You can use this link to leave your feedback to the devs over their forums.
Subscribe RSS
21 Comments
Related Articles:
Post category:
News & Announcements