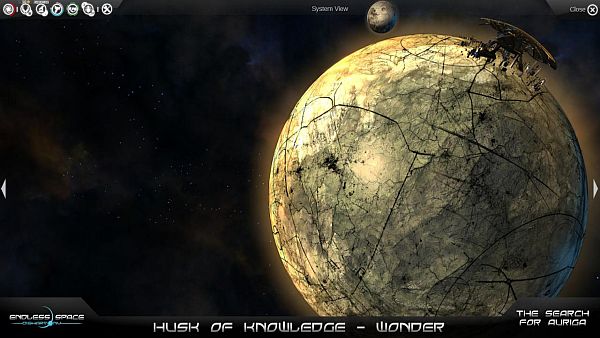 Developer Amplitude Studios has announced the release of "The Search for Auriga", the 5th free add-on for their 4X space game, Endless Space. So with 4 free add-ons and an expansion DLC already released, what is Amplitude bringing to the table with this update? Well, quite a few things it seems.
They are bringing in some new features, like the ability to repair ships using dust, and the ability to scrap ships to regain some dust when you no longer need them. They've also added rally points, which once set, allow your newly minted ships to automatically fly to the designated system without your intervention.
There are also several new heroes, a new wonder, and a unique planet named Auriga that you'll want to hunt for. Auriga seems to have a very Orion-esque vibe about it. As a unique planet, it will also come equipped with its own unique wonder, complete with a rather massive bonus. Auriga will also come with special narrative events portraying not only its colonization, but also it's progress as it becomes purified, depleted, terraformed, and so on. All in all, it is set to become a very desirable planet.
For owners of Disharmony who found the Harmony woefully underpowered, as I did when I re-reviewed Endless Space as well as its DLC back in July, there are also balance changes being made to help make them more competitive. The add-on will automatically install via Steam update later today.
Subscribe RSS
15 Comments
Related Articles:
Post category:
News & Announcements