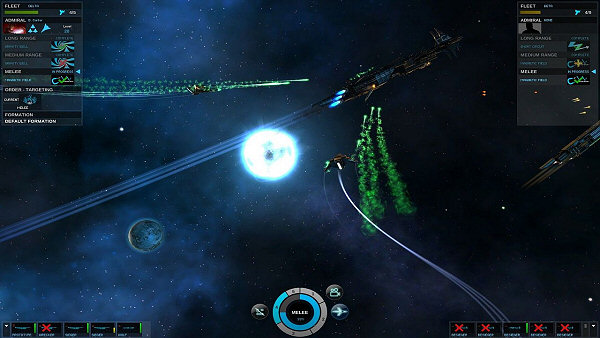 Endless Space: Disharmony is the first full expansion of Endless Space, a turn-based 4X game released last year by Amplitude Studios and publisher Iceberg Interactive. I wrote a review of Endless Space in July of last year, and despite some shortcomings, felt it was overall a fun experience at the time.
Prior to this review, I'd not spent much time with Endless Space since then. While I could see its strengths, for those whose preferences could look past its weaknesses, I personally felt it lacked several aspects which would compel me to spend more time with it. Since then, Endless Space has released 4 add-on packs, each of which offered a fair amount of content, especially when the low asking price of free is considered. While these were not enough to require a re-review on their own, together with the Disharmony expansion, we felt it would be a good time to take a new, fresh look at the entire package.
This review will therefore be a review of not only the Disharmony expansion, but the base game and its addons as well.
New Faces Around Here
The very first thing I noticed when starting my first Disharmony game is that there are two, or three depending on what access level you had before, new races in the game now.
The biggest addition that comes with the Disharmony expansion is the new Harmony race. The Harmony are a race of crystalline beings that have apparently been drifting through space since the universe was born. Eventually, they came across the galaxy of the Endless and a group of them were broken off from the others due to the power of the Endless' dust. Therefore, their faction's affinity trait is that they do not use dust (the game's equivalent of money) and are actually punished for having it in their systems. Their goal is to purify the galaxy by eliminating all of its dust. Along with this change, the Harmony has numerous other changes, but I'll discuss these further below.
The other two races include the Automaton, a race of robots that was added in the first free add-on. They are able to earn interest on unused production, but otherwise seem unremarkable other than their rather stylish ship designs (which are also new with a recent free update).
The other race isn't exactly new, as they were technically already available for "Emperor edition" owners, but the Sheredyn are now available for all players and have received a few modifications. They still use the same ship models as their parent faction, the United Empire, however. Their special affinity is that they can buyout/instant finish items in the queue for 50% less dust, and they prevent opponents from retreating in combat.
What's been added
There are quite a few other new features in Endless Space since I last played pre-expansion and addons. Not all of these are really noticeable or worth mentioning though. Here are the features I found most significant.
The Disharmony expansion has added quite a few new combat mechanics, but I'll get into those in the combat section below.
There are now random exploration bonuses. These play a role really early on and provide bonuses like a few extra dust, a temporary boost to your resource production or happiness, or other such small bonuses. They are only given to the very first person to explore the planet, which is nice. Unfortunately, I found these to be a rather half-hearted attempt at bringing life to the galaxy. There's nothing wrong with them, per-say, but in general they just aren't exciting or interesting.
Random events were introduced in one of the free add-ons, and thus are also new since I last played. Sometimes, these events are simple notifications, providing a brief background story which explains why you (or sometimes everyone) are receiving a helpful or harmful bonus. Other events are a bit more involved, allowing you as the player to choose from 3 different options. These represent how you choose to handle the encounter. Each option will clearly list what benefit or loss the option is going to give you, and in some cases, also indicate that the option selected will continue the event and provide further choices later on.
Random events are a much nicer addition compared to the exploration bonuses and play out almost like a choose your own adventure. I was able to receive a free tech for instance. The tech itself was not unique, but just one of the cheaper techs I had not researched yet. Similar to the random exploration bonuses, these events are nice little distractions added in, but the ones I experienced did not add to or change the game in any significant way.
Some planets now have special structures called Wonders. These wonders offer very powerful bonuses, but must be unlocked in some cases before their true benefits can be obtained. Unlocking these is not an overly complex thing to do and basically involves having access to the right technology and resources. Now, I said they were powerful, but only in the sense that they offer rather large bonuses to existing stats like production, happiness, xp gain, combat, etc. In that sense, they are like having really nice anomalies or luxury resources. They are certainly worth having, and are a nice addition to existing gameplay, but don't offer something you haven't seen before.
Each race now has its own intro movie. These are relatively quick, and consist mainly of still images scrolled across the screen, but they offer a quick glimpse into the faction and help set the tone for your play session. I found these to be really nice additions since I last played.
Another bullet point on this expansion is that the AI has been upgraded by way of a new "Adaptive Multi-Agent System". Those are Amplitude's words, not mine. To be honest, it's been so long since I had last played, I couldn't tell you how improved it actually is. The AI seemed to perform slightly better in some cases, but it also made some of the strange rather odd decisions I'd seen it make in the past as well. I'll explain some of those a bit later on in this review.
What's all this about Intense Combat
One of the bullet points that has been emphasized when it comes to Disharmony is that battles would be more intense due to the addition of fighters and bombers, battle formations, a new target system, a new weapon system, and enhanced invasions. I'm here to tell you that, yes, things are a little different, but no, combat is not improved. In fact, I'd say its worse now than it was before.
If there was one area in Endless Space I was particularly critical of, it was its combat. I wasn't really impressed with the rock, paper, scissor style combat, nor the fact that ships seemed to sail forward like sea vessels firing broadsides at one another. After spending many hours with the new expansion and addons, I have to report that this is still very much the case.
Formations and the target system really fall into their own category together. These are two new options that are available whenever you engage in combat. The formation can not be changed once combat begins, but the target system can. The formation system basically allows you to organize your ships in a specific order, so for instance you can choose to place your more experienced ships in the front or back, or your high defense ships in the front, or your cannon fodder up front, and so on. It seems this is a direct counter to the new target system, which offers the attacker three specific options. One is to split fire across all enemy ships. Another is to send all fire against their front ship until destroyed, then the next, and so on. The last option is to split 1/3 fire against the first 3 enemy ships. I don't have much more to say about these as they are relatively self explanatory.
Weapons have new options too
Kinetic, Laser, and Missile weapons now have three distinct distance settings to choose from. These must be selected during ship design and are not alterable in combat. You can for instance decide you like missiles but want them optimized for medium range. Or maybe you want long range kinetic fire? You can now do just this.
It is important to note that this is not as good as it sounds though. Each version of these weapons is still optimized for its original range, and any changes to the range alter its statistics, including how often it fires, accuracy, and damage. It also alters its weight, typically making it heavier than normal. This makes it difficult to justify taking a weapon outside its normal range, since it will cost you weight that could have been used to simply attach more weapons in the preferred range instead.
I'm not sure this really adds many benefits due to these modifications. For instance, unless I had really poor lasers and fantastic missiles, I don't know why I'd want to put missiles in my medium range slot. The game doesn't really provide any information other than a tooltip of stats to explain why I'd want to do it either, so if there is some hidden advantage to be gained here, it isn't evident to the player without further research.
The other problem is that your missiles always take the missile slot, regardless of range. You can't stack missiles in your melee, medium, and long range slot, because all missiles have to be set to the same range when you design a ship. This is true of all weapons. There is no mix and match of melee lasers and long range lasers on the same ship.
Remember how I said lasers were my preferred weapon in my original review? Well, in most cases they still are. The AI has gotten a bit better about countering them, but early on they are still my favorite.
It's all about the bombers (and a little about fighters)
When I first heard about bombers and fighters being added, I was really excited. Now that I've had some time to play with them, I will say that bombers and fighters are more or less what I expected. This is a good thing, as I expected them to add a very cool visual flair to combat, and they indeed do just that. They have even added a special camera that allows you to view things from their perspective, and whether you're watching a squad of fighters or just a lone bomber or two, it's still a really cool way to watch combat unfold. It almost makes me forget I'm watching a ship of the line battle.
However, the greatness of these agile craft is seen only when you unlock them, which can take a bit of time as they aren't initial combat techs. Even then, the early versions of them are both very heavy, slow to engage, and of minimal combat effectiveness. They are more fun to watch than practical to use, so to speak.
Bombers and fighters, in a similar fashion to weapons, have three settings, and you have to select these during ship design as well. These include a battle option, which makes them better vs ships, an invasion option, which allows them to do more damage or add more siege power when invading, and a balanced option that is great at neither and that I'd never select. In most cases, I used the battle versions of these as they offer the most damage versus enemy ships.
Fighters tend to come in packs of 5, fire often, and do small amounts of damage. Bombers come in packs of 1, and initially seem pointless as they fire very few times for minimal damage. Thankfully, this is not the case with the higher level bombers. Although they take two special slots (very large ships only have 4 total) and are very heavy, the heavier bombers can cause very heavy damage to enemy ships. At this point though, you'll also have very powerful weapons to use, so bombers are best to use as a backup method in case your enemy has defenses against your primary weapon. I included them on my dreadnaughts and found them to be quite useful in combat. Fighters were not as useful, but may have been had the enemy been using more bombers against me.
One odd thing about bombers and fighters is that their bay weight seems to be proportional to the ship size. A bomber bay, though identical in stats whether on a destroyer or dreadnaught, is heavier on a dreadnaught. It's a bit odd considering weapons and other items don't generally scale this way, and it again reduces their use to more of a backup weapon or novelty than a serious tactic. Some ships have reductions in fighter/bomber weight, so in those cases it may make more sense to use them, but the fact that a bay carrying the same number of bombers/fighters is heavier on a bigger ship just doesn't make much sense. The bay should weigh the same or weigh more and carry more ships when placed in the larger class ships.
Invade and Conquer
Invasion has changed a bit since last Endless Space and I spent time together. Invading a system is no longer a siege-only affair. There haven't been any major changes to the invasion system, so don't expect to see anything in depth like tactical ground battles, for instance. These changes are more subtle, and basically provide the player a couple more options aside from simply waiting out a siege.
You can now bring bombs with you, either via bombers or in a special slot on your ship, and these come in anti-personnel and anti-infrastructure variety. These are good if you want to annihilate your enemy but don't necessarily want to take the planet over in-tact. I didn't use these a lot, but this was mainly due to the new drop troops I'll describe below. In all actuality, what these systems amount to is a new ship module, a couple UI tweaks to accompany the new options, and a way to harm your enemy without waiting for a siege to finish.
The other new option is a game changer when it comes to invasion. I'm talking about drop troops, their upgraded version, and their variants. There are multiple settings you can select for these, in a similar manner again to bombers/fighters and weapons. You can choose elite troops, numerous, or something else.
Elite troops always made the most sense to me as they provide the largest battle strength and only cost 1 population. Yes, I'm afraid these drop troops are going to cost you population in a manner similar to your colony ships. However, they are completely worth it. You see, when you siege a planet, it generally will take you a minimum of 10 turns (and potentially many more), and that only if you have brought enough siege strength to overcome all of their siege defenses. Then, for those turns, you have to protect them from attackers until you finish the siege.
This is not the case with drop troops.With drop troops, you get a new invasion option which provides you a % chance to instantly take over the colony. As long as you have enough drop troops with you to overcome the defenses, you can achieve a 100% chance and instantly take a colony, whether it has 2 people or 25 population and their capital. It almost felt like cheating once I discovered this, and it became my new go-to tactic for expansion.
Broken and Unbalanced Mechanics Abound
With a clear understanding of the new features out of the way, it's time for me to get into the meat of the review. Endless Space has some issues, quite a few of them in fact, and some of them may even date back to the original game. Perhaps it's only in a replay of the game after so long that I've discovered these issues, or perhaps they simply annoyed me more than they did back then, but regardless, I'm going to explain some of the huge exploits, bugs, and just odd design decisions I've encountered during my time with Endless Space: Disharmony.
Endless Space is not a very well balanced game. In fact, I have the feeling this recent expansion has made it far worse than it was when I last played. The races themselves emphasize this before you even start a game. Sheredyn, a decent affinity, have bonuses that add up to +4 and -2 according to the developers. Sophons, with a good affinity, have bonuses worth +9 and -3. Horatio (one of my favorites) have a great affinity (cloning), and bonuses worth +11 and -2. This is just at a glance, without really needing to dig deeper. Perhaps it's not supposed to be evident on this screen but rather through gameplay instead though.
The Harmony, flagship faction of this expansion, seem very weak and underpowered. Not exactly what I expected, to be sure. Unlike most factions, which are unable to grow in population only while you train a new colony ship, the Harmony can not grow when you are building any ship in that system. If you end up in a war early, as I did due to close proximity with the United Empire, you must halt your growth entirely to build ships to defend yourself. Add to this that you can not instant buy any ships or upgrades due to lack of dust, can not retrofit ships, you do not get heroes to enhance your fleets or colonies at all, and that you suffer a constant disharmony penalty in your colony if you have dust producing colonies in your system. I felt like I was being kicked while I was down.
It was only by the grace of the Empire's poor ship design that I was able to counter their kinetics and overwhelm with starting lasers to take their homeworld from them. The Harmony, as a faction, feel like hard mode. A lack of upkeep cost, something which my dust using factions can ignore as they always have massive excess dust, does not compensate for all of these losses at all. Their other change, a mind vs matter slider (food vs science) rather than the tax slider, does not really compensate either. Now, it's possible I'm just terrible at this faction, but I personally find it hard to believe that this is the faction worthy of the expansion's name. Also, why are crystalline creatures in need of food to grow, anyway?
The new weapon mechanic does not allow you to downgrade to weapons you actually have the resources to use. If you research an enhanced weapon, one which requires a specific resource you don't have – or had but have since lost access to – you will be unable to use that type of weapon on any future ships until you have it or until you research a higher level tech you do have the resource for. Unlike range, there is no toggle to use a lower level weapon. I have no idea how this made it through QA, but it is a terrible mechanic which punishes the player for making research progress. It's completely broken.
The retrofit mechanic is tremendously overpowered. Remember the drop troops I mentioned? They are very powerful infantry capable of instantly taking over enemy systems. Their biggest downside is that they cost you population to create, and they are used up during the invasion most of the time, leaving the ship behind with only empty bays. What if I told you that by simply editing the ship design and re-saving it, you could then retrofit all of your ships with these modules (if you have the dust), and instantly have full troops again without the population cost. Well, you can. Yes, this is a very cheap and broken tactic, but it does work.
Even without this though, retrofit allows you to take an existing ship design, one you have perhaps dozens of ships deployed already, redesign it, and then instantly convert the ships as long you have the dust and they are within a friendly system. Facing a new threat that is immune to your lasers? No problem, edit the design, change all lasers to missiles, and re-save it. Now, pay to instantly retrofit your ships. Next turn, show them your paper is gone and destroy them with your new rock to their scissor. It makes no sense to instantly change the entire layout of a ship, simply be editing an existing design, but that is how this game works. There is no repair or retrofit time needed to change the dynamic of your entire armada of ships other than the initial turn where they lose their movement.
Victory notifications don't appear to be working properly. The game notified me that the Harmony were close to a wonder victory even though they had 0% progress. It then notified me they were close to a scientific victory only a very short time before they actually achieved the victory. Unfortunately, this cost me the game, as I needed only one more capital to complete my supremacy victory, and I had my siege ships en-route. On the positive side, it was good to see the AI was capable of obtaining victory in other ways.
Other Things I just Don't Understand
There are other design decisions with Endless Space and Disharmony that I just don't understand. Why is it that enemy ships continue to move throughout my turn? I try to move a ship to engage an enemy and they simply fly away. I try to take a ship out of the hangar and it immediately gets attacked. I get attacked again in another system while trying to check out my research options. Did I mention this was all on my turn? I just don't understand why a turn-based game has so many other things going on during my turn. Perhaps it's for multiplayer purposes, I suppose, but it is utterly annoying to try and engage an enemy during my turn only have to them zip away after I issue my movement. Also, if they fly the way I just came from, I can not turn around in mid flight but must instead reach a planet first. Also, since ships can fly off of starlanes, with later technology, why is it that I can't attack ships within starlanes or open space? Why can I only engage ships when they are in planetary orbit? It again makes no sense.
Technology upgrades don't always match the name of the actual upgrade. For instance, a weapon is called one thing on the research pane and another in the design screen. I've had to do a double or triple check at times to make sure I had the right tech, but sure enough, it was. Some technology or ship locations are also missing tooltips. For instance I saw a tooltip clearly indicating it was a variable name, with a name of %ModuleInvasionMilitaryPowerDescription.
Why does the enemy feel the need to have 79 fleets, many of which have 1 single ship in them? Why does it then feel the need to attack me not once, not twice, but seventeen (17) times in a row during my turn. I could hardly believe it, but the enemy actually sent 17 individual 91mp ships to fight against my 1500mp+ fleet one at a time. Even with auto combat and no card, formation, or target changes, these take around 10 or so seconds each. This was immensely frustrating, and when this occurred a few turns later, I disbanded the fleet after 10 or so attacks just to stop the madness. One further annoyance, the AI can seemingly attack multiple times per turn with the same fleet, but the player can only attack once per fleet, so clearing out numerous enemy fleets at once is impossible.
The new AI doesn't seem up to speed on the siege game. I found that they would send in numerous siege fleets, fleets with no weaponry, prior to making any efforts to clean out system defenders first. This led to a repetitive cycle of them entering my system, my ships attacking to defend, and their retreat. The AI didn't consider the fact that unarmed ships may not be the best thing to send in alone.
The Retreat battle card indicates you suffer 2 free rounds of attacks. This appears to be the penalty for fleeing, at least how I read it. It does not do this in practice however, as numerous times I watched my defending fleets be attacked by an enemy ship, and whether manual or automatic, I've watched it fly away unscathed despite my missiles being enough to easily destroy it in the first round. What's particularly annoying is that a single enemy ship can fly in to a system and blockade it, even with a defensive fleet stationed in orbit. This makes not destroying these ships all the more troublesome.
Performance
During mid game, once most of the galaxy is exposed due to exploration and alliances, I began to experience long end-turn delays and stuttering both during the end turn and my turn. I'm somewhat used to 4X games taking some time during the end turn phase, but the odd thing about Endless Space is these hangs and delays most often occur after the next turn has begun and control has been given back to me. Trying to take action immediately after control is given back to you is often impossible during mid to late game. Late game in my case tends to be around turn 200, but problems tend to start quite awhile prior to that based on the games I've played.
I was able to watch my performance monitor and did not notice my cpu or memory spiking, so I'm unsure what the actual cause was. It seems to be when I can see most of the AI, or perhaps due to the number of fleets they were using. As I mentioned, at one point, I saw 79 individual fleets stacked up in just one location. It seems like the AI should combine many of these single ship fleets into a larger fleet, but for some reason the AI didn't choose to do so.
Multiplayer
I didn't mention much about multiplayer originally, and that's because I don't tend to play 4X games in multiplayer mode. While I feel as though a number of Endless Space's mechanics were designed with multiplayer considerations in mind, I can not confirm or deny this. It is fair to say that Endless Space may be a more enjoyable game when facing other human minds rather than the AI.
Things I really liked
I love the system-wide construction queue and governors used in Endless Space. I've said it before and will say it again, but I really feel this is the crowning achievement of this game from a design perspective. It successfully eliminates the tedium of empire management for me, and it never makes me feel like I need to heavily micromanage to optimize my systems. At the same time, it provides me with a lot of individual planets, different planet types, and little bonuses which are worth watching out for.
Endless Space has fantastic artwork and visual appeal. I really love the look of this game. The faction spaceships are all very pleasing to look at and admire. Even though I find combat a bit too oceanic in its approach, due to its broadside fire approach, I still enjoy occasionally viewing the manual battles just to see the interesting designs and models they've come up with. The bombers and fighters have made this aspect even more fun, and in many cases I'll watch battles they're involved in just so I can switch to the fighter cam and watch things unfold.
The new random events are a positive step and help add a bit of life to the universe. They don't change the game significantly, but they are a nice step in the right direction.
I've never experienced a crash in Endless Space. I'm not saying they don't happen, but I've never had one. I can't say this about many other games, so I have to say that Endless Space has a very reliable engine running underneath it.
Some people praise the unique tech tree provided to each race, but I myself find them a bit lacking in personality. While each race does have a few unique technologies, in a research tree with hundreds of technologies, very few of these feel like they impact gameplay in any significant way. Each race also has some technologies that are orange colored, as if to indicate they are unique, but instead just indicate a different placement in the tech tree than normal. This means they can access a tech sooner or later than other empires. While it is good to see some diversity here, the techs to me just feel bland.
Final Thoughts
I know I've been rather harsh in this review, and please believe me when I say I really wanted to love this game and expansion. In fact, I enjoyed my time with the original game last year, and thought I'd get that same sense of satisfaction this time around. I did enjoy the game again, at least for a short while, but it was after these initial hours that the game started to lose its shine. Issues kept popping up, and annoyances kept appearing, and these things diminished my game experience and enjoyment. Some of these things were things I either missed or looked past in the original review, while others were mentioned back then or are new since then. In any case, I've had to consider all these things when reviewing and scoring this game again, and in this particular instance, my impression is more negative than it was originally. It's certainly not a good sign when I am firing the game up only for review purposes and not for my own enjoyment.
If you didn't like Endless Space before, you are most likely not going to feel differently with the Disharmony expansion now. If you did enjoy it, you may enjoy the new features, but you'll need to be wary of the bugs and exploits currently present in the game. I'd wait for a patch or two, at the very least, if you're still interested in it. If you've never played it before, or are new to 4X games in general, I'd caution you to pursue other reviews and videos before purchasing. This is not a game that everyone is going to fall in love with, but for some players it fills the particular niche that they enjoy.
| | |
| --- | --- |
| | fair |
The Good:
– Graphics are visually pleasing
– System wide management queue and governors make managing large empires easy
– Random events are a step in the right direction
– Bombers and fighters have made combat more entertaining to watch
The Bad:
– Galaxy is still largely lifeless despite new exploration rewards
– Combat changes do not noticeably impact gameplay
– AI movement and attacks during your turn feel out of place
– Limited replayability due to similar races; lack of strategic options that feel meaningful
– Fails to innovate or expand the genre
– Balance feels off with a lot of broken or cheap mechanics
– Game still feels unpolished from a design and QA standpoint
– Performance issues in mid to late game
Keith Turner, also known as aReclusiveMind here on SpaceSector, has been an avid gamer ever since he first laid his hands on a Commodore 128 in the mid 1980s. He enjoys multiple computer game genres, but his primary interests are in deep strategy games, 4x games, rpgs, and action rpgs. He enjoys writing and hopes to contribute with additional reviews, previews, and informative AARs to the community. See all Keith's posts here.
Subscribe RSS
56 Comments
Related Articles:
Post category:
Game Reviews