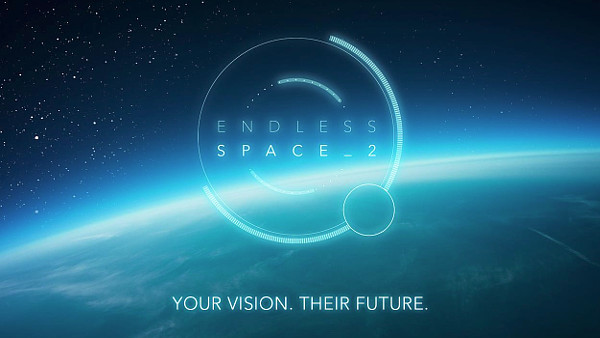 Released in July 4th 2012, Endless Space was not a spectacular entry into the space 4X genre but still an important one. Since then, Amplitude Studios has developed two other games: Dungeon of the Endless (a rogue-like tower defense title) and Endless Legend (a great fantasy 4X game), all of them set in the same universe. The publisher, Iceberg Interactive, has stated that all games combined have sold more than 1.2 million copies.
Now, Amplitude Studios announces Endless Space 2, and with it a couple of teaser trailers were released on the official website and promise for more information to come out during the Gamescom event to be held in Germany between the 6th and 9th of August.
The first teaser trailer.
With the trailer comes the description (from the youtube page):
The sequel to the two-time Unity-award winning Endless Space! Endless Space 2 is turn-based, 4X space-strategy that launches players into the space colonization age of different civilizations within the Endless universe. -Endless Space youtube channel
Now the second teaser (a second version of the first actually).
As I said above, Endless Space was an important entry into the space 4X genre, because it came in a time where there were very few (if any) recent turn-based space 4X games in the market. Also turn-based, Sword of the Stars 2 was a big disappointment and before that we had only Armada 2526 (a very decent space 4X if you ask me), and Sword of the Stars 1.
With beautiful graphics, a very slick and intuitive UI, a very interesting colony management system, and a very "finished" alpha, Endless Space made an excellent first impression. However, it was only with time that one could realize that the game was flawed in many ways. Although approachable and enjoyable at the beginning, an unexciting combat system allied with a largely lifeless galaxy combined with a confusing tech tree made the game feel quite bland, repetitive and uninteresting in the long run. At least in single player. There was one major expansion released, Disharmony, but it ultimately failed at addressing these and other points.
With a lot more experience under their belt on what makes a great 4X game (Endless Legend), it's expected that Amplitude can only do better with Endless Space 2. If they can inject more life into that Endless universe and come up with a more interesting combat system the thing might quite work very well.
With Master of Orion: Conquer the Stars and Endless Space 2 on the works, probably both to be released on 2016-ish (to be confirmed), there's certainly a lot to hope for in the realm of turn-based space 4X gaming.
Subscribe RSS
52 Comments
Related Articles:
Post category:
News & Announcements