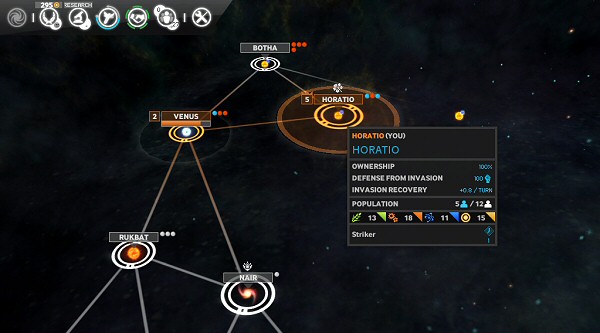 I had access to Endless Space for a first look a few days before being released as alpha for pre-orders. Let me tell you right now that I'm very impressed with what I've seen so far. I think we have a truly marvelous space 4X gem here.
But, first a bit of background. And while this is by no means a review (since that applies only to finished products), later on I'll have a word about the best things and the not so best things about this build, and why I think ES can become a great 4X game.
Endless Space is being developed by Amplitude Studios, an indie games studio founded in 2011 that allegedly specializes in strategy games development. Endless Space is their first game project, and what a great way to start developing strategy games than with a 4X game?
Now, this is what a call an alpha! And a user interface.
First of all I'm impressed with the level of quality the build shows at pre-order time. Let's not forget that this is supposedly an alpha version, well perhaps close to beta, but still released as alpha. I didn't have a single crash and everything appears to be already functional. However there are still some factions missing and some things that need polishing, fine-tuning and made more fast for sure. But, the game is already very playable, at least for the 40 or so turns I played you don't really feel the difference from a finished game.
Secondly an important word on the user interface. The UI always plays a huge role in games. It shouldn't be that way but usually it is. We want the UI to be as "transparent" as possible, to allow the player to do what he is supposed to do and to know what he is supposed to know without interfering too much nor ending up frustrating more than helping. In 4X games this is particularly important due to the sheer amount of info and gameplay features diversity and complexity that these games tend to offer. I think Endless Space's UI is superb! Let me tell you why.
First of all, there are plenty of tool tips available, so I didn't have any doubts about what things were for or what they gave respect to. Surprisingly enough it's rather easy to navigate through the many game screens, taking into account that the game offers quite a deep economic management scope. Screen transition is flawless and the overall look of the UI is very pretty and user-friendly. The UI is also very intuitive. Right-clicking on your mouse takes you out of the current screen while left clicking does all the selection job as it should. Jumping from one screen to another can even feel very organic at places. At one time I thought: "what if I clicked the hero portrait from this report window, wouldn't it be nice to get to the hero screen immediately? Nah.. Don't think so. OMG! It worked!". Yep, I had a few of these moments while playing. Good job!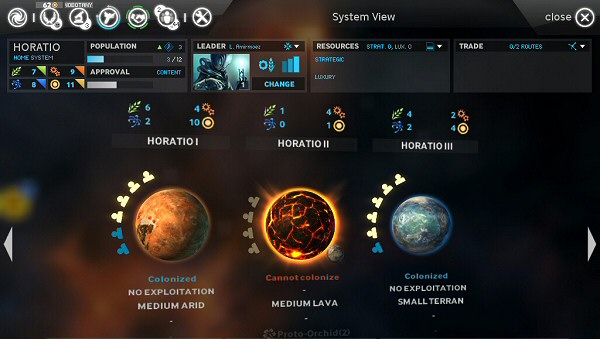 Game setup richness
You have plenty of customization options to choose from at game setup. You can choose from many galaxy parameters, some basic like galaxy size, shape and age, and others more advanced like number of wormholes or resources abundance (this last one particularly important in my view).
And while you can't change anything about your empire, since you can only choose from five predefined factions (for now), these surely have many and distinct traits, that should, in theory, allow for good gameplay diversity and replayability.
About winning the game, there are seven distinct victory conditions possible at the moment. We have the traditional ones to be found in many 4X games like score, diplomatic, scientific or supremacy, while others not so common and more intriguing like wonder, expansion and economic. I didn't have access to a manual and there are no tool tips available for these last three victory options, but the last two should probably be about a land-grab percentage and a certain amount of economic indicators achieved, most probably related with Dust, the game's financial commodity.
There's definitely much richness to be found at game setup. You can't design your race from ground-up unfortunately, but if the available factions are charismatic enough everything should be fine.
The planetary vs star system management riddle
Ok, if you're not into this sort of space strategy game design discussion thing I think you could probably skip this section, but it's still a good read nevertheless (I think). Feel warned though.
A common riddle that the space 4X game designer has to face sooner or later is how to deal with the different levels, or scopes, of a stellar empire's management. You have a galaxy, stars, star systems, planets and sometimes other stellar objects like comets, moons and asteroids. Where should the management focus be put on? What should the player be able to manage? And what would be too much?
Some space 4X game designers put complete focus on star system development and neglect (or heavily abstract) planet development, other games favor individual planets management only, and star systems are only placeholders for those planets. It's always a tough decision to make. The question is: "where should management focus be put on?" I, mainly as player, feel this uncertainty. I think Endless Space has come up with an interesting and ambitious solution for this riddle: system management and planetary management are both managed as two distinct management layers, that intersect in some aspects.
How have they done it? In ES there are specific star system improvements available but also planetary improvements. These latter ones called exploits. And while the system and planetary building options are distinct in scope, they share the same building queue. So, when you instruct something to be built on a planet that will go to the system queue (the only building queue available) and if you then order a star system improvement to be built, that will come second in the queue and so forth.
I don't hide that I had a bit of difficulty grasping the concept at first but then it started to grow on me. I see star system improvements as special structures or projects that affect the entire system, but only that system. So you may decide to invest resources and time on specializing star systems rather than planets, while keeping planetary development still possible at the same time. In a way star system improvements feel like a special technology that you decide to invest on only in a particular system while normal techs researched from the empire's tech tree have an empire-wide effect. See the new layer?
Heroes, a gameplay feature I will talk a bit later on, manage at star system level while planet exploitations are exclusively left at your command or at the hands of the AI if you decide so.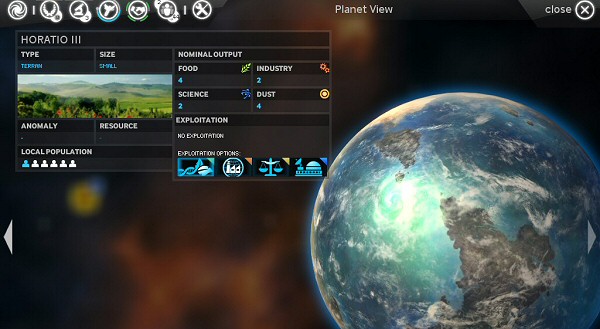 I'm truly fascinated by this system-planetary management level distinction. If micromanagement does not become too deep and disastrous this may become a great model for others to follow in the future. Some things are system scoped while others are dealt with at planetary level. I think it's a good compromise, but let's see how it feels after playing for 250 turns.
Star systems and planetary management surely was a 4X gameplay feature that really caught my eye, but what about the other traditional 4X gameplay features?
The 4X gameplay features checklist
Exploration and expansion can feel a bit standard and bland at places, but there are a few nice twists that can help make it more fun and rich as you progress. Neighbouring star systems are unknown at first until you send some fleet there to "investigate" how many planets are available and what sort of anomalies or resources are present. However it's not a rich investigation system in a sense that you could need special types of ships, devices or people. To my knowledge all ships scan star systems the same way, and while there are plenty of anomalies (that give bonuses or malus to planets) or resources to be found (that do feel to be critical as the game progresses) there is nothing too remarkably different about exploration to register, at least for now.
But, there are events (I witnessed at least one). There are also plenty of these resources and anomalies. Resources also come in two flavors: strategic (that affect production) and luxury (that affect mainly morale). There are also plenty of planet types (13 of them!) to look for as technology progresses. So, in summary, there seem to be enough elements to keep you engaged in the exploration and expansion phases.
Research is usually an area where 4X games of late have not been able to innovate adequately. What has been proven still works but attempts to innovate have not succeeded in my opinion. ES research feels like a mix of proven techniques with a special arrangement through four distinct areas: exploration & expansion, social & diplomatic, science & industry and warfare. There are special techs for each faction but nothing really that innovative about research overall. I'm not saying it isn't nice, though. It just seems not that innovative to my personal disappointment.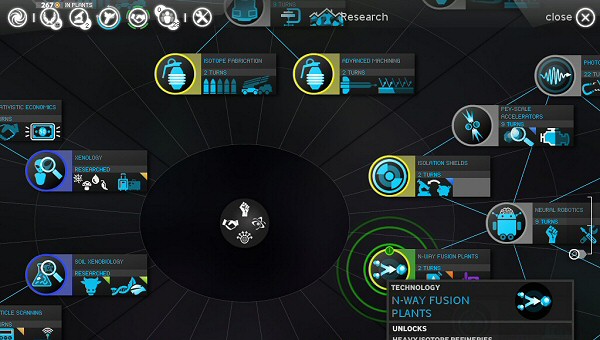 It wouldn't be a 4X game without diplomacy. However it's still a bit too soon to talk about it because that's an area that will need an extensive amount of play to grasp how right and balanced it feels. Right now what I can say is that the diplomacy screen is pleasing to the eye and that you are supposed to have a set of treaties available to you. I don't know yet if we can trade maps, techs, be able to bribe, frame or request any special favors. At the beginning everybody is in "cold war" status, meaning that anyone can attack each other before a peace agreement is set. But besides this I don't have much to add about diplomacy at this moment.
There is however an interesting detail about diplomacy (or espionage perhaps) that caught my eye. One of my heroes had an intriguing trait called "Adventurer". This trait is described as "Talented on spying, killing, sneaking and stealing". The reason why I mention this is because the game apparently doesn't offer espionage options. And while at this stage I couldn't grasp anything in the game to believe there should be espionage options, this trait made me hope that there could be some espionage aspects after all, correlated with the heroes system or perhaps the way diplomacy works as game progresses. Too soon to tell, but, looks promising.
For the ones of you wondering, yes, there is ship design in ES. And a very promising one also. You can equip your ships with a set of modules, each belonging to one of seven predefined set of module types: deflect, support, armor, engine, shield, kinetic (projectile), beam, missile and flak (point defense). This can give you a good understanding of what to expect from ship design because one thing that this tells you is that all your designs will have modules from one of these distinct types. Although the support module type is an open door to any type of special module really. Creating new designs is easy enough. A bit confusing at first with lots of information on different modules, but still easy and fun.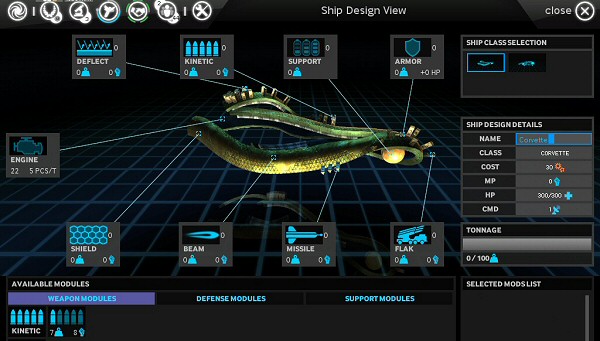 There's also fleet management. There's fleet creation, retrofitting, renaming, merging, disbanding and scrapping. The game's spaceship unit is a fleet by the way. Everything that moves between stars must belong to a fleet. When a ship is built it is put on the "star system's hangar". When you want you can assemble fleets by selecting ships from that hangar and merge them into a single fleet if you want, as long as they are in the same star system.
Regarding space combat, and looking back, I think Romain de Waubert in our interview has described it the exact way I experienced it. Battles are not fought in turns nor in an RTS fashion "select ships and attack" kind of way. ES features a mix of battle cinematics with a few (but perhaps important, I don't know yet) "decisions while you watch" during combat. So, you can't control your ships during combat, like selecting, giving orders, targeting enemy ships or individual modules, that kind of stuff, but you may still have an important tactical word to say on what happens during battle.
I'm a little bit skeptical at this point about space combat though. I mean, if this combat system will be successful at capturing our attention or not. You can decide to auto-resolve combat and all that but my first impression is that it may become a bit too repetitive to watch battles and not have a meaningful intervention. But, perhaps when the game progresses and new techs are available it will be more fun to make combat decisions.  It's too early to tell about this one. Let's say it wasn't love at first sight perhaps. Although battles do look aesthetically outstanding, however that's not the point in the end in 4X games, at least for me.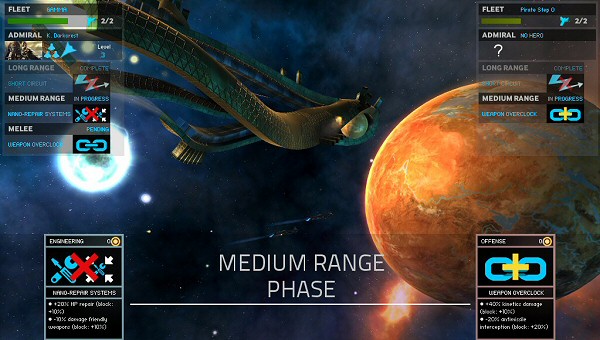 The hero system is fun to play with. Heroes have different traits that affect the star systems where you put them on but they also level up in time (and from what I could tell they actually level up according to what happens to them). You can assign heroes to fleets or to systems. You can even clone a hero if you have the resources to, but only if you're playing with the Horatio faction, which are cloners. I wonder what the other factions will unlock …
Bottom line
I'm still not sure if ES space combat cinematics combined with "a word to tell during combat" mechanics will be able to capture much of our attention, but it's way too soon to tell. And the way space combat plays out in the end isn't really that big of a deal, in any case.
I also felt the need to have tools to help me plan my expansion better, to help me figure out which planets are available for colonization. Although there are a few hints in the UI to help you with this I felt the need for a list, perhaps in the empire management screen, that could tell me all the planets available for colonization sorted by type, resources, etc. In huge map-sizes, and when you start unlocking hostile environment colonization techs, this can become a particularly critical feature to have. But let's not forget that this is still an alpha. Boy, the build stability and maturity level surely made me forget about that some times.
The game offers a superb UI. Functional, appealing, accessible. And while transitions from UI screens are flawless, the game performance (particularly turns) still leaves a bit to be desired. After setting up a medium-sized map with 8 AI players, turns were taking a bit too long to process. You need to have a look at this one guys.
It's naturally too soon to have a definitive take on things and I feel that I only just scratched the surface. But, if we add up the quality the game already shows with the amount of polishing and tweaking it will suffer at the hands of the player's feedback, Endless Space can only become a great game.
Now, or when it's finished, there's no doubt in my mind that this game will be a must for the veteran 4X gamer. And depending on the final state of the game (although it sure is looking promising!) it may also be, perhaps, the perfect game to introduce new people to the genre. Well done Amplitude! You game has surely lived up to the expectations. Now, please continue your great work!
Screenshots
Subscribe RSS
82 Comments
Related Articles:
Post category:
Game First Impressions
,
Game Previews