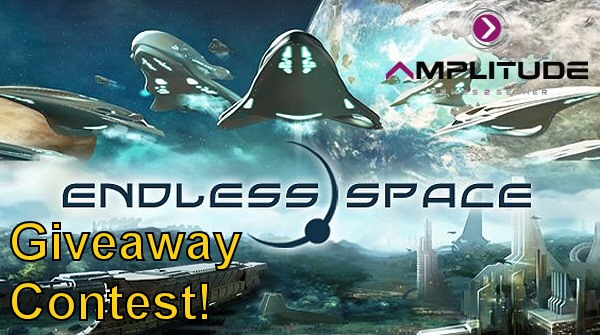 To commemorate tomorrow's release the good folks of Amplitude Studios have sent us 10 keys of Endless Space to offer to the Space Sector readers and fans. The Steam keys are for the Emperor Edition. This edition includes all the base game features plus a few extra goodies, like an extra skin pack for the United Empire race, a unique hero of the 'Endless' civilization and a "Dev Team" forum award for your Amplitude forum account profile.
Endless Space is Amplitude's first game, and is a turn-based space 4X game. The game was made available for pre-purchase at Alpha state, and since then it has received lots of good first impressions from the generalized gaming press. One particular aspect everybody has praised a lot is Endless Space's slick and beautiful User Interface.
How to enter in the contest
It's very simple to participate and have a chance to get one of the 10 Endless Space Emperor Edition steam keys. All you have to do is the following:
Follow SpaceSector.com on twitter OR like SpaceSector.com on facebook OR register the SpaceSector.com newsletter (you are only required to do one of these actions).
Leave a comment in this blog post (below) stating which one of the actions above (point 1.) have you done.
Examples of how you should post your comment to become eligible for the contest:
[your twitter id] followed @spacesector on twitter.

OR

[your facebook name] liked Space Sector.

OR

Registered the Space Sector newsletter. (note: please use the same email to register the newsletter that you used to post your comment).
Important (trivia mini-contest): 1 game will be given immediately to the first person who answers all the following trivia questions correctly [This part of the contest is CLOSED: trivia winner already found! – don't worry, there are 9 more keys to giveaway through all the remaining folks that enter the contest till July 16, 2012]:
In which city is Amplitude Studios based on? (answer: Paris, France)
When will Endless Space be officially released? (answer: July 4th, 2012)
Is the game going to have multiplayer? (answer: Yes)
Name four Endless Space playable races (possible answer: Cravers, Pilgrims, Amoeba, Horatio)
When was Endless Space first released as alpha on Steam? (answer: May 2, 2012)
The remaining 9 contest winners will be picked randomly with the help of random.org on July 17, 2012 at 11:00 am EST. I'll check those to see if they fulfilled the entry steps. The contest closes on July 16, 2012 at 11:00 am EST. After that point you can no longer enter the contest. I'll signal that by changing the contest status to [CLOSED] in the post's title.
Games will be provided as Steam keys.
Game info:
Good luck everyone!
Many thanks to Amplitude Studios for sponsoring this contest. And, best of luck for their official release.
Subscribe RSS
355 Comments
Related Articles:
Post category:
Contests