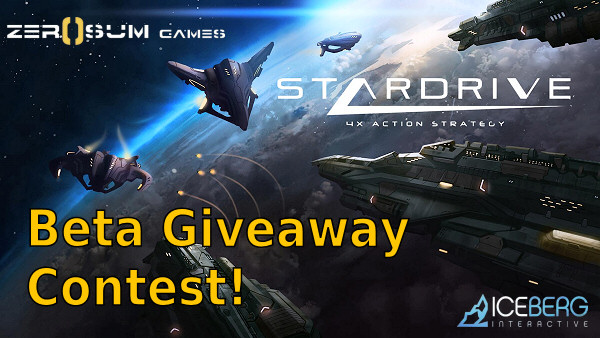 To commemorate StarDrive's beta release on Steam, the good people of Iceberg Interactive have sent 5 StarDrive beta Steam keys to offer as prize to the SpaceSector readers and fans. The Steam keys will give you immediate beta access on Steam and access to the full game when it is officially released.
StarDrive is a real-time space 4X game, and it is developed by Daniel DiCicco and his team at Zero Sum Games. Making the long story short, Dan made it on kickstarter about one year ago (Dec 2011) and signed with the Iceberg Interactive publisher a few months later (May 2012). Now, they seem ready to enter beta somewhere between late January and beginning of February. The game will be available to the general public on Steam at that time.
How to enter in the contest
It's very simple to participate and have a chance to win one of the 5 StarDrive Steam beta keys. All you have to do is the following:
Follow SpaceSector.com on twitter OR like SpaceSector.com on facebook OR register the SpaceSector.com newsletter (you are only required to do one of these actions).
Like StarDrive on facebook OR register at the StarDrive official forums (again, only one of these actions is required).
Leave a comment in this blog post (below) stating which of the actions above (points 1. and 2.) have you done.
Examples of how you should post your comment to become eligible for the contest:
[your twitter id] followed SpaceSector on twitter and [your facebook name] liked StarDrive

OR

[your facebook name] liked SpaceSector and registered the StarDrive forums with username [the username you used to register here]

OR

Registered the Space Sector newsletter and [your facebook name] liked StarDrive

etc …
Note: By the way, when you like the StarDrive facebook page you're also running to get a beta key, as Iceberg is also running a separate beta giveaway contest there. So, if you enter in this contest and like the StarDrive facebook page, you're in a way doubling your chances to win. \Edit: Apparently, the Iceberg draw on the StarDrive fb page has ended.
How and when will the winners be picked
The 5 winners will be picked randomly with the help of random.org on January 18th, 2013 at noon EST. I'll check those to see if they fulfilled the entry steps.
The contest closes on January 17th, 2013 at noon EST. After that point you can no longer enter the contest. I'll signal that by changing the contest status to [CLOSED] in the post's title.
Game prizes will be provided as Steam keys.
Game info
Good luck everyone!
Many thanks to Iceberg Interactive for sponsoring this contest. And, best of luck with the beta and official release.
Subscribe RSS
262 Comments
Related Articles:
Post category:
Contests