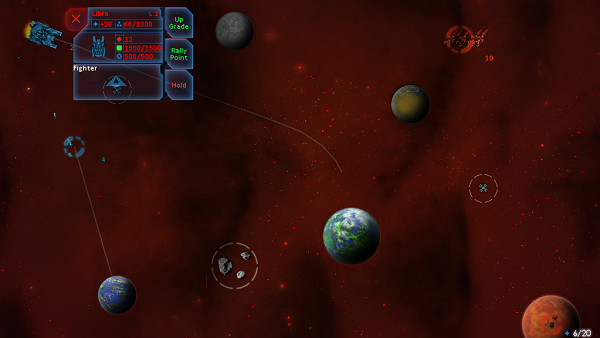 Orator Games, the developers of Blue Libra, a casual real-time space strategy game, have released a sequel that is now available digitally for Windows PC, Mac and iOS devices.
Blue Libra 2 promises to improve the original concept by adding more depth to the gameplay and new multiplayer options. Blue Libra's gameplay consisted on conquering planets, defense platforms and space stations on a given scenario. Your main goal was to build as many spaceships as possible and conquer all the planets before your opponent started to overwhelm you. You start with your mothership (called Libra), and, according to the story, you're the last remnant of your kind after your homeworld has been conquered by alien invaders, the Garian.
The difference in BL2, in terms of story, seems to be that the fight is now brought inside the Alien Invaders borders. But the most important addition in this sequel seems to be its multiplayer combat, which supports up to 4 players in skirmish mode. Options available are to play via gamecenter, directly with a bluetooth or over wifi, or on the internet.
In addition to multiplayer, Blue Libra 2 promises improved graphics, an extended economy and new ships over 30 single player maps. It uses retina display (if available) for enhanced graphics.
We reviewed the original game, Blue Libra. At the time I felt the game was easy to pickup and fun for casual short gaming sessions. But, the single-player campaign was kind of short and the game lacked multiplayer options to give it more replayability. Perhaps with the new multiplayer system, the graphical overhaul and the promised added depth the game can now achieve its true potential.
Blue Libra 2 is available for Windows PC, Mac OX and iOS devices (iPad, iPhone and iPod Touch). There are demos available for Windows and iOS at the moment. A Mac demo is promised soon. Blue Libra 2 also currently on Steam GreenLight here.
Subscribe RSS
1 Comment
Related Articles:
Post category:
News & Announcements