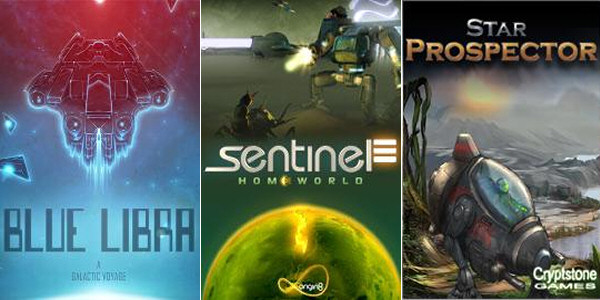 GamersGate has selected 24 indie games to be part of their new IndieFort Bundle starting today. The bundle will run for 3 weeks and there are 3 purchase packs available: Bronze (3 games at $3.99), Silver (6 games at $6.99) and Gold (9 games at $8.99).
Among these 24 games are familiar titles like the sci-fi real-time strategy games Star Prospector and Blue Libra and the tower defense title Sentinel 3: Homeworld, games we covered here at SpaceSector.com. This means that you have a chance to get these three titles for as low as $3.99/€2.99 (bronze pack). But, there are other interesting sci-fi games to check like the RPG space sim Black Market or the space shooter Orbitron: Revolution.
On top of the affordable purchase packs GamersGate will also run a voting starting on 21st of September to elect the three favorite indie titles. These lucky ones will be included in a champions pack (Ultimate IndieFort Pack) which will be sold for $3.
The bundle can be found on GamersGate via this link, and a new indie dev community has been set up on IRC via irc.freenode.net – channel #indiegathering – where players and the press can chat with the devs.
This looks to be one of the largest Indie bundles I've ever seen and I hope it is a tremendous success. Got to show some love for the Indies. They help keep our beloved genres alive. Here's a chance to give back for a nice price.
Star Prospector, Blue Libra and Sentinel 3: Homeworld are SpaceSector's champions. For more information on these titles have a look at our Star Prospector first impressions, our Blue Libra review or a small preview we did on Sentinel 3: Homeworld.
Subscribe RSS
3 Comments
Related Articles:
Post category:
News & Announcements