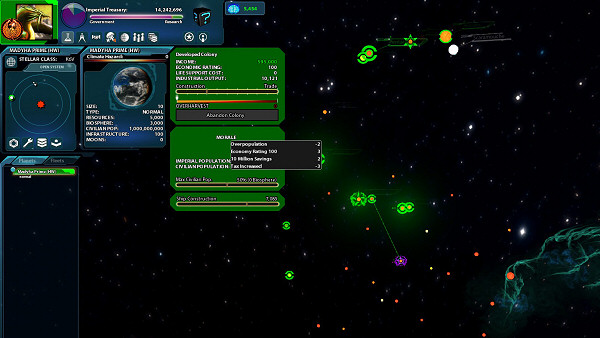 Roughly one year after probably one of the worst strategy gaming releases of recent history, Kerberos Productions and Paradox Interactive re-release the space 4X game Sword of the Stars 2, now with a new subtitle – Enhanced Edition, plus an expansion – End of Flesh.
Simply put, Sword of the Stars 2: Lords of Winter was released unfinished and extremely buggy back in October 2011. But, that is history now. To know more about the game's state at release, and three months after, have a look at our first impressions and first review. Both the developer, and the publisher apologized for the bad release and promised to fix it.
As most of the game's description was already done in the first review, this re-review will concentrate more on how stable, playable and fun the game really is, after a year and a ton of patches.
So, is it stable and playable now?
Yes. Sword of the Stars 2 is now playable. The game is also quite stable, at least comparing with the game's state at release. You still bump into occasional crashes, but Kerberos has been addressing those in successive patches. And, they are still releasing many patches, even after roughly one month after this Enhanced Edition's release.
So, one of the worst aspects of SotS2's debacle release – its stability – is now mostly fixed.
One aspect that also plagued playability was the User Interface screen transition time, that could take many seconds to switch from one panel to the other. This is also mostly fixed now, with some occasional delays still, but nothing too serious, perhaps in the order of 1-3 secs tops.
So, in conclusion, SotS2 is now playable and stable enough. It is now finally possible to delve deep into SotS2's gameplay.
What about the non-intuitive, feedback-lacking and unpolished UI?
Unfortunately, the UI has not evolved much since SotS2's initial release. Even if you forgive the lack of polish and occasional glitches, like non-fitting strings or erroneous numbers – that show up from time to time – it's still extremely hard to grasp what things mean and what you can and can't do. So, there's no way you will learn how to play this game just by playing it. It's imperative to read the manual (since there's no in-game tutorial) to search for clues and to learn what things are for. However, a top to bottom read approach is probably not the best strategy, at least at first. The best is probably to play the game, and when you have doubts – and you will have many – switch to the manual and read the particular chapter about what you don't understand. But, a full top to bottom read is imperative at some point in time.
But, even with the improved manual – I know because I read it top to bottom at first release and now – it's still hard to understand some of the game's concepts. For example, the game's support concept requires that your systems have enough of these "CEs" or Cruiser Equivalents. So, if you have a fleet with 5 cruisers, you will need at least 5 CEs support capacity to allow that fleet to be stationed on a particular system. Ok, simple enough. The problem is that this, and other concepts, are poorly described in the manual, and many times you end up discovering what things are for only after playing hundreds and hundreds of turns across several games.
As an example, I discovered only very recently how to calculate distances between systems in light years. Or, what about those small numbers "26/100" that are shown below the system name? These numbers mean, in this example, that you have 26 CEs (cruisers) stationed in that particular system at the moment, and 100 is the cap. But, why is it 100? No clue at first. You need to dig up the manual again, or even search in the sots2's online wiki (and sometimes the game forums), to understand how certain things are calculated. The problem is that these are basic concepts that should be presented by the UI in some way, being it via tooltips or in a simple tutorial. But no, everything is still very hard to figure out in SotS2. So, be prepared for probably the steepest learning curve of space 4X gaming history.
A word on Diplomacy
When the game was first released, the diplomacy system was still in its skeleton phase. Barely functional. And that was when you could experience it at all, since the game was unplayable at the time.
What about now?
Well, you can establish several types of treaties, do espionage, offer gifts and demand things. All the basic options you look for in a diplomacy system worthy of the 4X name. But, unfortunately, SotS2:EE's diplomacy system feels barren and absolutely not engaging, even if you exclude the bad aesthetics, which is really not the essential part. The problem is that the diplomacy system feels disjointed, random and nonsensical in many occasions.
It feels like everything is there at your disposal but the actions that you undertake, or what the AI does, doesn't feel natural but almost purely random. Basically it feels disconnected from the game. Say, you request a treaty and you obtain a "No". Now, why was that? No clue. You lobby an alien – bribe or do fancy talk – and receive a "Not interested". Why? Don't know. The AI offers you a non-aggression pact, and you think "Hey, great!", and you're even presented with a heart shape and a happy face in a UI dialog pop up, both signals of good mood from that race towards you, right? Then you check relations – or mood indicator – and they got … worse? Why?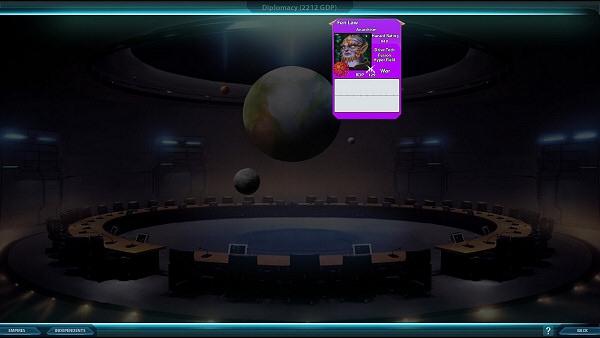 And then, the AI just pops up an occasional request for money, or info request about a particular system that doesn't really make sense. I mean, why did the AI just demanded to know about a system that is so far away from their territory? I mean, it's on the opposite side of their territory? They should be more interested in knowing what's going on closer to their borders, no?
You can't help but thin that many things don't feel right about diplomacy. The implementation feels wrong. I mean, the diplomacy concept in itself is quite interesting. You can't just engage at diplomacy to your heart's content. Like, talking to your neighbours every turn or so. No. And that's cool. You must first generate a pool of diplomacy points so that you can spend them in diplomatic actions. You must research diplomatic chambers that fit your adversaries' comfort needs. And, you need to install them in diplomatic stations, that supposedly are more effective when they are established closer to the AI territory. This all sounds great.
But, how many of these diplomatic points am I generating per turn? And, what is generating them? You can't really tell. You will not find the answers neither in-game nor in the manual. Yes, that's right. You need to go online, check the wiki or the forums to find the answers to these questions. And even when you do get the answers you simply can't check them in-game because the UI lacks those features. So, you must know some things by heart, and do the calculations yourself.
Basically put, the diplomacy system, although much better now, is still very unsatisfying and clearly not up to par with other 4X games. There's still a lot of work ahead to make it work.
A word on the AI
And now we reach an area where the game is still quite weak. The artificial intelligence, or AI.
We know that the AI plays a key role in games, especially in strategy games, and even more in 4X games, where the majority of players enjoy to play single-player. We also know that this is a sensitive area. We know it's hard to implement a decent and convincing AI, and that it cannot be as good as Humans, yet. We also know that usually the solution is to give the AI enormous bonuses so that they can keep up with Human players. We all know this.
But, at least we must feel that the AI can give a fight and feel alive. We must feel it's worth to invest the time because ultimately the idea behind a 4X game, or any strategy game, is to achieve victory by vanquishing your opponents. Not that it means through war only, but beat them. If no challenge is felt, then why bother? If there are no competent adversaries to make you plan and think your strategy through, then you don't have a strategy game in your hands, but a simulation game. Nothing against simulation, of course.
At its current state I don't think SotS2:EE's AI is challenging enough. Even if you take out the already discussed lacking diplomacy aspects, the game fails at providing you with enough challenge. In all my games I never felt threatened. I seldomly saw an AI fleet close to my borders, and when I saw them, or pay them a visit, all I saw was mostly survey, colonization or construction fleets.
And you may say, "Well, what about those random encounters and grand menaces? They can provide quite a challenge.".
Those are random events generated by the game to keep you busy while you're developing your empire. And some of these encounters are indeed fun to play and can be quite challenging, and even dreadful. But, they are just that, random encounters. Battle instances spawned from nowhere (literally nowhere) to satisfy your combat's appetite while nothing big is happening in the real game.
Frankly, I don't like the random encounters system as it is implemented at the moment. They do give a fight, keep you mildly entertained, and make you prepare for them. But, they feel too artificial. They are not a result of your actions, but just something that is thrown at your face, and mostly they are unpleasant surprises. All surprises are good, that's my philosophy, but not when almost all of them are negative and make you feel hopeless about them all the time.
So, you end up feeling frustrated with random encounters. They cripple your progression, which would not really be a problem in itself if that would lead you somewhere. So, random encounters just pop from time to time, to give you a hard time and the feeling of running after ghosts. In fact, there's even one "Ghost ship" in one of this encounters. Fortunately, you can switch off random encounters at game setup.
In conclusion, I didn't feel engaged while playing, nor interested in developing my empire, because ultimately I felt that there was no point. I just felt that the AI was doing its AI random business with no actual consequence, and I was in my backyard trying to survive all those random encounters while struggling with all the doubts and frustrations the UI throws at you. Where are my fleets? Where was my most productive planet again? Where is that planet that I just spied two turns ago? What menace did I just discovered in that system?
If you play multiplayer maybe you can take more from this game, but if you're more into single-player, then don't expect to find much challenge here.
What about the good stuff?
Fortunately, there's a considerable amount of good and even great aspects in SotS2:EE, that allow some people to enjoy this game.
Most of the good aspects were already thoroughly described in my original SotS2 review, and in the first impressions article, namely the engaging and fun real-time combat system, which is probably the deepest and most gorgeous to date in a 4X game. However, and for the sake of conclusion, I will mention them again in this re-review.
SotS2:EE's combat system is very good. Graphics are great, perhaps the best up to par with Sins of a Solar Empire: Rebellion (also a highly combat-focused 4X game), and in some cases even superior. But, the comparisons to Sins stop there, because there's much more to SotS2:EE's combat than eye candy. There are a lot of tactical options available in SotS2:EE. You can decide what the best positions to face the enemy are. You may decide to stay at long firing range or engage in direct fire. You have several interesting types of ships available, like torpedo ships or carriers that launch battle riders at your command, which are kind of fighters or destroyer-sized ships. There's also psychic (psionic) warfare.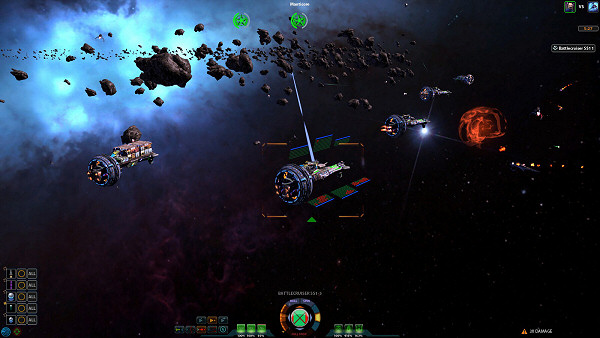 There are also a good number of shield options to go for. Some protect only the front of your ship, while others protect all the ship but are less effective, or you can even cloak ships. You can also plan before hand where to spread your fleets across a system, where sometimes it's required to protect several planets, and you may even decide to break a defense fleet into squads. And, you can also design formations for your fleets. So, as you see, there's a lot of depth in tactical combat, and it's very pretty too.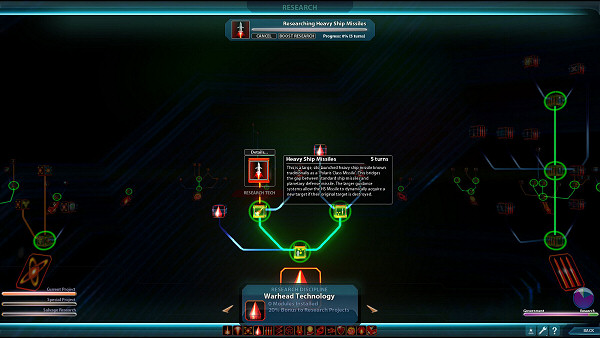 Another SotS2:EE's strong gameplay aspect is its research system. SotS2:EE research is varied, somewhat randomized (some techs may not appear in different games) and ultimately very appealing. The UI research screen is very intuitive and easy to navigate. Not the case when SotS2 was first released, but now there's only good things to say about research.
SotS2:EE's ship design is also a very strong gameplay aspect. Although not all the UI aspects are that intuitive, namely the ships weapons' damage or the firing arc, the ship design screen is very easy to use and quite rewarding overall. It's very fun to design new ships.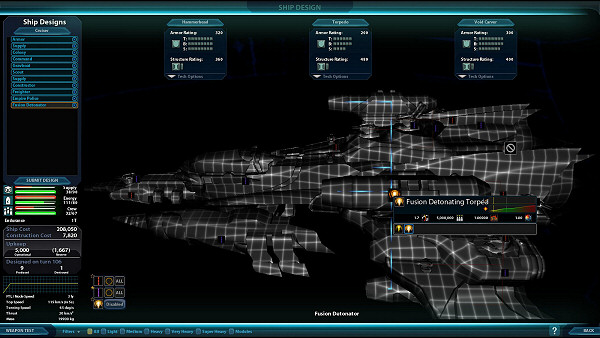 The modular concept remains from the first installment, so, you start from a vessel type base, then choose the role of the ship (torpedo, carrier, standard armor, other) and then equip the weapon mounts and choose from a set of optional modules. Then you need to build a very expensive prototype, and after that you can start mass producing your ships. And, you can also retrofit your ships. This is basically all you could ask for in a good ship design system.
The stations system is also very good and quite deep. You can construct several types of space stations: trade, military, science, mining and diplomatic. You can also develop these with additional modules and upgrade them to even bigger installations, which will grant you even more bonuses, but that also lead you to specialize in certain aspects in favor of others.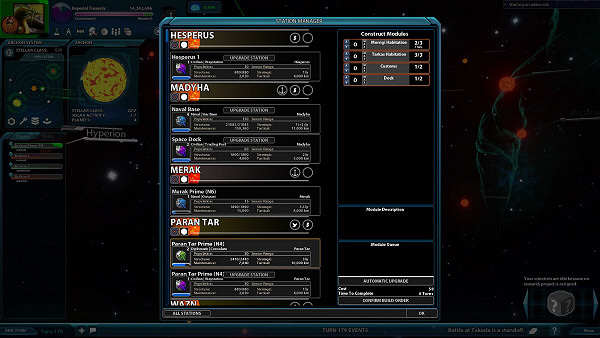 There's definitely plenty of depth and variety to keep you occupied deciding what your stations strategy should be. Should you expand your military stations, or invest in trade? Should you stimulate mining to boost production or should you increase your diplomatic influence? It's really very fun to plan your space stations' development, and they evolve into bigger and bigger installations which is also nice to watch.
End of Flesh expansion
Besides improving the core aspects of Sword of the Stars 2: Lords of Winter, the Enhanced Edition also brings more content, namely a few more techs, weapons, new random encounters and new Leviathan class ships, but particularly a new race, the Loa.
SotS2:EE's lore, and the available playable factions, are quite interesting. The game features seven different species – or races – and six different playable factions. In SotS2:EE, a faction can be a combination of two races, and that's what you play, and not the individual races themselves.
The Loa are a new race and playable faction, a cybernetic one. The Loa rebelled against their makers (the original races) and they now seek revenge, and the opportunity to subjugate them or ultimately terminate them, therefore the term "End of Flesh". To counter their emergence in the galaxy, the original races now have a new tech branch called Cybernetics, so that the organic races can better deal with and counter the Loa. Of course, the Loa don't have that tech branch.
The Loa are very distinct from previous available races gameplay-wise. Opposite to others, Loa don't favor what others consider hospitable planets, but the contrary. The Loa can't use Psionics, a special tech tree devoted to psychic powers, so they don't have use for living organisms. Terraforming for them is actually to wipe out all living presence from a planet. How cool is that?
Another major difference of the Loa, is in the way they travel the stars, which is always something radically different from race to race. The Loa travel through gates that must be installed in a system in order to accelerate travel. But, they also need to build hoops between systems to keep the speed.
But, above all else, what makes Loa so distinct are their space ships, and especially how they are built and used. Contrary to all other races, the Loa don't assemble permanent ships but a collection of cubes that can be later re-assembled into something else. So, if you need to colonize a system you can just instruct your ships to "morph" into a colonization fleet. If you need to construct a station you just order your fleet to transform into a construction type fleet. Wow! Sounds too good to be true, right? Yes. It's much easier to start with the Loa but they do have their disadvantages.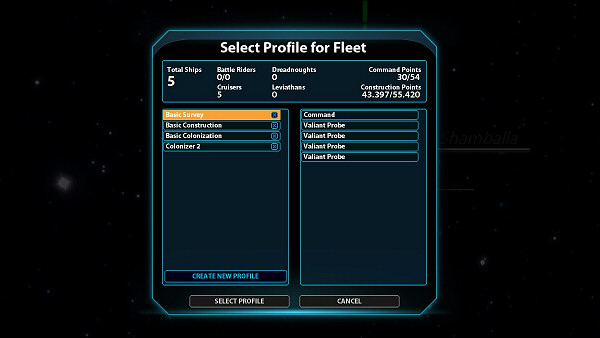 For instance, they are quite weak against EMP weapons, and their ships seem to be much weaker in combat, in terms of armor. Their FTL drive also seems more limited than some of the other races's drives later in the game. Moreover, they also need to protect their gates to keep the travelling speeds. But, the Loa are definitely very flexible, and very easy to start with. For instance, they don't need to spend as much funds on security, because they don't suffer from corruption.
Overall, I feel that the expansion brings interesting and meaningful new content. I only played a couple of games with the Loa but I find them a good and interesting addition to the SotS2's universe.
Further scattered thoughts and observations
There are still missing art assets – voices and event images. At least, the Human faction has much more voice effects than the Tarkas, for example. But, there are definitely missing images in the event window, at least when playing the Tarkas.
When moving ships around – or relocating from reserves to a different base – you can't send ships from different systems at once, but need to use the relocate function several times over until you gather all the reserves you want. Also, the UI allows you to relocate a fleet to a system that shouldn't be able to support that fleet in the first place, only for the fleet to get back to the initial base, and leaving you wonder why was that.
Everytime you use the Battle Manager to place your defense fleets throughout a star system, the current positions reset. So, you cannot tweak the positions but only always start from scratch.
Adjusting your research spending in a quick way moves credits to extra security and stimulus instead of diverting funds to savings, which would be my option 99% of the time.
Although innovative, the missions concept makes it very hard to understand how many turns a particular fleet actually takes to do things, because the ETA sums the time it takes to reach the destination, do the mission itself and the time required to head back to base. And, some Admirals have traits that speed up some missions, and you end up not being sure if that was accounted for in the ETA calculations or not. It's a bit confusing. This is something that the devs can't really do much about at this stage, since it was a design decision. It sounded good at first, but it really isn't that brilliant and is actually quite complex and mouse-click intensive to accomplish things.
You don't seem to be capable to invade a system with multiple fleets, but only with one at a time.
The broken battle report (showing wrong number of destroyed ships) was fixed just a couple of days before this review was up, which was about three weeks after release.
You constantly need to tell your ships to Patrol a system. Then need to issue Patrol again, and again. And this multiplied by all the systems you control. So annoying.
The star map is not very user-friendly. It's not easy to grasp where your colonies are, and you don't get a territorial sense, a so fundamental aspect in 4X games. It's also very hard to understand where your fleets are, and which colonies have fleets on them. The Fleet Manager is too convoluted, with too many non-essential information and poorly organized. I just want to know where my ships are.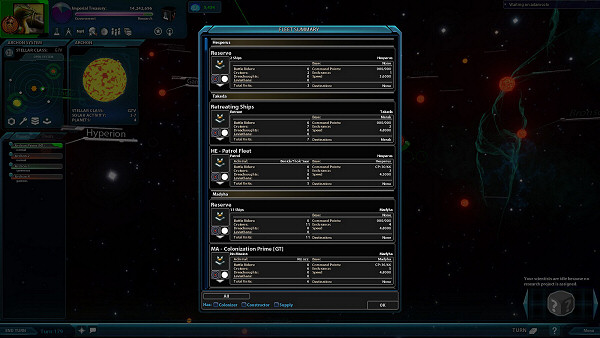 Say you want to prototype a very expensive new design. You don't seem to have a way to quickly tell which is your best productive colony, or the one with the most population. These are very basic requirements in a 4X game.
The colonization support mission is a very interesting and fun new mechanic in a space 4X game, which lets you speed up terraforming with a colony fleet. It's interesting because it forces you to decide whether to invest on colonizing a new planet, or enhance an existing one, because while supporting a planet your colonization fleet can't do anything else.
Sometimes the UI shows wrong or strange numbers, like '990' when it should read '1990'. Bad string truncation at places.
Why can I see the numerical damage a particular weapon does when I build ships or in the tech screen, but not when I'm designing ships?
The diplomacy screen is very unpolished. Example: What is a C/F or NAP? Ok, should read Cease Fire and Non Aggression Pact.
Voice over inconsistencies. Sometimes you get a voice saying "you got an early breakthrough", when it took more time than previously assumed to research a tech? Humor?
An event reads "You won a battle against a meteor shower (with a trophy image)". But, in the end my colony was wiped out. Humor?
There is no such thing as ETA: zero turns. Either one thing takes one, or more turns, or the thing is already done.
What does a trade treaty actually do? Not sufficiently described in the manuals.
Not possible to have multiple victory conditions set. You choose one at the beginning and need to stick with it. And there doesn't seem to be a way to see what it was again in case you forget it.
The dynamic government type that adapts to your play style is a great and innovative idea.
Very cryptic support/range concept. How exactly does endurance and supply work? Manual reads "Fleets can only go on missions when the mission length is less than or equal to their endurance" but wiki says "Fleets will only draw from their own supply if outside the supply radius of the Empire's colonies and stations.". It's the latter I suppose, but this means the manual is wrong. Confusing at best.
Manual and wiki read that the Imperial Population of a planet is largely responsible for the empire production and research. But, research spending is allocated from the treasury, that supposedly is generated from trade and taxes, which only the civilian population seem to be responsible for.
Note: Even if some of these remarks are explained in some less obvious way in the manual (since I read and re-read it). Or, if they were already fixed on some recent hotfix. Or, some of this is described on the online wiki, or explained beautifully in the forums, that's still not the way you should be playing a game.
Ok. But, is it worth it in the end?
No. Personally, I don't think it's worth it in the end. I mean, to endure the pain of learning how to play this game to finally start to have a few glimpses of fun from time to time. But, to ultimately realize that (at the moment) it doesn't mean much in the end because the AI isn't much of a challenge in any case.
I played around 650 turns total for this review, spread over 8 games, with the longest game session reaching 179 turns for a total of 92h played, says Steam (although I can't tell if that includes Lords of Winter play time as well). Honestly, I think I invested probably 75% of all that time just to learn how to play the game.
But, if you love a steep learning curve challenge, the discovery feeling – and I mean not gameplay-wise but discover in the sense of how to play a game – then by all means try it. However, consider yourself warned.
Bottom line
So, you see? Now, as before, I feel that Sword of the Stars 2 should have everything to be a great 4X gaming experience, perhaps one of the best. Especially now with the Enhanced Edition re-release and the End of Flesh expansion. Perhaps one day, but not today.
Unfortunately, a great game is much more than the sum of its parts. It takes much more than good ideas and sound concepts to make an excellent game and ultimately a fun experience.
Who may enjoy this game? I would say fans of the previous Sword of the Stars installment, the people who are familiarized with the extensive (and quite interesting) lore, they could probably like to play this game. Also, people who favor tactical combat aspects and don't mind having a subpar strategic layer. Or, perhaps other hardcore gamers who love a very steep learning curve, don't mind the lack of polish, don't get bored by reading manuals, wikis or go to the developers forums. Or, still, enthusiasts who just want to help the developers to continue fleshing out the game.
One thing is certain, no matter if you're a fan or a potential one, you have to be aware that you're buying a work-in-progress game. The research, ship design and especially the combat are very good and solid, but the strategic experience, the whole experience, is simply not ready yet.
Games, and in particular 4X games, live and die for how compelling their gameplay actually feels in the end. The player needs to feel that there is a cohesiveness, the feeling that all the game parts are all part of a wonderful experience. And this is where I think Sword of the Stars 2 still fails.
| | |
| --- | --- |
| | fair |
The Good:
– Excellent combat system with lots of tactical depth. And it's very pretty also
– Cool stations concept lets you build and upgrade massive space stations in a fun way
– Elegant research system, with random elements and good tech tree depth
– Designing and building spaceships is fun
– Alien factions offer a distinctive way to play, and their lore is also interesting
– The End of Flesh expansion adds an interesting and fun new race to play – the Loa
The Bad:
– Lack of in-game information and UI feedback shortcomings are quite frustrating
– Lacking starmap and UI don't help you control your empire in an enjoyable way
– Very steep learning curve
– Diplomacy is not appealing or engaging enough, not up to par with other 4X games
– The AI is weak. The game is simply not challenging enough
– Occasional bugs and overall lack of polish
– Strategic layer lacks cohesion and is ultimately not that fun to play
Subscribe RSS
111 Comments
Related Articles:
Post category:
Game Reviews