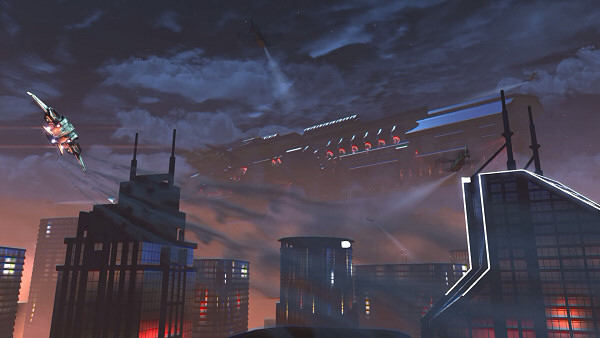 I've played the Slingshot content pack for XCOM: Enemy Unknown in the Classic difficulty level. Here are my impressions.
But first a small intro.
Available since Dec 4th 2012, Slingshot is the second DLC to be released for XCOM:EU, after the Elite Soldier Pack DLC, which brought new ways to customize your squad and lets you play with a special soldier inspired by the original X-COM: UFO Defense. Slingshot is, however, the first content pack to be released. Then, there's a third DLC envisaged but no details were given about that one yet.
Now, the questions that you may be asking about Slingshot right now are:
1. What does it bring new?
2. Is it fun and challenging?
3. Is it worth it?
What does it bring new?
Now, I'm not going to spoil you with the details, because that's part of the fun of playing the DLC. After all, this is a mini-campaign pack. But, I'm going to tell you about the content's type and size, so that you may know what to expect.
When you buy Slingshot you get three new missions to play. For the ones familiarized with the game, these are council-type missions. The maps of each of these three missions are new. The first map is probably the most beautiful and distinct of the three, with a predominant Chinese-inspired motif.
The first mission is similar to many of the original "rescue" council missions, although slightly different in nature and better in my opinion. The second is a timed-type mission, also slightly different from the original "bomb defusal" missions. The third mission plays on-board of an alien ship, where you need to accomplish an objective besides killing everyone.
In addition to these three new missions, you gain access to a new special soldier, which is a character who plays a role in the DLC's mini-story.
You also get new customization options for your soldiers. There's an alternative armor look for each type of armor (at least for the first available types) and there are also some head props and helmets now. Some of these are actually quite cool.
And, finally, you have the chance to have access to a very powerful piece of technology early on when you finish all the Slingshot missions.
Is it fun and challenging?
I liked the new missions.
The first one is quite small and quick to finish, but quite nerve-racking at the same time because you simply don't know what to expect. The atmosphere is, therefore, quite tense, which is a very important aspect in X-COM games. Well done. Remember that I played with the Classic difficulty (with Ironman off).
The second mission is perhaps the most interesting of the three. It's timed-type, so it should be one of my least favorite. Moreover, all enemies "pop" from thin air, which again should also make it my least favorite. But, the mission's dynamics make it much more fun than the original defusal bomb council missions. This second mission is not large, and will not take you much time to finish it, but it's quite tough to beat and should give you a good and fun challenge. I only finished this mission at second attempt.
By the way, you will have more chances to complete the Slingshot missions in case you fail any of them. But, and you must pay careful attention to this, you need to accept the Slingshot mini-campaign when you first get the chance to! Otherwise you won't get a second chance to play it in that game. I discovered this the worst way possible. Had the perfect game and squad, but by unfortunate chance I hit the "normal" council missions instead of the Slingshot missions, and there was no confirmation button whatsoever. So, I couldn't play the DLC because of one simple rogue click. What happened to the feedback perfect UI? Was the main guy behind it on vacation that day or something?
The third and final mission plays on-board of an alien ship (a big one), and unsurprisingly it's the largest mission of the three. Although not the toughest, at least in my opinion. The fact that I failed the second mission also plays a role here. I'm sure that if you succeed in your second mission at first attempt, you probably won't make it on the third at first, or at least there's a big chance that you won't. This third mission was OK, but I think it could have been much better because it didn't feel novel enough, at least for people who explored all the main game's content.
Is it worth it?
This is the hardest question to answer, because it depends a lot on your experience with the game. But, since you're reading this I will assume that you liked to play XCOM:EU and are looking for another good excuse to fire another game. Well, the thing is, I think it's worth it for some reasons but not for others, and not only because of cost, which is $6.99/€6.49 by the way.
It's worth it because the missions, although small and "easy" – I finished all of them while still with Carapace armor and with no Plasma guns – are still quite interesting, detailed and fun to play. Let's face it, they are much better than your average "search-and-rescue" or "bomb defusal" original council missions.
The style is also different from what you're used to, which is quite refreshing. Well, at least more in the first mission. However, the second and third missions are very similar to the original maps styles, with some occasional Chinese writings sprinkled here and there in the second missions' case.
But, and in my personal view, this DLC isn't worth it for other reasons. For instance, when you end the third mission – and if you do the things by the book – you will get access to an enormous reward (loot). So, when I finished the DLC, I stopped playing. Yes, that's right. I saw no point in continuing playing because the new super technology combined with the immense reward makes it too easy, at least for me. Of course, if you're still taking your firsts strides in XCOM:EU you will probably enjoy this "loot" boost, since this may be your chance to finally play a good Classic difficulty game and make it to the end.
But, Slingshot definitely has its qualities. The new missions are well designed and are fun to play, and the new character brings some extra flavor. But, the missions are kind of short, too few and easy (at least in Classic difficulty). Of course the concept of difficulty is always subjective here.
Conclusion
I don't recommend the Slingshot DLC for people who didn't play the main game yet. The best is for you to play the main game for a good while and then decide or not to buy this DLC, if you're still hungry for more and don't mind the price that is.
If you already logged many dozens or even hundreds of hours playing XCOM:EU, then Slingshot will probably not be enough to satisfy your appetite. It is a fun ride no doubt, but like in a small roller coaster, the trip is usually too short and you need to go again for more. The problem is that the 2nd ride is never as good as the first and the best would be that the roller coaster would be bigger in the first place.
In all, Slingshot is a nice experience. It's a well crafted DLC and it provides good and fun moments. But, probably the best strategy is for you to wait for a sale, and then buy it combined with the new DLC when it comes out perhaps. Then you'll have much more to chew on.
You can buy and download the XCOM: Enemy Unknown Slingshot Pack from GamersGate, GreenManGaming, Steam, GameStop or Amazon. If you're new to XCOM:EU, you have our review here.
Subscribe RSS
16 Comments
Related Articles:
Post category:
Game First Impressions