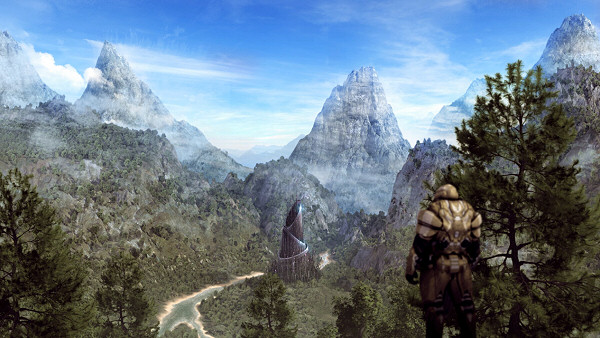 Slitherine and Matrix Games announced Pandora: First Contact, their new sci-fi turn-based 4X strategy game, back in April of 2012.
We had very little news on this title for very long, and it was only recently that the publishers, and Proxy Studios – the developer – have announced they have reached beta. This was back in November of 2012. But, by then, it was more of a closed beta, with very limited access. Now, on February 2013 they launched a broader beta campaign, which I was allowed to participate on.
I tried the game and played it in two separate sessions. In the first session I played for about half an hour. On a second iteration I played for a couple of hours more. What follows are some details on what you can expect about this new sci-fi 4X game set in the Earth-like planet of Pandora.
So, what's Pandora: First Contact?
In general, Pandora plays similar to the Civilization games (especially the 4th and 5th installments) and the sci-fi spin-off title Sid Meier's Alpha Centauri. It's very clear that Pandora borrows many concepts from these 4X games, and then combines them on its own unique way. This was already more or less evident from the features list and screenshots, but it's now confirmed to be so. So, it's not a bad thing to start with, but the contrary.
In Pandora, your goal is to grow your influence from a single initial settlement, a tiny city on an alien planet in this case, into a powerful and dominant empire, as any game that follows the 4X formula usually allows you to. The surroundings are unknown, and bit by bit you start to explore and solve Pandora's mysteries. Something interesting to explore there, some nice resources to exploit later there. And, very soon, you'll bump into indigenous lifeforms. And they aren't friendly, at least to start with they aren't.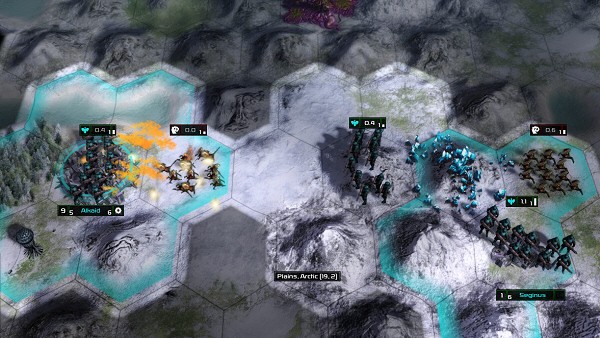 The first alien creatures you'll encounter are the Xenomorph Drones. Not quite the Xenomorph aliens from the Alien franchise I'm sure :) but it's too soon to tell what exactly they have in common with those chest exploding monsters, besides the name that is. If they have any resemble at all.
In Pandora, the empire management unit is, without surprise for a planetary 4X game type: the city. So, everything in general – basically your entire economy – is tied to how well placed and how well developed your cities are. You can instruct your population to focus on four main areas of labor. Each population unit may be a farmer, miner, worker or scientist, and, you may re-allocate them according to your immediate needs.
The labor allocation mechanic is somewhat similar to the ones found in other 4X strategy games, but it's also quite unique on its own way, since production is not only a function of potential resources present in a city but also the amount of resources you currently stock in a global depot. Therefore, there's more interdependence between cities, as every city may benefit from the global stock to which every city may also contribute to.
So, Pandora's economy is based on food, minerals, production, research and credits. On top of these basic elements, you also need to deal with pollution and morale. As explained above, production is not only derived from potential resources available but also about how much you currently have in stock, which makes the production mechanic more dynamic than usually found in other 4X games. So, while your base production, per turn, may be the same, your production ratio may be significantly faster or slower depending on how many people you allocate for the job and the amount of minerals you currently have in stock.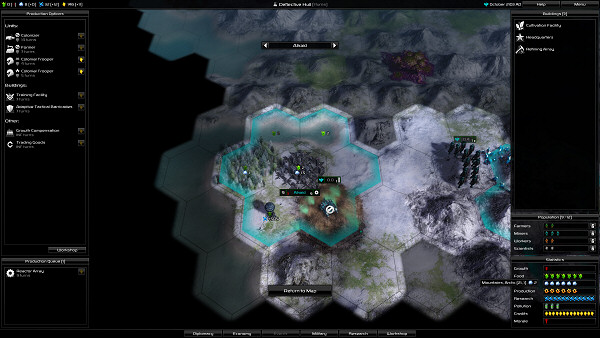 Basically, the more resources you have in stock, and the more workers you allocate to production, the faster production of units and buildings will be. This contrasts with other game's solutions where production is a fixed (and local) function of resource potential and population allocation. Speaking of production, you can build only one project at a time (building or unit) but you can rush production through accumulated credits from day 1.
Research plays a bit differently from other games, namely from Civ games, as a tech tree is not explicitly presented to you (as of yet at least), and the outcome of each tech breakthrough is also not all revealed. But, in a way, research in Pandora works rather similar to Alpha Centauri's research model, since there you also don't have a clear idea of how to beeline towards a certain tech.
In Pandora, you do have an idea on what each tech purpose is, and what sort of outcome it may unlock. But, while each tech describes what future tech it leads to, it's somewhat hard to have a sense of what needs to be researched in order to reach a certain more desired and more advanced tech. It's not the same as going with Alpha Centauri's blind tech progression, where you can only choose a research area but not the tech itself, but still a somewhat more mysterious way to unlock new techs.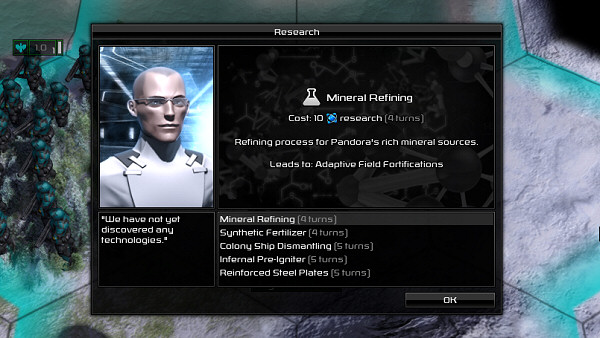 In a way, I do sympathize with what the devs are trying to do. To go with a somewhat more mysterious model for tech progression, as your gut feeling may lead you to think this is the best way to go. In real life you shouldn't know exactly what you'd get when doing research on a particular field, right? I mean, the exact outcome. So, currently, the game gives you a glimpse on what you'll get when you breakthrough a tech but not all the info. I guess some people may prefer it this way but probably a good amount may not (this mystery feeling applies more to the first couple of breakthroughs of course).
There are currently six factions to choose from. At first glance they look like your usual stereotyped factions: the green-nature fanatics, the religious zealots, the industrious, the creatives. You get the point. I played with the Scholars of Eden (the research ones). They get a substantial research boost but with a morale penalty for being free-minded (according to the game, due to being more susceptible to indiscipline and lack of motivation).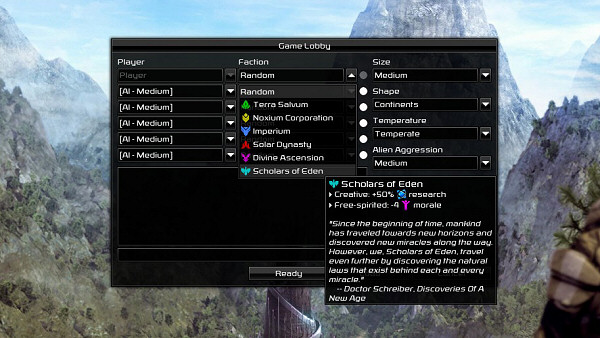 It's too soon to tell how interesting and diverse the different factions really are. I only did a couple of interactions with them through diplomacy. Speaking of diplomacy, and this wouldn't be a 4X game without it, Pandora offers the basic expected features, nothing innovative here, but the devs say they are thinking about expanding that further with tech trading and other interaction types. We'll see.
The map style is very reminiscent of Civilization 4 but it's organized in hexagons (like in Civ5). Your units can stack, move and attack as a stack. The units don't have separate attributes for attack and defense but just one combined strength indicator called Power (like in Civ4 and Civ5). But, certain weapons and armors affect the unit's base power, because in Pandora, like in Alpha Centauri (but not in Civ games), you can customize your own units.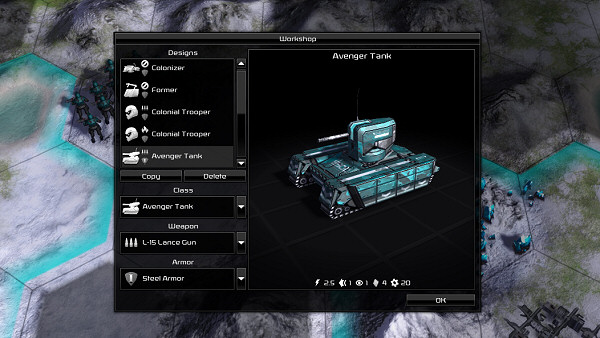 This is done through the game mechanic called "Workshop", and you can create and customize your own designs by choosing from a pre-defined set of classes and then choose your favorite weapon and armor configurations. Each weapon comes with its own modifiers, which makes some units more suitable to fight biological, mechanical or airborne enemies, the types of units I discovered so far.
So, what's really different about Pandora?
At this point I can say that Pandora will feel very familiar to anyone who played Civilization games. And, it will feel particularly familiar to those who played Sid Meier's Alpha Centauri. But, I already spot some differences that make Pandora a unique experience.
First of all, the economy works substantially different from other 4X games I've played. Well, at least in the particulars. The production model is more dynamic, more global, and will necessitate a bit more of micromanagement from your part, since now production is not only a function of potential resources, and population allocation (labor allocation), but also a great deal about stock management. And since the stock depot is global, it may have an effect on every cities' production.
Having more research points and minerals in stock will breakthrough techs and produce new units more quickly, as long as you can also allocate more of your population accordingly. In other 4X games you can only change your population allocation in order to affect production, since resources don't accumulate but are considered always to be available at the same rate. In Pandora, with the same population amount your production may still vary substantially as production will also depend on how filled your stocks are.
The ability to customize units is also a substantial departure from the Civ model, but not quite from the Alpha Centauri one.
Pandora's look and feel is obviously different, and it does succeed in creating its own particular atmosphere. After a while you do feel immersed in Pandora and it doesn't feel like you're playing any other game but really a new experience.
The UI is also very slick and feedback friendly, so that's also one very good thing I can say about the game at this stage.
Of course, more observations, and a deeper analysis will follow after I play much more and write my review when Pandora is officially released to the public.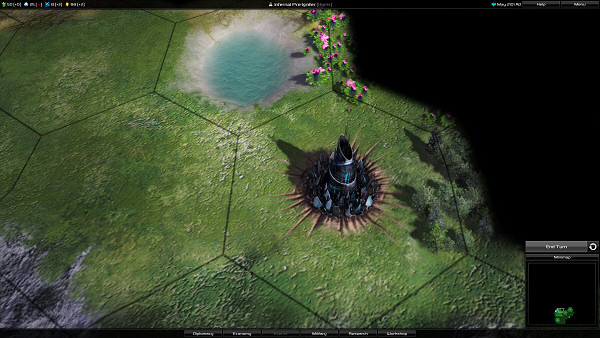 Further Words
I hope this preview was sufficient to help clarify what you can expect to find in Pandora: First Contact. The game is still in beta, and its release date unknown, which I'm sure will also depend on how well the beta goes.
I've encountered only one bug in around three hours of playtime, which is great news, so, the game seems to be quite stable. I could alt-tab to windows and get back perfectly, and I report no crashes or other technical annoyances whatsoever.
Of course, there are still some rough edges to clear out, as expected in a beta, and probably a few more content injections planned or already in the works. And Proxy Studios is being very pro-active, replying to beta testers feedback and implementing new things, and launching new versions very rapidly.
So, the prospect for Pandora: First Contact is promising. And, one thing is certain, at beta the game is already very playable, and looking good. Now, time will tell how rich, polished and interesting this sci-fi turn-based 4X game will be upon release. And, how well it will compete with other planetary 4X games. Not that there are many sci-fi ones available.
\Edit: November 14th 2013 – Pandora: First Contact is now available.
Subscribe RSS
39 Comments
Related Articles:
Post category:
Game Previews