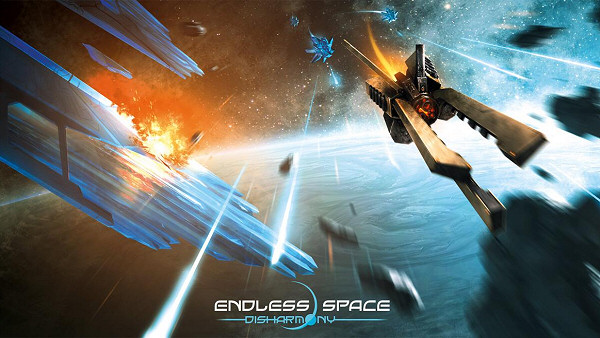 Developer Amplitude Studios announced an expansion pack for Endless Space back in August of 2012. Battles were to be the expansions' big focus.
"We know that we have definitely one focus for that Pack: Battles! We want to add more strategic choices, more feedback, fighters / bombers / interceptors, more weapons, defenses, modules, formations, aiming strategies, boarding parties etc…" ~Amplitude Studios.
Today, publisher Iceberg Interactive announced that the expansion, Endless Space: Disharmony, "will be coming to Steam this summer for $9,99/€9,99".
Amplitude and Iceberg released Endless Space on July, 2012. An enjoyable turn-based 4X strategy game with a very intuitive User Interface, a competent AI, and a low learning curve. But, also with an unexciting combat mechanic, a unrewarding exploration feeling and hindered replayability. More on our review.
Amplitude kept improving the game though, and released a total of four free DLCs with many fixes and improvements. This was between October 2012 and March 2013. Now, with Disharmony, they prepare to release their first full (and paid) expansion pack.
Endless Space: Disharmony announced main features:
Brand new Faction called "The Harmony" with the main objective to Annihilate Dust;
New fighters and bomber units that will completely change the shape of combat, with the new Battle Formation and Targeting systems;
A complete rework of the Ship Design Interface giving an improved Weapon System that includes family types for modules (short, medium and long range)
New invasion mechanics have been added: prepare the population for bombardments, sieges and land invasions
Expect to face a real challenge when playing against AI opponents with the new Adaptive Multi-Agent Artificial Intelligence System (AMAS)
Other additions and features voted or requested by the community include:
Four new heroes (Games2Gether)
A new option to disable exchange of technologies, as a request from the Multiplayer community
New Rally Points feature for newly built ships to reduce micromanagement
Amplitude Studios' statement about Endless Space Disharmony:
"We're lucky to have a motivated team and even luckier to have such an incredible community," commented Mathieu Girard, CEO of Amplitude Studios. "Our expansion pack has been designed based on player requests and community G2G votes, and we hope that it fulfills – or surpasses – their expectations." ~Amplitude Studios
Endless Space: Disharmony should be available both as DLC and in retail this summer for PC and Mac for $9,99/€9,99.
Now, the teaser trailer.
Subscribe RSS
30 Comments
Related Articles:
Post category:
News & Announcements