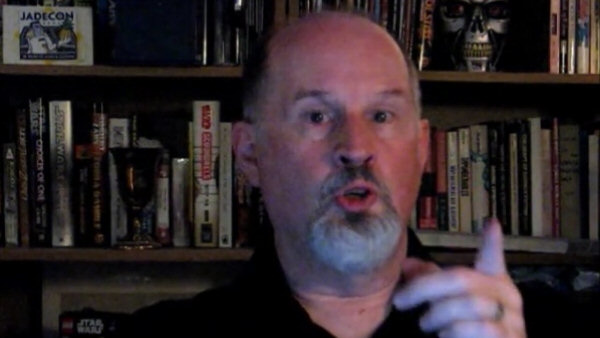 Abram Jablonski, the owner and founder of Prototype X Software, is currently on Kickstarter for Parallax, a retro-style turn-based space 4X game.
Abram's proposal indicates simple graphics and interface. The game would be optimized for mobile devices but also be released for the PC. Interactive storytelling and "making sure that the interactions with the other aliens are realistic" seem to be the major focus. For the races design, Abram counts with the support of Timothy Zahn, a science fiction writer (in the picture above), which would be co-creating the game, and bringing some of his favorite alien races from previous works.
Abram presents a fairly dense game overview already. But, as far as I understood, the design doesn't seem to be finished yet, or at least not yet set in stone. The reason being that the developer intends this to be a community-driven project.
"You can join the team too: every backer who contributes at least $10 will become an active member of the creative team, and an integral part of the process. (…) I honestly can't say what else might be included in the game, since all of YOU, the Kickstarter backers, will help to create a great deal of the content: alien races, space fleets, random galactic events, technology, and myriad smaller details as well." –Prototype X Software
Prototype X Software' Timothy Zahn's Parallax proposal in a nutshell:
Turn-based space 4X strategy
2D, simple graphics and interface (heavily inspired by the original Master of Orion)
Community-driven development (backers as active part of the game creation process)
Major focus: Interactive storytelling and realistic interactions with other alien races
Platforms: Android, iOS, PC; and some consoles ("if possible")
ETA: alpha in May 2014; beta in June 2014; release in October 2014
Goal: $500,000 (until Oct 13, 8:00pm EDT)
Get game pledge: $15
Why Kickstarter: "That's the minimum amount necessary to be absolutely positive that this game will be delivered". If goal isn't reached: "develop a more limited version of the game, over a longer period of time"
Seems like a challenging project, not so much because of the game development itself, which the developer says would only take about 3-person months to complete, but more because of the management overhead generated by the community-driven process. But, the developer seems confident and has produced quite a comprehensive plan already. Will Abram and Timothy manage to create their community, and game? Time will tell.
\Edit (20 Sep 2013): Kickstarter cancelled. Reboot planned soon.
Subscribe RSS
18 Comments
Related Articles:
Post category:
Kickstart
,
News & Announcements