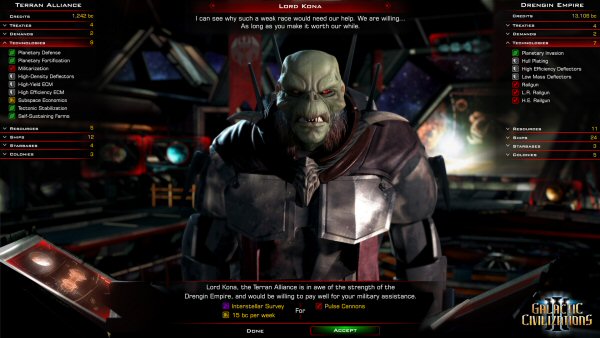 Ok, so we already knew a few things about Galactic Civilizations 3, Stardock's sequel to one of the best space 4X strategy games ever made. Multiplayer, hexes, the 64-bit requirement, a most probable graphical upgrade, new aliens, a campaign, closed alpha somewhere in early 2014 and pre-orders starting at $39,99. But, what are people's expectations on GalCiv's third installment? What more do we want to know at this stage? To address this we asked you, the fine community of SpaceSector, to help us assemble some questions to ask Stardock. Well, the first batch of answers has just arrived. Here's what Ray Bartos, producer on Galactic Civilizations 3, had to say. The second and last batch will follow on a later date.
Kordanor, adarax: Regarding multiplayer, will there be simultaneous turns or IGOUGO turns? If there are simultaneous turns, will the orders be executed right within the turn or will they be executed "between" turns? Will there be a special lobby for multiplayer? Meaning, will Steam be required or another platform for that purpose? And, will there be LAN multiplayer?
Ray: Galactic Civilizations III has simultaneous planning (ship design, planetary projects, ship path planning, research and tech tree choices, etc.) and sequential execution (battle, discovering anomalies, colonizing planets, etc.). Currently right now there are no plans for a separate LAN multiplayer; all multiplayer will go through Steam.
Kordanor: On mod support. Will it be easy to apply mods? And, will mods work in multiplayer?
Ray: Modding has always been a big part of Galactic Civilizations' success. We intentionally data-drive our systems with XML data so that our designers and modders alike can easily modify the game. And of course many players will love the ability to create and share their ship designs, and in Galactic Civilizations III they will have better tools to do this than ever before.
Ore, Bobby E, Kordanor: Concerning planet management, is there anything else planned for GalCiv3 to put emphasis on the planet's individuality, with more diversity of planets perhaps, or on what they contain? How much of the design is staying and how much is new regarding planet management? Are there reasons to colonize less than desirable planets, even "level zero" planets?
Ray: As far as managing the planets, it will be similar to the method in Galactic Civilizations II. We are adding more diversity to the planetary creation system. Initially there will be habitable and uninhabitable planets. Habitable planets vary in class, traits and features. Planetary traits affect what planetary features appear. These traits will give varying bonuses and penalties. In the late game, players can unlock technologies to make once-uninhabitable planets habitable.
jackswift, intraloper: Has the ship combat evolved from the previous installments? If so, what new mechanics or features should we expect? Can we expect some control or tactics this time? Also, will it be possible to inflict damage to individual components which could lead to some interesting results like drifting capital ships with smashed up engines?
Ray: We have a new combat system that we are planning for after the alpha. But we don't want to mislead people – Galactic Civilizations isn't about fighting long tactical battles. You are controlling a civilization that spans the galaxy and your focus is on producing and placing your fleets, not in giving every order in a battle. We want to keep players engaged at the empire level and fighting for planets and systems, not in ship to ship combat.
Sotiris, Happy Corner: Can we expect the AI in this version to be at the same standards as the previous one, considering that there's multiplayer now? In other words, is it safe to assume that the single-player will not just be a glorified tutorial for multiplayer?
Ray: We fully expect the majority of our players to play Galactic Civilizations III single-player. Our focus is in making the single-player game great and then adding multiplayer on top of that. As such, AI is a huge focus for us and having the AI programmer for Galactic Civilizations II (Brad Wardell) back and programming the AI for Galactic Civilizations III is a huge advantage.
trix62, Wodzu: GalCiv2 was one of my favorite space games. I understand GalCiv3 will be 64 bit only. I use Windows Vista with 4 GB RAM. I'm using a fairly old computer. In my opinion these types of games do not need a huge graphics upgrade. I do not understand the reason behind this. Why do you need more than 3.5 GB RAM for this game? For what exactly?
Ray: Players tend to assume that FPS games have higher system requirements than strategy games because in on the screen looks better in an FPS game (close-up, high-res objects). They may incorrectly assume that the computer has to have what is on the screen in memory. In an FPS that is somewhat true; the game has stored what is in the player's immediate vicinity and then it caches new areas when the player moves around. Since the game can predict the small environment the player has immediate access to, it doesn't need to load up the entire world and can instead load a small sample of high res objects. If the player does "jump around" (think of quick traveling in Skyrim) a load screen is presented because the game didn't have the new location's assets in memory and ready to go.
In a strategy game the entire world (or in our case galaxy) is in memory. If you clicked on another area on the minimap and saw a loading screen you would throw your computer out the window. We have to load up the entire world and every asset in that world so that it's ready to go if the player clicks the minimap or pans around. So memory is a major factor for a strategy game and something that Stardock has had to make hard decisions about with all of its titles. There are often things we would love to do that simply can't be done because of memory concerns.
That leaves us with two options. Either we make a 32-bit game and add some additional options for players that are running 64-bit (maybe they have access to larger maps or better ship textures), or we make a game from the bottom up that is intended to be a 64-bit game and is never compromised for memory concerns. These can be very low-level engine decisions, including giving the AI plenty of memory to work with the cache data and plot against the humans.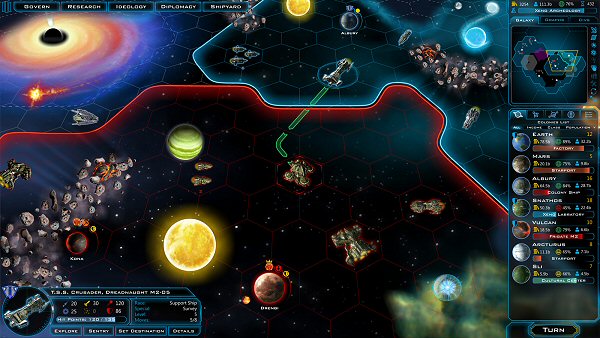 Laird: Will there be any RPG elements? Specifically, named agents, governors, admirals, generals, etc?
Ray: There are some parts of the game that borrow from RPG conventions: designing your ships, improving your stats through access to new techs, improving planets, etc. But at its heart Galactic Civilizations III is a 4X game, not an RPG.
towerbooks3192, Ivan: Invasions. What would be the invasion mechanics in GalCiv3? Will the series be adding land units other than ships, or what will be the mechanics for planetary invasion this time? And, bombardment. Will there be a way to bombard enemy colonies without impacting the population? Or any other way to deny a colony with purely space combat ships (some kind of blockade option)?
Ray: We have a new planetary invasion system in the works, but we don't want to comment on it until we are confident that the design is solid enough to share.
towerbooks3192, Adam Solo: Will there be a faction creator – with a points and tradeoffs system perhaps – and a chance to make a backstory for your faction similar to Fallen Enchantress?
Ray: Our developers have gone to great lengths to make sure that players will be able to make their own factions similarly to what they love in Galactic Civilizations II.
Fishy, SQW, Chuki792, intraloper, xadar: Research. How does research work in GalCiv3 compared to GalCiv2? Any extra features or major changes? Will there be randomized tech trees so you don't bee-line to the same tech every time and get something a bit unexpected? Also, will each tech in the tech tree have its own icon or some sort of art? Something a la Deadlock: The Planetary Conquest maybe? You don't see much art in tech trees these day.
Ray: The research tree is something that is currently being overhauled. Short answer: it's going to be different but familiar, and we're confident that it'll be a huge improvement over Galactic Civilizations II.
xadar: Resources. Will there be exotic resources with some specific use (art, rare metals, anti matter, gas isotopes…) or just credits ?
Ray: Different resources exist on the map and are used for a variety of purposes, primarily the pursuit of optimum efficiency in creating ex-Drengin (or Terrans, or whomever).
Happy Corner: How much would the expansion packs cost? Will there be at least two, like with GalCiv2? You say you have some "big plans" for expansions, but some actual numbers might help make that Founder's Elite option look like a better deal.
Ray: Right now we're putting 110% of our effort into making the base game awesome.
TanC: I see that you're planning on using Steam and Steamworks. Do you have plans for a non-Steam version?
Ray: No. A huge majority of our fans enjoy playing on Steam and having it hooked up through Steam allows us to easily take advantage of Steam's features (achievements, multiplayer, etc.). We tried providing a Steam and non-Steam version of Fallen Enchantress and hardly anyone used the non-Steam version.
eleazar, Kordanor: Will there be a boxed version? If yes, at what price (compared to the digital versions)? And, with which content? Oh, and will there be Mac support this time?
Ray: There are no plans for a boxed version. American players have largely moved away from buying their games in physical stores (it's more common in Europe). We really enjoy being all-digital; it means we can adjust our dates when needed (we don't have to release on a specific day just because a contract we signed with Wal-mart says that will be our day) and it's much easier to get updates to our players. It also allows us to focus on making the game and not manufacturing, shipping, store contracts, etc.
Adam Solo: What will you say are the most significant innovations from GalCiv2? 
Ray: Our most important criteria is that this be the best version of Galactic Civilizations. But we are excited by the addition of the new culture system, map hexes, multiplayer, the new battle system, and interstellar terrain as well as the long list of refinements to every aspect of the game.
To be continued…
Subscribe RSS
103 Comments
Related Articles:
Post category:
Interviews